TV
BTS V's 'Itaewon Class' OST, music video exceeds 100 million views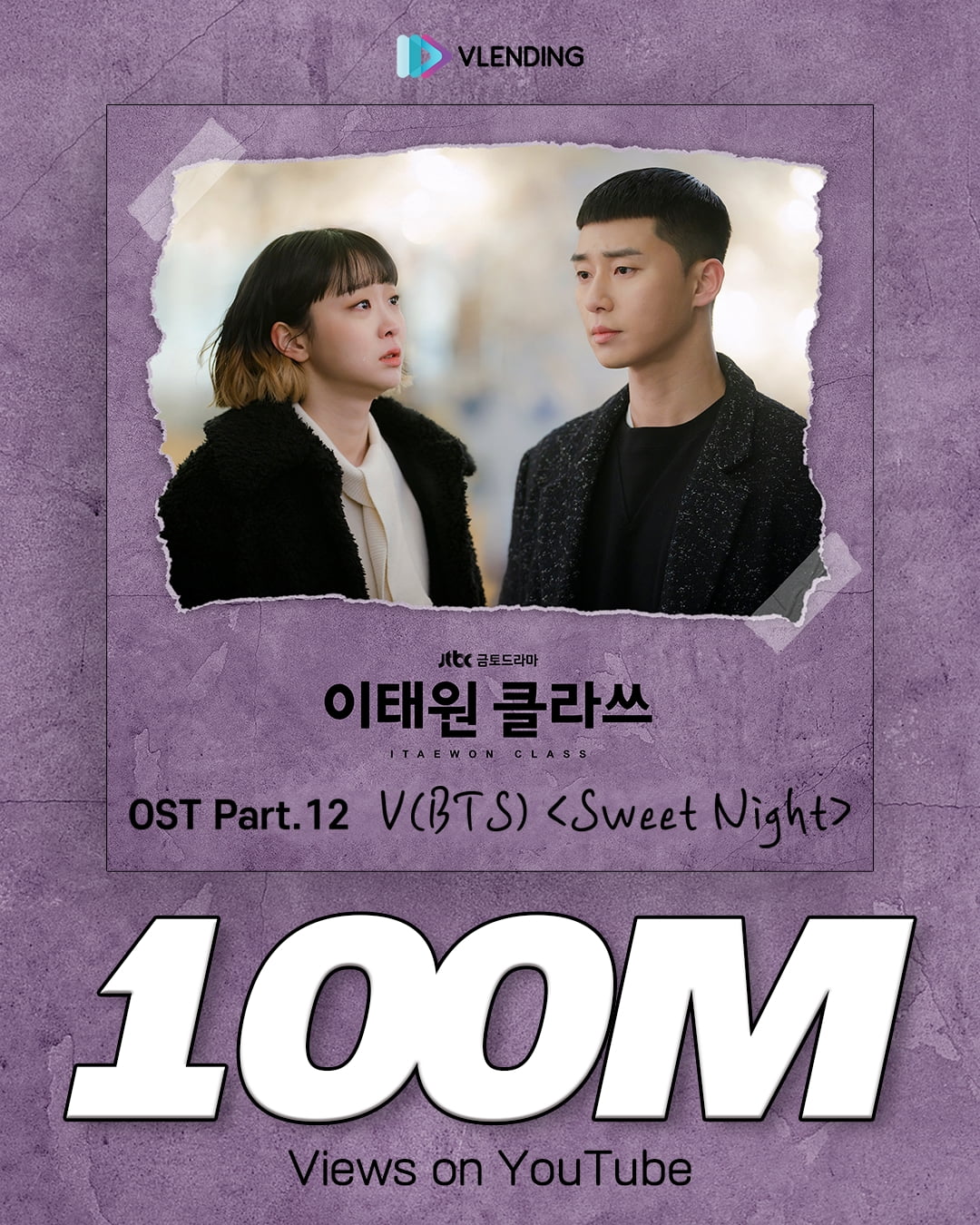 The official music video for the drama 'Itaewon Class' OST 'Sweet Night', sung by BTS V, has surpassed 100 million views.
According to OST production company Blending Co., Ltd. on the 25th, the number of views of the official music video for 'Sweet Night' in which V participated exceeded 100 million views on the single Blending (VLENDING) channel. This became the second 'Itaewon Class' OST video to reach 100 million views, following 'Start' sung by singer Gaho in January of this year.
'Sweet Night' is a song that V himself produced and participated in singing. The acoustic guitar leads the song throughout, and the harmonious sound of V's humming and violin in the second half stands out. The immersion of the work was further enhanced by a message of comfort containing the desire to provide only sweet nights to the main character, Park Sae-roi (played by Park Seo-joon), who spends many bitter and painful nights.
In particular, this song was streamed more than 300 million times on Spotify, the world's largest music platform. Following V's other self-composed song, 'Christmas Tree', it ranks 2nd as the most streamed K-OST in the platform's history.
Not only did 'Itaewon Class' receive a lot of love, creating a Park Sae-roi syndrome right after it aired, but its OST was also a mega hit. The official music videos for 'Sweet Night' and 'Start' surpassed 100 million views, followed by Kim Feel's 'That Boy' music video with about 45 million views, and Ha Hyun-woo's (Guckkasten) 'Stone' music video with about 31 million views. It exceeds 10,000 times.
The same goes for offline events. At the 'Seoul International Fireworks Festival 2023 with Hanwha' held on October 7, a fireworks display using 'Our Night' sung by Sondia as BGM was successfully produced.
An official from Blending Co., Ltd. said, "These days, I feel that a high-quality OST can continue to be loved even as time passes. We will continue to strive to create music that can be talked about long after the drama ends."
Kang Min-kyung, Ten Asia reporter kkk39@tenasia.co.kr