TV
Seong-Hoon Choo, attempts to make a hard sell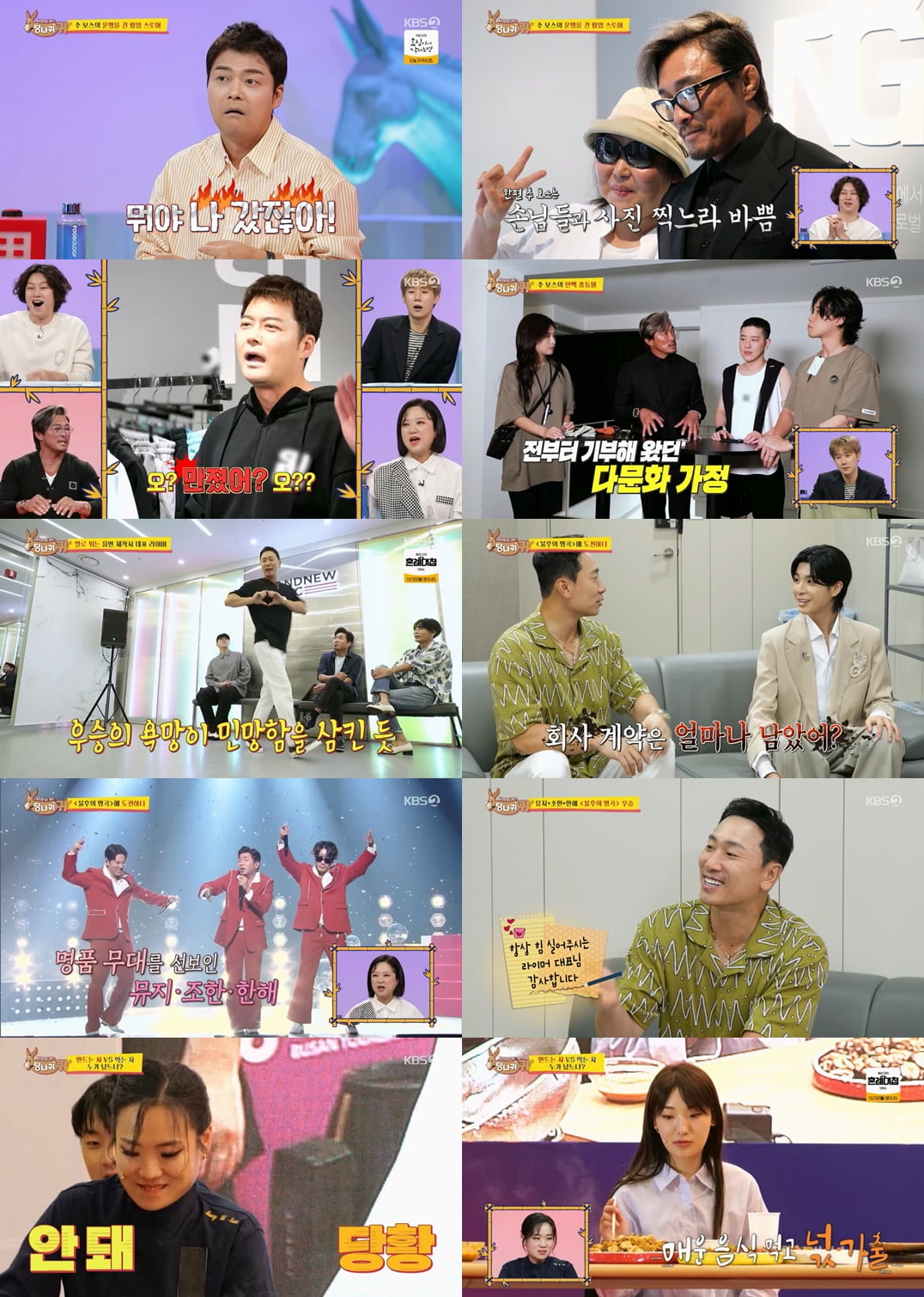 Choo Sung-hoon attempted to make a hard sell to Jeon Hyun-moo, who attended his first pop-up store.
According to Nielsen Korea, a viewership rating research company, on the 23rd, episode 228 of KBS2's 'The Boss's Ears Are Donkey Ears', which aired the previous day, recorded a viewership rating of 4.8% nationwide and 4.4% in the metropolitan area. 2049 also accounted for 1.6%, ranking first in its time zone in all figures. In particular, the scene where Jeong Ji-seon prepares spicy and hot food had the highest viewership rating per minute, reaching 8%.
With Infinite's leader and Infinite Company CEO Kim Seong-gyu as the special MC on this day, the opening day of Choo Seong-hoon's clothing brand pop-up store was depicted. Choo Seong-hoon, who gathered company employees and martial arts juniors, made a pledge, "The goal for the 5-hour pop-up is to sell out, and I risked my life on this. If it sells out, I will receive an unconditional bonus." Immediately after the pop-up store opened, Choo Seong-hoon smiled brightly at the endless line of customers and continued taking commemorative photos.
However, as soon as the t-shirt giveaway event for the first 100 people ended, the store was empty, but soon the first VIP, Hwang Gwang-hee, visited and Choo Seong-hoon smiled again. Hwang Kwang-hee started off with a special lecture on sales strategies worthy of the King of Negotiations, and after giving tips on product set composition and welcoming people with a smile, he left with both hands full of free clothes and burst into laughter. Seong-Hoon Choo then gave a hard sell to visiting chef Ho-Young Jeong, saying, "If you touch it, you have to buy it," and eventually succeeded in selling the top and bottom sets. Following Ahn Jung-hwan, Jeon Hye-bin, Ki Eun-se, Choi Si-won, and Cha Joo-young, Jeon Hyun-moo appeared, adding to the joy, but Choo Seong-hoon took a backseat, and Jeon Hyun-moo made people laugh by saying, "(the response) is the worst."
Choo Seong-hoon, who welcomed Kim Hee-chul and Jo Se-ho who arrived later, gave a thumbs up to Jo Se-ho, who even paid for Kim Hee-cheol's clothes, saying, "Because there is a camera." Settlement time after pop-up ends. When over 1,000 guests visited and the employees, who had achieved the goal of selling out 500 sets, suspected their friendship with VIPs who could not attend, Choo Sung-hoon sweated as he called Im Si-wan and Jang Geun-suk. Choo Seong-hoon, who confirmed that the sold-out goal was achieved, said, "I'm going to donate today's profits to multicultural families. That's a bonus," leaving the employees unable to laugh or cry.
Jeong Ji-seon, who lost to Hibab in the cooking competition at the Busan International Food Expo last week, took revenge. Jeong Ji-seon, who carefully checked the ingredients to win the second round, became angry again because Kim Tae-guk did not even set up the basic settings. Within the 30-minute time limit, Jeong Ji-seon must cook a total of 20 dishes, including Palbochae, Gongbojeong, Iberico rib buns, and fried noodles, and Hibab must eat them all. Hibab predicted a complete victory, saying, "I am 100% confident of winning since this is my professional content," and Jeong Ji-seon also sharpened interest by saying, "I absolutely cannot tolerate losing."
Hibab, who had just finished eating 13 pre-prepared dim sum items, provoked the crowd by saying, "I'm eating slowly on purpose to keep up with the pace." After tasting Jeong Ji-seon's first dish, he took his time and commented on the dish, saying, "It's the lightest palbochae I've ever eaten, and the flavor of the seafood and the texture of the vegetables go well together." However, he slowed down significantly because he was eating a hot dish. In particular, when Hibab hesitated to prepare the third dish, which was made with plenty of spicy Sichuan peppers and even added chili oil, Ji-seon Jeong smiled devilishly and finished the last dish, fried noodles, while ignoring Hibab, who continued to drink water.
While Jeong Ji-seon wore an eyepatch and showed off a performance using onions, Hibab made a last-minute spurt, but in the end, victory went to Jeong Ji-sun. Although he denied it by saying, "I didn't know Hibab couldn't eat hot and spicy food," it was revealed that it was actually a thoroughly planned menu composition. done. Unlike the Hibab side, which was crowded with people of all ages and genders, the event ended with Jeong Ji-seon taking a commemorative photo in a friendly manner with a small number of people.
Kang Min-kyung, Ten Asia reporter kkk39@tenasia.co.kr