TV
Nam Joo-hyuk's two faces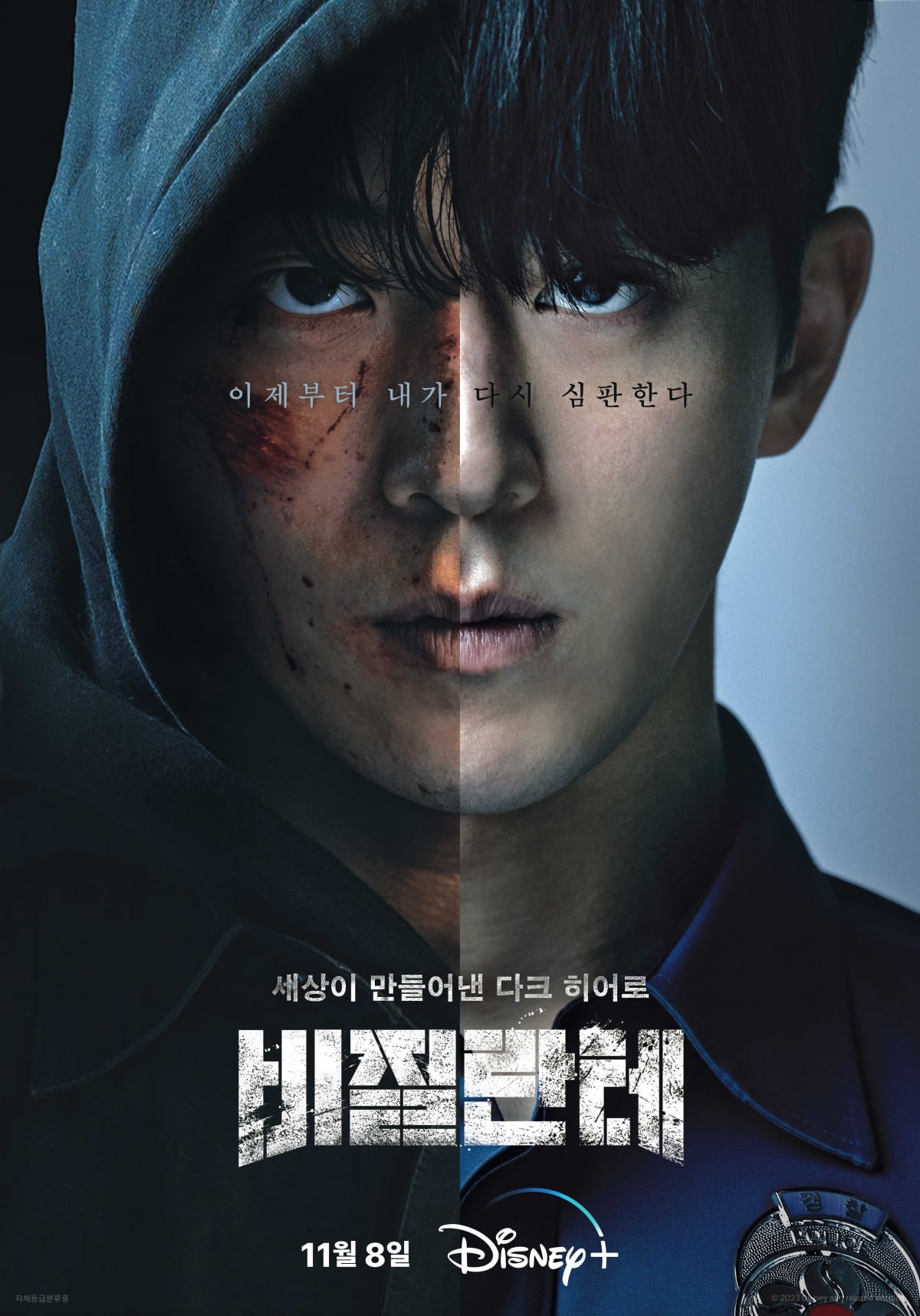 The first poster for Disney+'s original series 'Vigilante' has been released.
On the 16th, Disney+ released the first poster for 'Vigilante', which highlights Nam Joo-hyuk's dual charm. 'Vigilante' is an action thriller about Kim Ji-yong (played by Nam Joo-hyuk), who is a model police student who protects the law during the day, but lives as a vigilante who directly judges criminals who have escaped the law at night, and the people surrounding him with different goals who fiercely fight against each other. .
The first poster released attracts attention with the different faces of Ji-yong Kim (played by Nam Joo-hyuk) filling the field of view, divided in half. The contrast between the left face, deeply covered in a black hood, and the right face, wearing a police uniform, shows the dual appearance of Kim Ji-yong, who is a model police student during the day, but becomes a 'vigilante' at night and directly judges criminals who have avoided the law. It amplifies expectations for the emergence of a new dark hero created by the world.
One face stained with blood stains and wounds and a somewhat cool look in the eyes show the ruthless will and faith of 'Vigilante' towards criminals who have evaded the law. On the other hand, the opposite face staring straight ahead in a neat uniform shows the appearance of Kim Ji-yong, a model police student, contrary to 'Vigilante', stimulating curiosity about Nam Joo-hyuk's acting, which will express a character with two sides in delicate and detailed manner. do.
Here, the copy 'From now on, I will judge again' heralds the performance of 'Vigilante', who fills loopholes in the law and judges criminals with his own justice, giving viewers a new insight into what the law and true justice are. Expectations are high that it will be a hot topic.
'Vigilante' will be released on Disney+ on November 8.
Kang Min-kyung, Ten Asia reporter kkk39@tenasia.co.kr