TV
Song Joong-ki "My son and I have similar lips"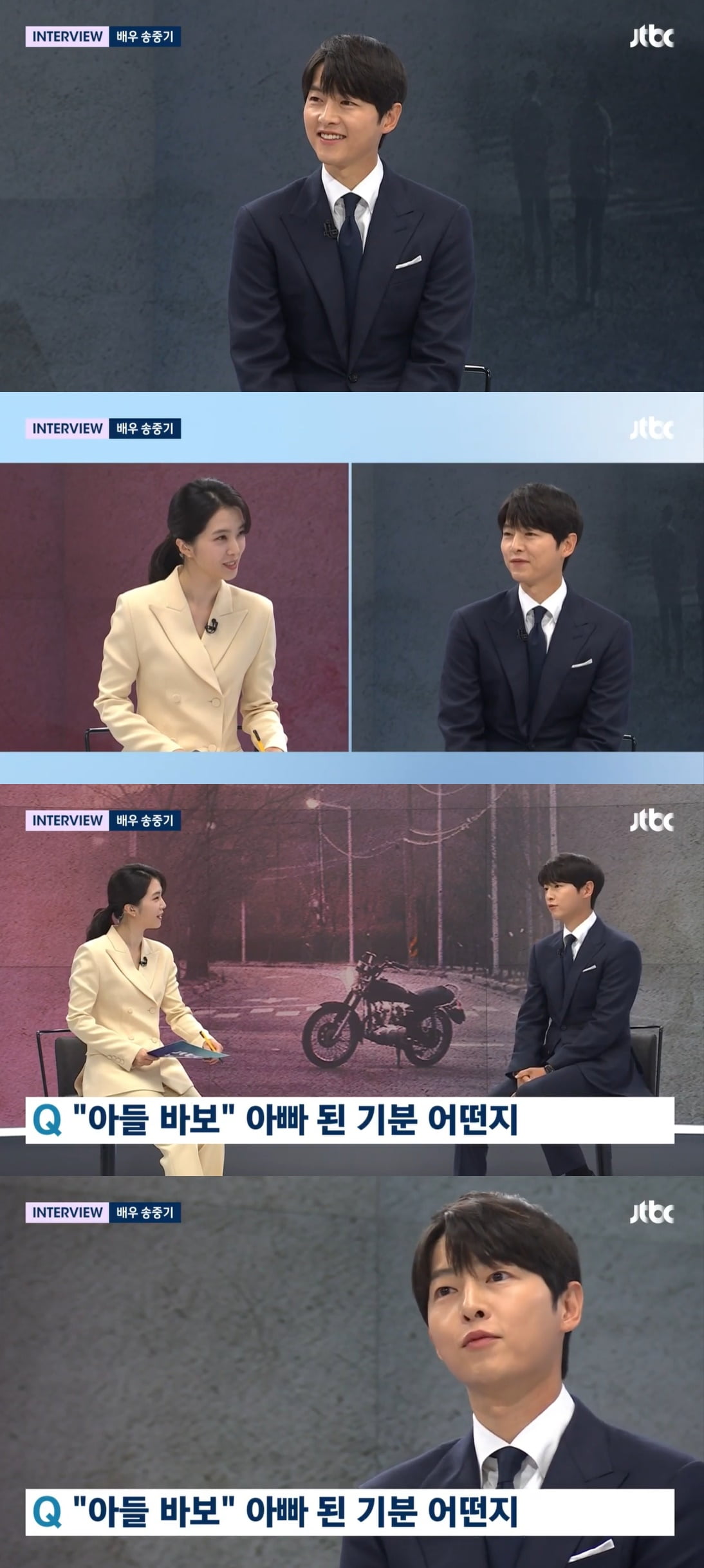 Actor Song Joong-ki expressed his feelings about becoming a father.
Song Joong-ki appeared on JTBC's 'Newsroom' broadcast on the 15th.
Song Joong-ki announced his marriage and pregnancy with Katie Louise Saunders on January 30th of this year. Then, in February, he left for Hungary to film the Netflix movie 'Ro Ki-wan' and went on a journey together. Meanwhile, in June, it was announced in Rome, Italy that Katie Lewis Saunders had given birth to a baby boy.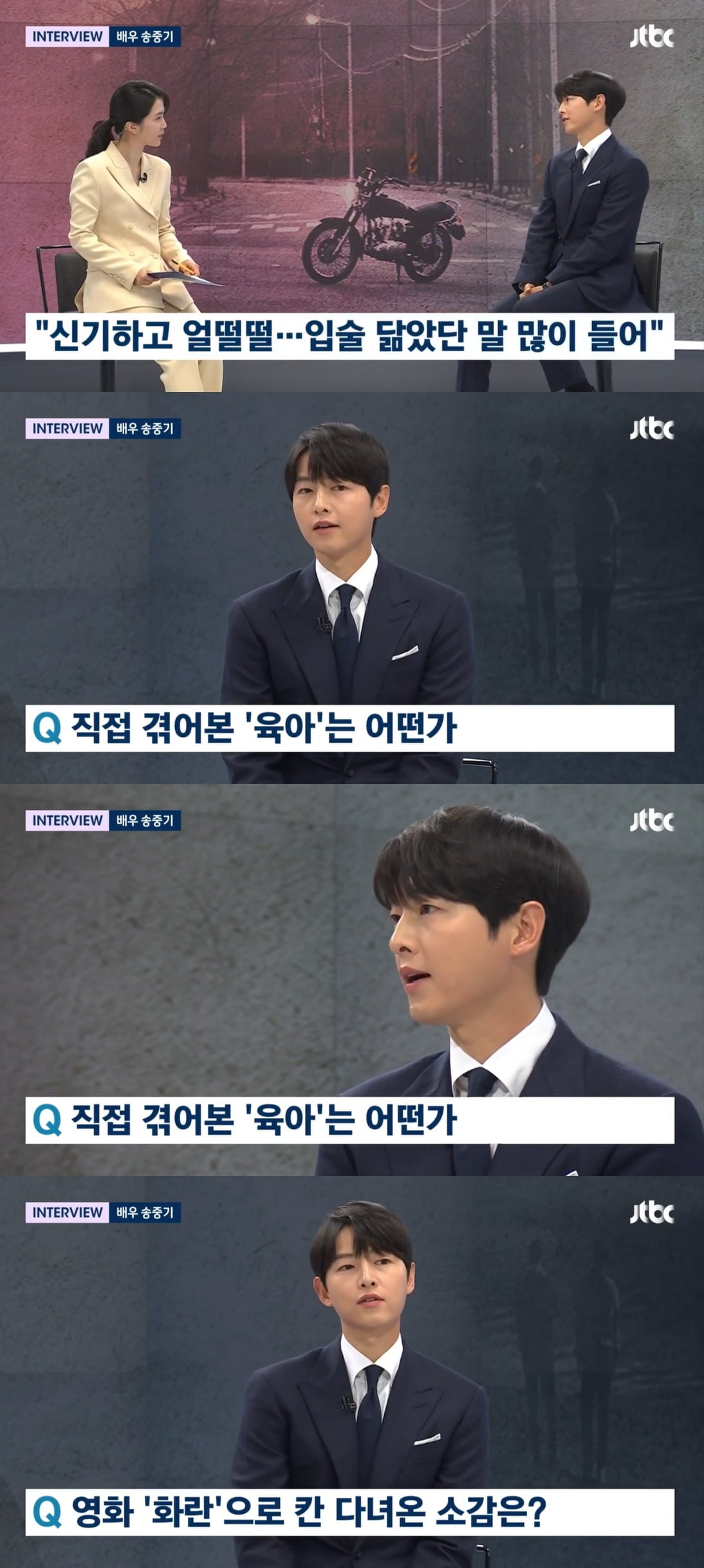 On this day, Song Joong-ki said, "I find (a resemblance to my son). A story I hear a lot is that our lips are very similar. Eight out of ten people say that. I also pay close attention to my lips and look at them. "When I hear those words, I feel very good, it's amazing, and I'm still in a daze," he said.
He continued, "It's amazing, thinking 'I've become a father' or 'I've got a son'. I'm still in a daze. My wife and I are strong and think we're doing well together. We're very proud of each other. I think it's a proud thing. So these days. "I am filled with happiness," he added.
Song Joong-ki visited the Cannes International Film Festival for the first time in his life in May this year with the movie 'Dwarf'. He said, "It's an honorable position. Strangely, I always ate tomato spaghetti, but it was delicious again. Maybe it was because I was excited, but on top of that, it was my first time personally feeling the best, the lead actor Hong Sa-bin's first time, and director Kim Chang-hoon's first time as well. "I think I felt fresher after going with these people. I was so excited and so honored," he explained.
Song Joong-ki said of 'The Hwaran', "There will be a fresh independent film coming out. I don't know if I can do it or not, but I had a big thought, 'I hope this film is made well and is well-screened in theaters.' I watched it as a fresh film, and then I was greedy. I want to do this. But I don't know if I will be helpful or not. Because I am an actor with a strong commercial background, I thought, 'Will I really be helpful to this movie?' and 'Am I causing trouble for no reason?' "I think it was big at first. It was definitely fresh," he said.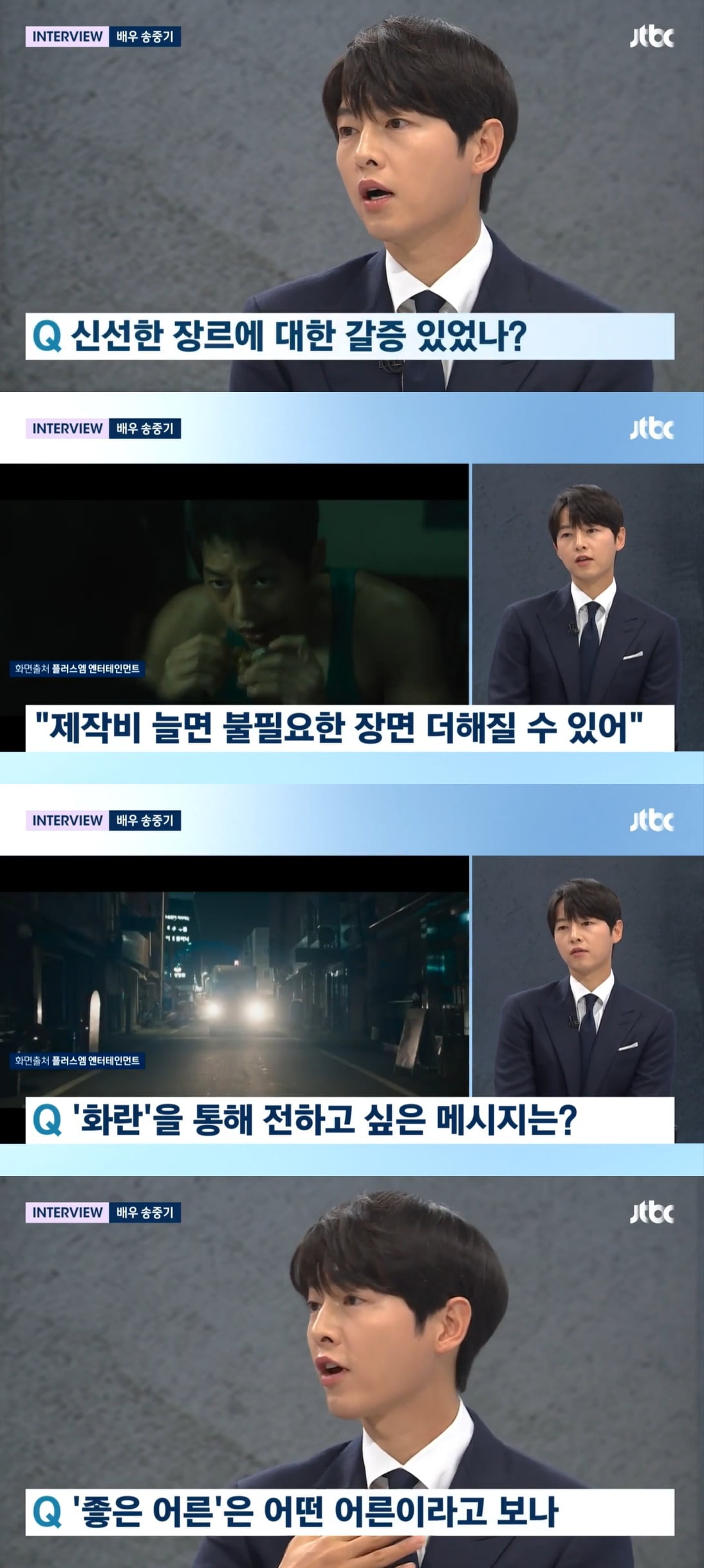 He also said, "As a member of the audience, I usually enjoy watching movies with a dark and dreary atmosphere. So it was natural for me, but the public and the audience who have a different image of me asked, 'Do you like that kind of thing? That friend 'I think you may have seen it in a fresh way. Personally, it's a genre I've always liked very much, so I just wanted to do it naturally,' he said.
Song Joong-ki appeared in 'Hwaran' with no guarantee. He said, "This script has the charm of a deep, independent film, but if the production cost increases, I don't mind if it's needed, but I think it was a little burdensome that things were going like that, like action scenes or car chase scenes that weren't necessary. "He stated the reason.
Song Joong-ki thinks a good adult is a responsible adult. He said, "I grew up looking at my father like that and growing up feeling like that, so I think it's a word that has become established in me. It may be a bit vague, but he seems to be a person who knows how to show his words through his actions. That means. It may be a slightly different story, but I also think of myself as an adult who is not a coward. So, I also want to be that kind of person, or should I say it's my own bullshit philosophy. I think that's settled in a bit. My mindset is the most important. "The person who caught me was probably my father."
Kang Min-kyung, Ten Asia reporter kkk39@tenasia.co.kr