TV
Namgoong Min and Ahn Eunjin, tearful reunion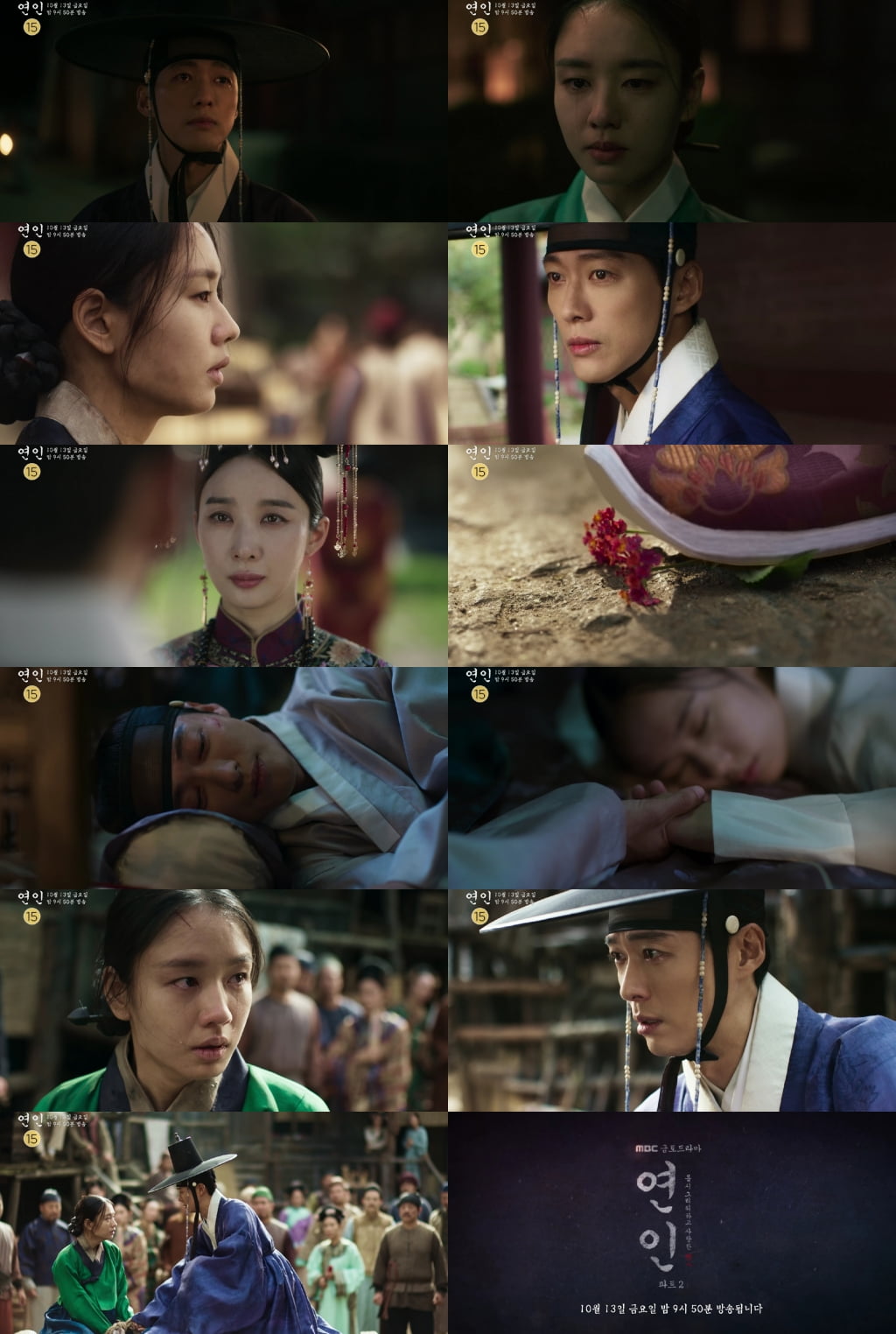 The love between Namgoong Min and Ahn Eunjin deepens.
On the 13th, MBC's Friday-Saturday drama 'Lovers' returns with Part 2. The human history melodrama 'Lovers', which deals with the love between lovers and the vitality of the people during the Manchu War, recorded the highest viewership rating of 12.2% (Nielsen Korea nationwide) when Part 1 was aired, taking the throne as the best Friday-Saturday drama on all channels. It continued its overwhelming march to first place in various topical figures. The heartbreaking love between the male and female leads, Lee Jang-hyeon (played by Namgoong Min) and Yoo Gil-chae (played by Ahn Eun-jin), captivated the small screen.
In episode 10, the last episode of Part 1 of 'Lovers', Lee Jang-hyun and Yoo Gil-chae met each other after a long journey, but had no choice but to have a heartbreaking farewell. The return of 'Lovers' Part 2 stimulates curiosity about whether the two will meet again and what will happen to their love.
Meanwhile, the teaser video for 'Lovers' Part 2 was released on October 4th. In the video, Lee Jang-hyeon and Yoo Gil-chae each look at the moon, miss each other, and cry. Lee Jang-hyeon says, "It's strange. On days when the moon is bright like this, I'm always with you," and falls into memories with Yu Gil-chae. He then said, "I don't know where it went wrong," and regrets his past when he had no choice but to let go of Yoo Gil-chae's hand. Yu Gil-chae's terrible ordeal is predicted. Yu Gil-chae is strangled, slapped, and thrown to the point of having his hands cut off.
A new character, Gak-hwa (played by Lee Cheong-ah), who was portrayed only as a 'blue mask' in Part 1, appears. Gakhwa, dressed in fancy Qing Dynasty clothing, hints at his love for Lee Jang-hyeon by saying, "I would rather see the man torn to death than lose the man I want to another woman."
Nevertheless, we can see that the one thing Lee Jang-hyeon wants to protect is Yu Gil-chae. Lee Jang-hyeon throws himself into danger for Yoo Gil-chae, but says, "Live like a flower. That's all I want." And when he sees Yoo Gil-chae sleeping while holding his hand tightly, he smiles beautifully and sadly.
Yoo Gil-chae, who knows Lee Jang-hyeon's feelings well, begs, "Don't do anything for me." Lee Jang-hyeon goes to rescue Yoo Gil-chae, who is left in tears, saying, "I don't want to do it. I have to do it as I want and as I want." The 'Lovers' Part 2 teaser video ends with Lee Jang-hyun and Yoo Gil-chae facing each other with tears in their eyes, just like when they saved Yu Gil-chae in the war during the Manchu War.
The teaser video for 'Lovers' Part 2 captures the heartbreaking reunion of Lee Jang-hyun and Yoo Gil-chae. Namgoong Min completed the portrayal of Lee Jang-hyun, who risks everything in his life to love only one woman, with delicate acting skills, including moist eyes. Ahn Eun-jin portrayed the fate of Yu Gil-chae, who was thrown into a dire situation, with rich and deep emotions. Thanks to the perfect acting skills of the two actors, the love between Lee Jang-hyun and Yoo Gil-chae feels even more heartbreaking. In addition, Lee Cheong-ah's strong acting skills and presence, who will portray the main characters in Part 2, also raise curiosity and expectations.
Kang Min-kyung, Ten Asia reporter kkk39@tenasia.co.kr