TV
Ji-Hye Han "I lost 15 kg due to hardship... lowest weight in my life"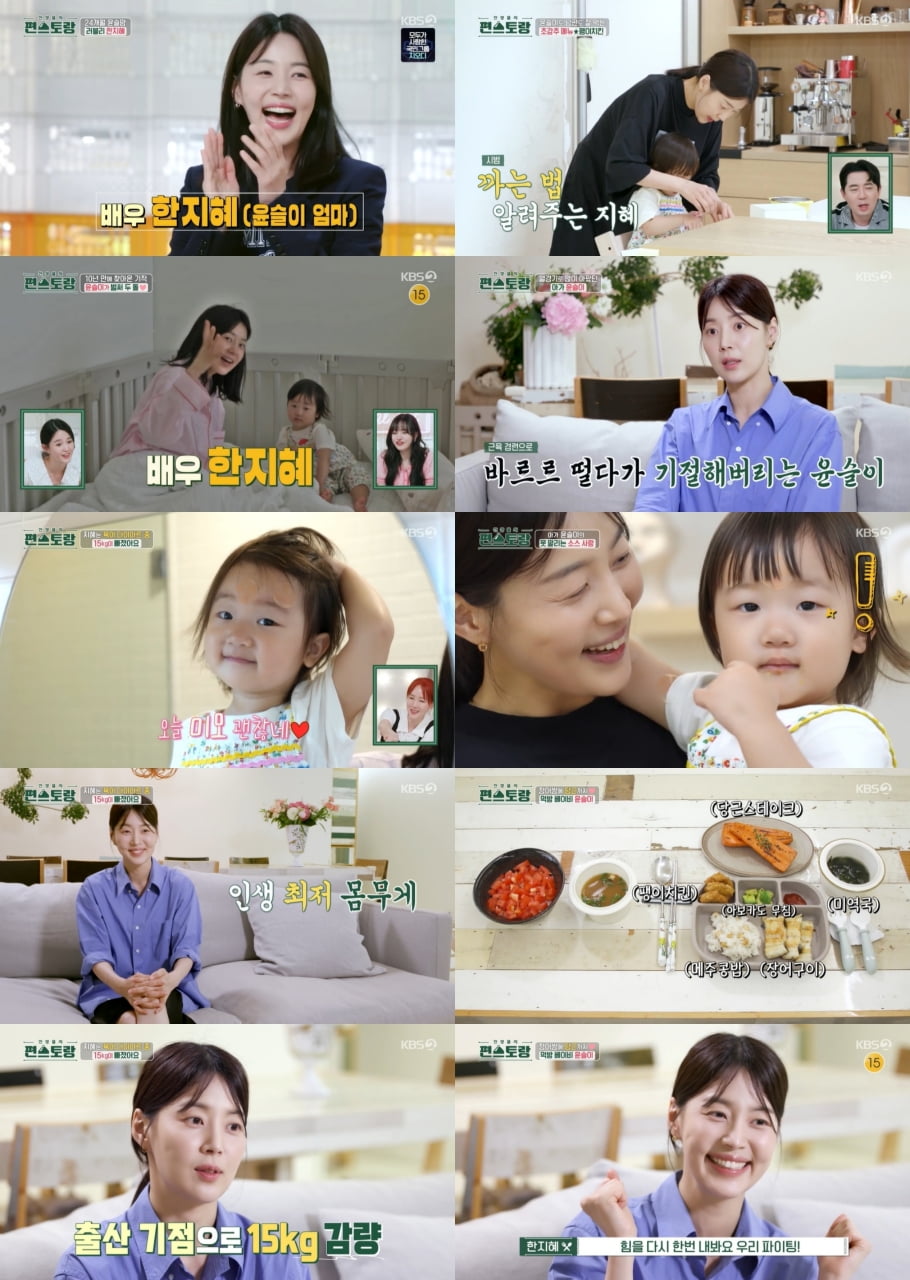 Actress Han Ji-hye revealed real parenting scenes.
Han Ji-hye, a welcome face, returned on KBS2's 'New Release Edition (hereinafter referred to as 'Pyeon Restaurant')', which aired on the 22nd.
On this day, Han Ji-hye woke up to Yoon Seul-i calling her "Mom." This was the beginning of parenting. Mom Jihye Han wanted to have her brush her teeth and wash her face first, but Yunseul wanted to eat milk first. In the end, Han Ji-hye gave milk to Yun-seul, and as soon as Yun-seul drank the milk, she hugged her and headed to the bathroom. Yunseul was washed first, and everyone was surprised to see her mother, Han Ji-hye, rushing to wash her face while holding her with one hand.
Jihye Han, who devoted herself to raising children for a year, said that she went on an automatic diet due to raising children. Han Ji-hye said, "I lost 15 kg after giving birth. It's the lowest weight I've ever weighed in my life. It's because it's hard." When asked if he had plans for a second child, he laughed and said, "It's so hard. I'm still so tired both physically and mentally."
Jihye Han then started making breakfast. The bright and bright Yunseul says she has become more assertive as her two birthdays have passed. It was never easy to juggle parenting and cooking. Han Ji-hye used various methods to distract Yun Seul and cooked in her spare time. In particular, Yunseul, who likes playing with her hands, was taught home crafts such as cracking peas, peeling boiled eggs, and peeling enoki mushrooms, which gave her time to cook and made her laugh.
Meanwhile, Jihye Han quickly created foods that were not only quick and easy, but also delicious and nutritious. These are the menu items that Yunseul loved and ate even during her rice season. Enoki chicken with the flavor of chicken nuggets made with enoki mushrooms, avocado salad, carrot steak, one-minute soup that can be made in advance, frozen, and ready to eat in just one minute. It was a clever recipe from mother Jihye Han, who was able to feed her children delicious vegetables.
What caught my attention more than anything was the eel. Han Ji-hye and her daughter Yun Seul also like eel. Jihye Han grilled the eel until it was appetizing and served it with an eel sauce for children that children could enjoy. Is it because of my mother's sincerity? Yunseul enjoyed the food regardless. In particular, the entire 'Pyeon Restaurant' family fell in love with the cuteness of Yunseul, who was 24 months old and not only ate grilled eel but also ate eel wrap.
In fact, there was a reason why Han Ji-hye cared so much about Yun Seul's food. Han Ji-hye said, "Yunseul is a child with a fever. There hasn't been a time when she wasn't very sick for over a year. When her fever rises, it's dangerous, and that's why I lost my mind a lot." Accordingly, Han Ji-hye and her husband began to meticulously record Yun-seul's physical condition, diet, and dosage. I could clearly feel Mom and Dad's love for Yunseul. Han Ji-hye exclaimed, "Even if 90% of the work is difficult, there are 10% really cute moments. All of you parenting comrades, cheer up and fight."
Kang Min-kyung, Ten Asia reporter kkk39@tenasia.co.kr