TV
Yoon Kye-sang had a murder record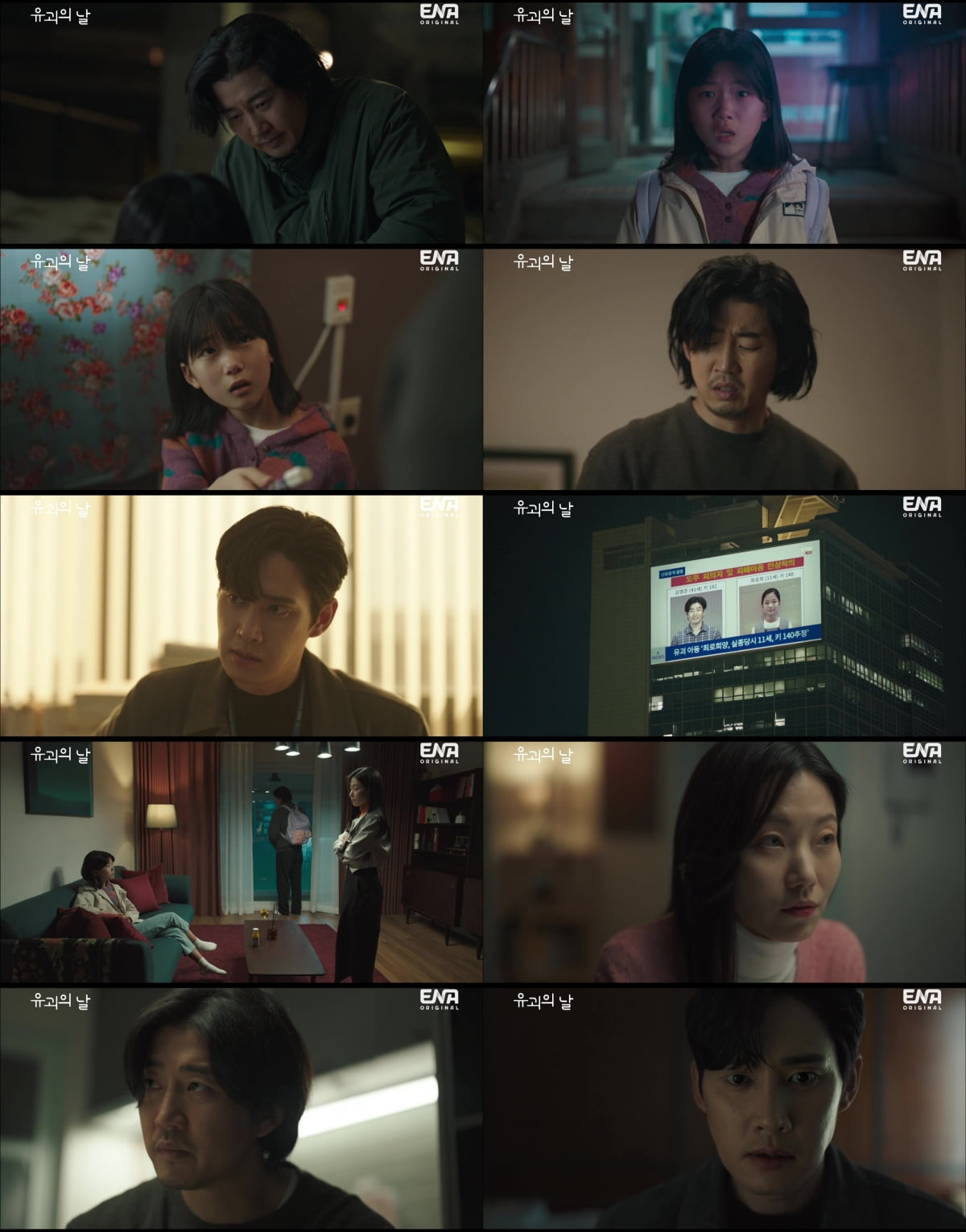 Yoon Kye-sang's murder record was revealed.
In the 3rd episode of ENA's Wednesday-Thursday drama 'Kidnapping Day', which aired on the 20th, a fragment of memory appeared in the mind of Ro-hee (played by Yuna), who learned that Myeong-jun (played by Yoon Kye-sang) was not her father but a kidnapper. As the two men work together to find the truth about the murder, Homicide Detective Sang-yoon (played by Park Seong-hoon) becomes more suspicious of the kidnapper Myeong-jun and Ro-hee's reaction to him.
The viewer rating for the third episode was 3.1% nationwide and 2.7% in the metropolitan area (Nielsen Korea, based on paid households), breaking its own record and recording a more than double increase compared to the previous episode, ranking first among Wednesday-Thursday dramas. In particular, the highest viewership rating per minute nationwide soared to 3.7%.
On this day's broadcast, Rohee burst into tears after learning the true identity of Myeongjun, whom she trusted and followed as her father, and the fact that his real parents were murdered. And the moment we reached the police station, each going our separate ways, I remembered the siren light on the car passing in front of my house that night when the murder occurred. Ro-hee returns to Myeong-jun, suggesting the possibility that the police were involved in her parents' deaths, and asking him to take responsibility for her daughter Hee-ae's (played by Choi Eun-woo) safety and help her find her memories until she surrenders herself after surgery. This began the collaboration between the two, who were reborn as a true team.
Ro-hee, who learned from Myeong-jun that his ex-wife Hye-eun (played by Kim Shin-rok) was behind the kidnapping, said she had to meet him. It was to find out why he had been singled out for kidnapping and who he didn't even know he was. Myeong-Jun eluded the police officers patrolling near Yeongin Station with a false tip, and Ro-Hee also came up with a clever plan and played cooperatively to avoid inspection. Their cooperation made the investigation even more difficult, and Sang-yoon eventually requested that the investigation be converted to an open investigation. Meanwhile, Sang-yoon found out that Myeong-jun had paid 50 million won in overdue hospital bills for his daughter and the bank account transaction details of the deceased Choi Jin-tae (played by Jeon Gwang-jin). Through this, we confirmed records of 10 billion deposited to five people, 2 billion each, around the same time.
Myeong-jun and Ro-hee, whose personal information was exposed through the news, headed to Hye-eun's house to avoid the police's investigation net and public attention. When Hye-eun asked why he came to see her, Ro-hee told him that as an accomplice, he should share in the responsibility. And then we got straight to the point. He asked why he planned the kidnapping, and in particular, what was the reason for singling him out. Of course, the reason for the blindness was money. Hye-eun responded that Ro-hee's parents, who had been abusing him, would not have been able to easily report it. But this wasn't the only thing Hye-eun was hiding. While Ro-hee was asleep, he asked Myung-jun about his future plans, and when he said he would just wait until Hee-ae's surgery progressed, he said something meaningful, "The police already know. What kind of person you are."
Subsequently, Sang-yoon received Myeong-jun's personal record from Jeong-man (played by Jeong Soon-won). The fact that Myung-Jun had a past that no one expected, that he had a murder record, was shocking. On this day, Myeong-jun and Ro-hee fled to Seoul, and the investigation into them was further strengthened. However, Sang-yoon was confused when he saw Myeong-jun and Ro-hee running together holding hands in the CCTV footage. In addition, Eun-seon (played by Seo Jae-hee), one of the people who deposited 2 billion won to Choi Jin-tae, drew attention as it was revealed in the reference investigation that the money was part of the research support that Choi Jin-tae was working on while he was alive. Above all, the attitude of Choi Jin-tae's bereaved family, which takes issue with the disclosure of the case rather than worrying about Ro-hee's kidnapping and disappearance, and the appearance of the mysterious man who killed the man who was lying in wait (played by Song Jae-ryong) while searching Myeong-jun's empty house, raises curiosity about the identity of the genius girl Ro-hee. added.
Kang Min-kyung, Ten Asia reporter kkk39@tenasia.co.kr