TV
Lee Chan-won, reaction explosion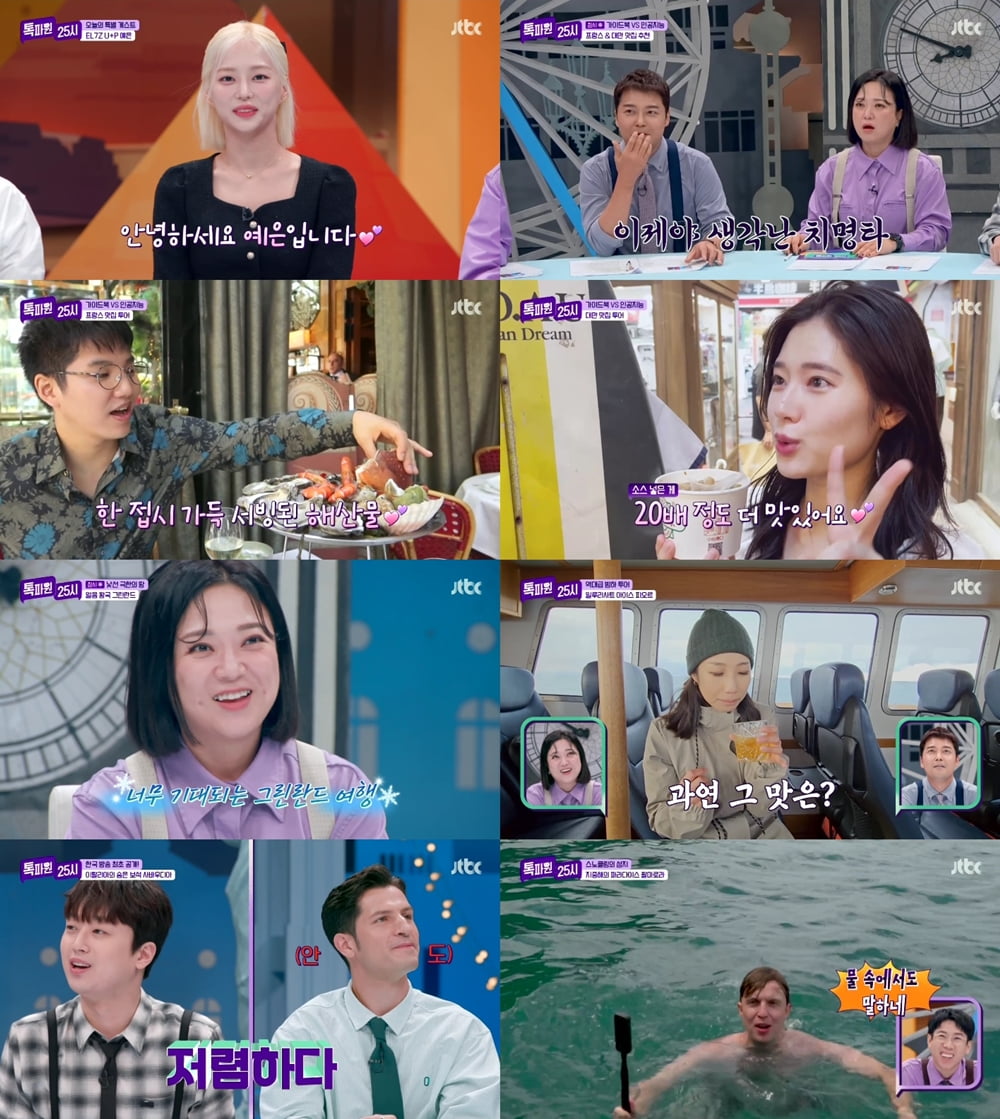 'Talk Partner 25 Hours' met viewers' expectations with a novel online trip.
JTBC's 'Talk Partner 25 Hours', which aired on the 18th, captivated the audience by introducing unique items and unfamiliar travel destinations. A battle of restaurant recommendations between guidebooks and artificial intelligence chatbots took place in France and Taiwan, and an online trip to Greenland, the land of ice, and Sabaudia, a hidden gem in Italy. The viewership rating was 2.7% in the metropolitan area and 3.0% nationwide (based on Nielsen Korea paid households).
On this day, French TALK member started a full-fledged mukbang at a restaurant recommended by the guidebook. Tokpawon was recognized as a restaurant recommended by the guidebook, enjoying a seafood platter with fresh conch, oysters, and crab, as well as a crispy Napoleon mille-feuille dessert. The restaurant recommended by the artificial intelligence chatbot is a place where you can eat Alsatian cuisine, and I tried the traditional Alsatian dish, choucroute. In the artificial intelligence chatbot evaluation of recommended restaurants, TalkPaone made the same comments as when evaluating the guidebook, making people laugh as they acknowledged it.
Taiwan's Tokpawon compared the difference in taste by inhaling basic noodles and noodles with sauce at a tripe noodle restaurant recommended by an artificial intelligence chatbot and gave it 4.5 stars out of 5. At a restaurant recommended by the guidebook, I tried snail dish and soft tofu with fermented eggs, and the artificial intelligence chatbot won the battle by giving it 4 stars because of the unique spice that seemed to have mixed tastes.
In Greenland, the ice kingdom known as the land of extreme cold, we toured the capital Nuuk on a city tour. The Nuuk National Museum, which contains 4,500 years of Greenland's history, the cemetery symbolizing the Inuit ideology of the cycle of life, and the Mosquito Valley scenery with its colorful wooden houses caught the eye.
Above all, I was impressed by the spectacular view of the Ice Fjord seen on a boat tour in the glacier village of Ilulissat. Following the scene of drinking flowing glacier water, when a gin cocktail made from glaciers was served, MC Lee Chan-won couldn't take his eyes off the show with a sincere reaction, saying, "It looks so delicious."
Lastly, the LAN trip to Sabaudia, Italy doubled the fun of traveling talk agent Julian and his family. Among them, as Alberto always talked about the low prices of fruits in Italy, Julian aroused interest by fact-checking the prices of Italian fruits at the market. The total price of purchasing 1kg of pears, grapes, melons, and peaches was surprising, at around 12,000 won.
Additionally, in Palmarola, which is famous as a hopping tour spot thanks to its beautiful sea color, the whole family enjoyed snorkeling together while observing the fish in the sea. Julian, who talked a lot while snorkeling, spoke enthusiastically while eating and showed off his Two Much Talker side, causing laughter.
Kang Min-kyung, Ten Asia reporter kkk39@tenasia.co.kr