TV
Hong Jin-kyung, who has accumulated sales of 40 billion won, said she could lend 100 million won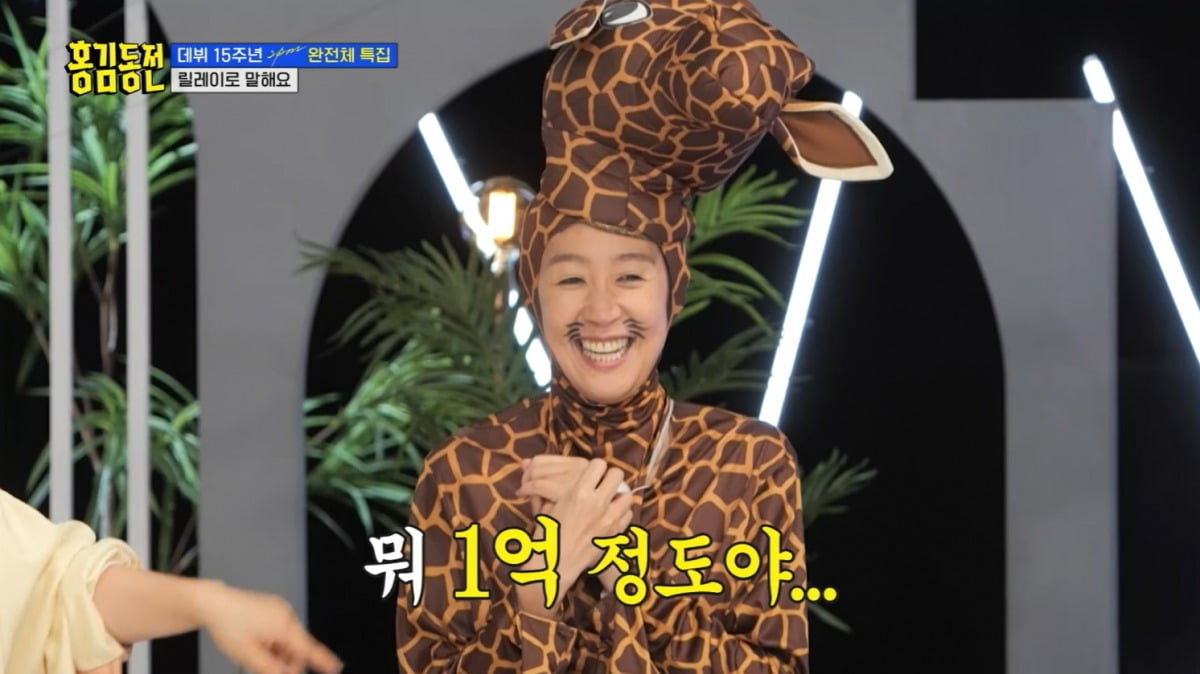 Hong Jin-kyung has shown himself to be a big CEO as he has achieved cumulative sales of KRW 40 billion through his business.
The 52nd episode of 'Hong Kim Dong-jeon', which aired on the 7th, is the second time that the complete members of 2PM Jun. K, Nichkhun, Taecyeon, Wooyoung, Chan-sung, and Lee Jun-ho, who are celebrating their 15th debut anniversary, and 'Hong Kim Dong-jeon' members face off in 'Beast Idol VS Beasts'. The story was revealed.
'Hong Kim Dong-jeon', which got off to a good start with a dance debut, turned up the heat by entering the second game, 'Speak in Relay, Increase the Number of Characters', where speed and agility are key. When Lee Jun-ho shouted "kimchi fried rice" in the practice game's suggested word "side dish," and then said, "Put it on rice and eat it," Hong Jin-kyung couldn't hide her laughter, saying, "Why are you doing that when you look so fine?" Upon hearing that they could receive the prize written on the spinning roulette if they succeeded three times each way, they all stood up and went to the roulette. After seeing the 'Hong Jin-kyung life-size' product, Chan-sung's eyes sparkled as she asked, "(Hong Jin-kyung's Pyeongchang-dong) house is coming too?" Taecyeon, who saw the re-appearance tickets for all 2PM members of Hong Kim Dong, asked, "Is this a gift for us?" Jo Se-ho made people laugh by asking, "I have my autograph, so please don't throw it away."
Both teams paid attention to the products 'Omakase with the main producer's personal card', 'Hottestist reverse tribute event', and '2PM 15th anniversary concert teaser 10 seconds'. When the 'Beasts' who went first failed to name the animal and received the tray, Nichkhun showed his passion by asking the production team for a chance for a foreigner, saying, "I need 5 more seconds because I am a foreigner." In response, Wooyoung grumbled, "If you're at a disadvantage, you're a foreigner," and the testimonies pouring in that his favorite menu item is pork belly, Cheongyang peppers, and a bowl of rice set, which is a native Korean taste, brought a lot of laughter.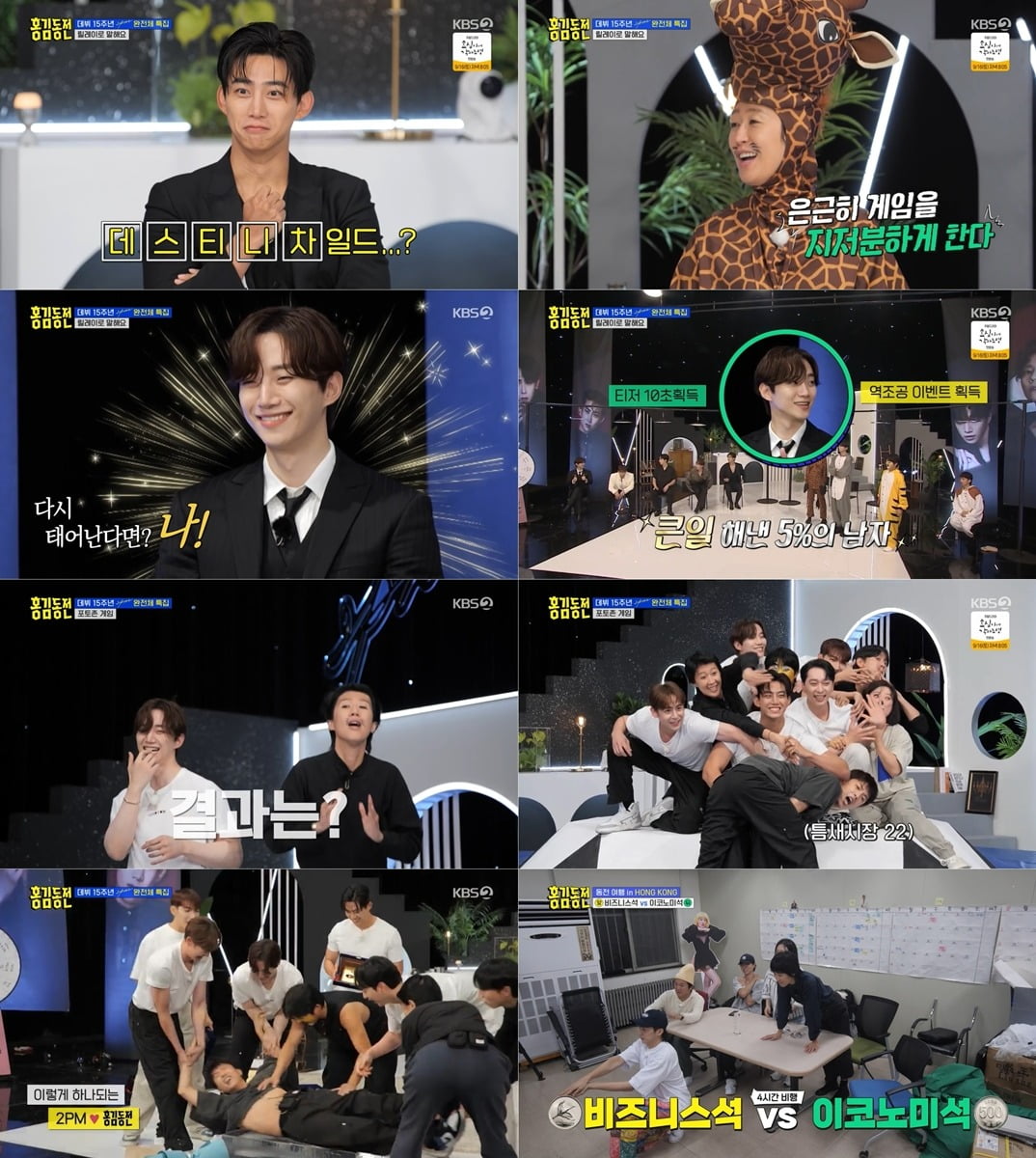 While neither team was having any success, Hong Jin-kyung kept the 'Beast Idol' team in check by saying, "I played with 2PM and it was a bit messy." During the game, Hong Jin-kyung once again showed off her 'Hong Kim Dong-jeon' official big-handed side by answering "I understand" without hesitation to the question, "What if one of the contestants asks to borrow 100 million won?", drawing everyone's admiration. Jo Se-ho made people burst into laughter by saying, "Jin-kyung-noona has 500 million won in her wallet right now."
When Kim Sook was suspicious of Lee Jun-ho, who answered 'strength' as to what makes him superior to the person next to him, Chan-sung testified, "Jun-ho has good hip strength." Nichkhun added, "I used my butt to pick more than 30 wooden chopsticks." It was revealed to be true through past video footage, causing laughter. An extra game was added due to the 'beasts' who protested strongly when Lee Jun-ho repeated 'I' and Chan-sung answered 'Park Jin-young' to most of the suggested words. Lee Jun-ho, who played roulette before the extra game, dramatically avoided Hong Jin-kyung's life-size figure and won the '2PM 15th Anniversary Concert Teaser 10 seconds' ticket, satisfying all 'Beast Idols'. In the extra game, 'Beasts' won, but Wooyoung, who played roulette, won the '2PM CD', which made everyone laugh.
The 'Photo Zone Game' that followed consisted of a one-on-one individual exhibition and a group exhibition. A game where you have to successfully take a picture by entering the frame in a pose that matches the given word while a 5-second timer is running. Taecyeon and Joo Woo-jae, who were the first batsmen in the photo zone game where the penalty of being hit by an ice breaker awaits, ignited their passion with the suggested word 'sexy', but Joo Woo-jae won, and when it was impossible to judge Chan-sung and Hong Jin-kyung's suggested word 'nostalgia', they had to go to the second round. After trying, Hong Jin-kyung's victory was confirmed. Nichkhun won against Wooyoung by successfully completing the suggested 'degenerate' pose. After the third attempt, Jun.K and Jo Se-ho burst into tears and Jo Se-ho won. Lee Jun-ho and Kim Sook expressed their 'aegyo' in the same titanic pose, but Lee Jun-ho, who entered the frame, won. The final runners in the individual exhibition were Lee Jun-ho and Hong Jin-kyung. Hong Jin-kyung's scream, which did not match the suggested word 'temptation', made even 'the beasts' laugh as they were unable to acknowledge their victory. In team matches where more people must fit into the frame, the battle for position becomes more intense, and a 3-on-3 match was added after the victory of 'Beast Idol'. Wooyoung burst into laughter as he was pushed by Chansung, and in the end, the victory went to 'Beast Idol'.
Wooyoung moved people by saying, "2PM is my everything, and Hong Kim Dong-jeon is the next member of 2PM after 2PM." He added, "Won't I cry when I watch the broadcast?" Next, along with the 'Long Service Appreciation Plaque' prepared by the production team, a video containing 15 years of 2PM since their debut was released, making everyone cry. In particular, the sight of Wooyoung conveying his sincerity on stage, saying, "It's not important to be the best, but that I have to do my best. I want to spend my 30s with you all," was deeply moving. The emotion was momentary, and laughter poured out at the sight of Wooyoung coolly walking around on the ice planer while screaming, representing the 'beasts' who lost the game.
Next, the members gathered in the office to film in Hong Kong, the first overseas filming location for the historic 'Hong Kim Dong-jeon', were revealed. The members, who were full of dreams while talking about famous places and delicious restaurants, foreshadowed next week as they began tossing coins between the front business class and the back economy class seats for 'Coin Travel in Hong Kong'.
Kim Ji-won, Ten Asia reporter bella@tenasia.co.kr