TV
Rowoon says to Jo Bo-ah, "I like you too."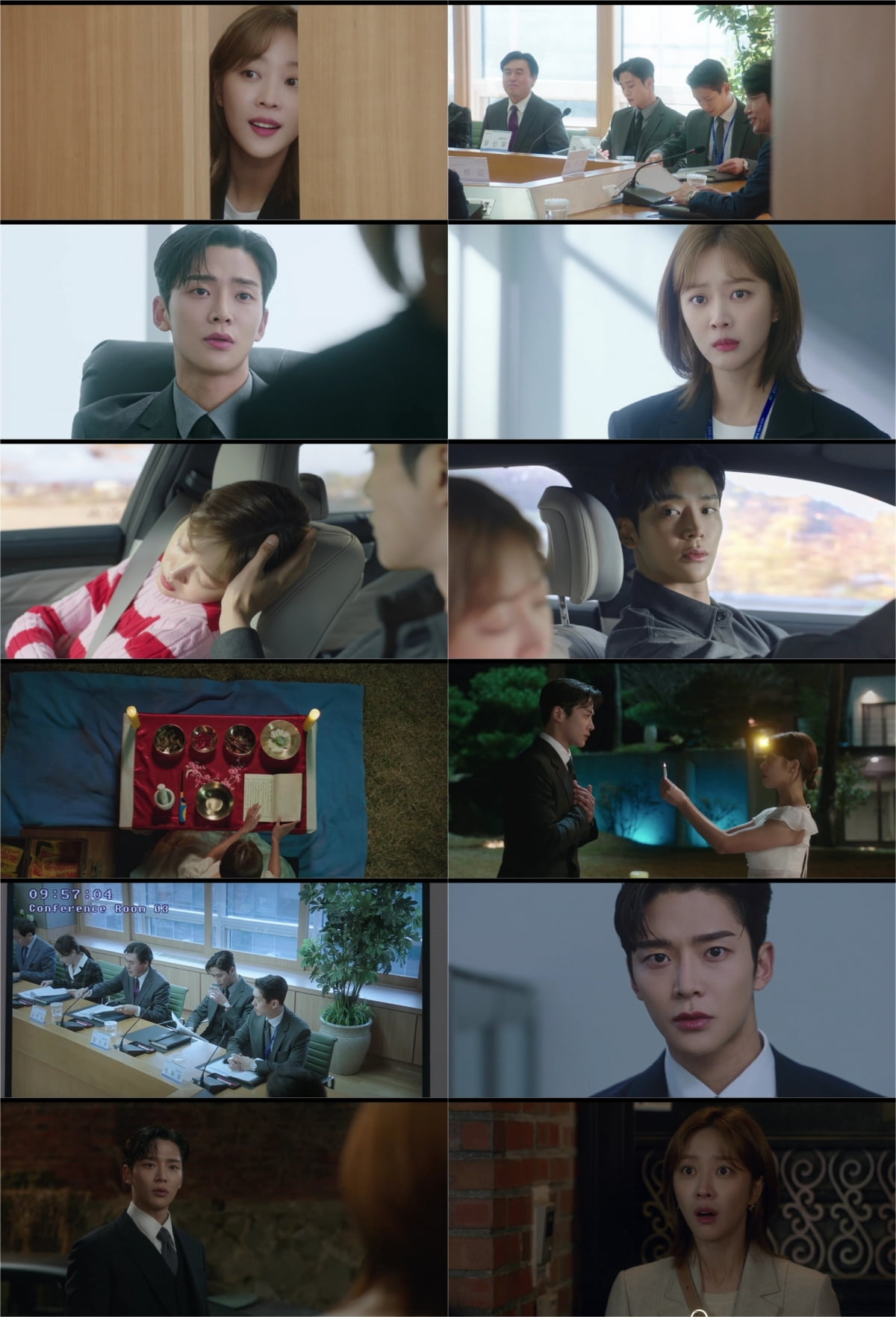 Rowoon fell under Jo Bo-ah's love spell.
In episode 3 of the JTBC Wednesday-Thursday drama 'This Love Is Force Majeure', which aired on the 30th, Jang Shin-yu (played by Rowoon) was depicted unintentionally caught up in the lovemaking techniques of Lee Hong-jo (played by Jo Bo-ah). Lee Hong-jo launched the Ae-jeongsu strategy to capture the heart of Kwon Jae-kyung (played by Ha Joon). However, the person caught was Jang Shin-yu, not Kwon Jae-kyung. Jang Shin-yu, who learned the whole story of the incident, visited Lee Hong-jo and made a quick confession.
On this day, Lee Hong-jo carried out a love magic operation. He sneaked into an unoccupied conference room and put affectionate water in Kwon Jae-kyung's water glass. However, due to the urgent call of team leader Gong Seo-gu (played by Hyeon Bong-sik), Lee Hong-jo had to return to his seat without seeing Kwon Jae-kyung drink affectionate water. Another incident occurred in the green space department where it was not a windy day. The flower pot hanging on the median was ruined due to a traffic accident, and Lee Hong-jo, who was aggrieved, visited city hall legal advisor Jang Shin-yu. However, an unexpected answer came back that the culprit who broke the hanging flower pot was Jang Shin-yu, and the magic contract was fulfilled at the request of "You will keep all the magic but give me only one. Today, I must keep your promise. Let's dive for just one day." I even had to take annual leave to do it.
Hongjo Lee packed the necessary baggage to perform magic. Jang Shin-yu, who was looking at the book of magic next to him, noticed that the love spell spell page was missing and learned that Lee Hong-jo had performed love spell spell on Kwon Jae-kyung. The fact that Lee Hong-jo, who said he did not believe in superstitions, used magic to get his unrequited love somehow bothered Jang Shin-yu. After completing preparations, the two headed to Jang Shin-yu's villa near Jiri Mountain. Lee Hong-jo had no choice but to follow him, but as he headed toward the villa, he could not erase Kwon Jae-kyung from his mind, wondering whether Operation Ae Jung-su would have been successful.
Lee Hong-jo and Jang Shin-yu climbed the mountain together to find the pansy flowers needed for magic. Lee Hong-jo, who realized Jang Shin-yu's intention to perform healing magic, was still doubtful about the magic book, but answered that it was in his words, "I am cursed. Lee Hong-jo, have you ever felt like grasping at straws?" I started to unravel my heart.
After completing preparations for the healing ritual, Lee Hong-jo and Jang Shin-yu faced each other. Lee Hong-jo opened the door of the wooden box wearing a neat pure white dress. The moment he soaked the juice created as written in the spell book, wrote on Jang Shin-yu's palm, tore up the page of the healing spell, and burned it, an unknown energy attacked Jang Shin-yu. However, Zhang Xinyu suffered from strange side effects. Just looking at Lee Hong-jo makes your heart rate speed up. That wasn't all. When Lee Hong-jo said that she had a hard time wearing clothes that didn't suit her, Jang Shin-yu said something that even she couldn't understand, saying, "What's strange? You're just pretty to my eyes." He was different somehow.
After that day, a strange change appeared in Jang Xinyu. Instead of being cured of the disease, my condition became poor. While he was suffering from meaningful dreams, his heart pounded whenever he saw Hongjo Lee. I couldn't sleep because I was so displeased with Lee Hong-jo's excitement, saying that it seemed like the love spell had worked. Jang Shin-yu was swayed by confused emotions, believing it to be a side effect of witchcraft. In the end, Jang Shin-yu came to the meeting place where Lee Hong-jo and Kwon Jae-kyung were to meet.
Jang Shin-yu, who felt jealous after seeing Lee Hong-jo smiling shyly at Kwon Jae-kyung through the glass wall of the cafe, headed straight for the door as if he was going to storm in at any moment. At that time, Jang Xin-yu stopped, feeling strange about his actions, and was overcome by an ominous premonition, recalling all the symptoms he thought were side effects. Jang Shin-yu, who quickly turned around and went straight to the city hall management office, was shocked when he checked the CCTV in the conference room. CCTV showed Lee Hong-jo filling the water glass in Kwon Jae-kyung's seat with Ae-jeong water and Jang Shin-yu picking up the glass and drinking it. Only then did Jang Shin-yu, who had solved the mystery of his past actions, head straight to Lee Hong-jo's house.
After returning home, Hongjo Lee approached Jang Shinyu, who was standing with a stern face. When Jang Shin-yu asked about the story he shared with Kwon Jae-kyung, Lee Hong-jo avoided answering, saying, "It's a matter between the aide and I." Then, Jang Shin-yu said, "There is no way the love spell could have worked." Jang Shin-yu's sudden confession, "It's true that Kwon Jae-kyung likes you, and I also like you," embarrassed Lee Hong-jo and made him even more curious about future developments.
Jang Shin-yu said goodbye to his lover Yoon Na-yeon (played by Yura) when his illness showed no signs of getting better even after performing healing techniques. Yoon Na-yeon, who did not know about the existence of Jang Shin-yu's curse, could not accept his sudden request to break up and left, asking for some time.
Kang Min-kyung, Ten Asia reporter kkk39@tenasia.co.kr