TV
Hwang Min-hyun and Kim So-hyun start dating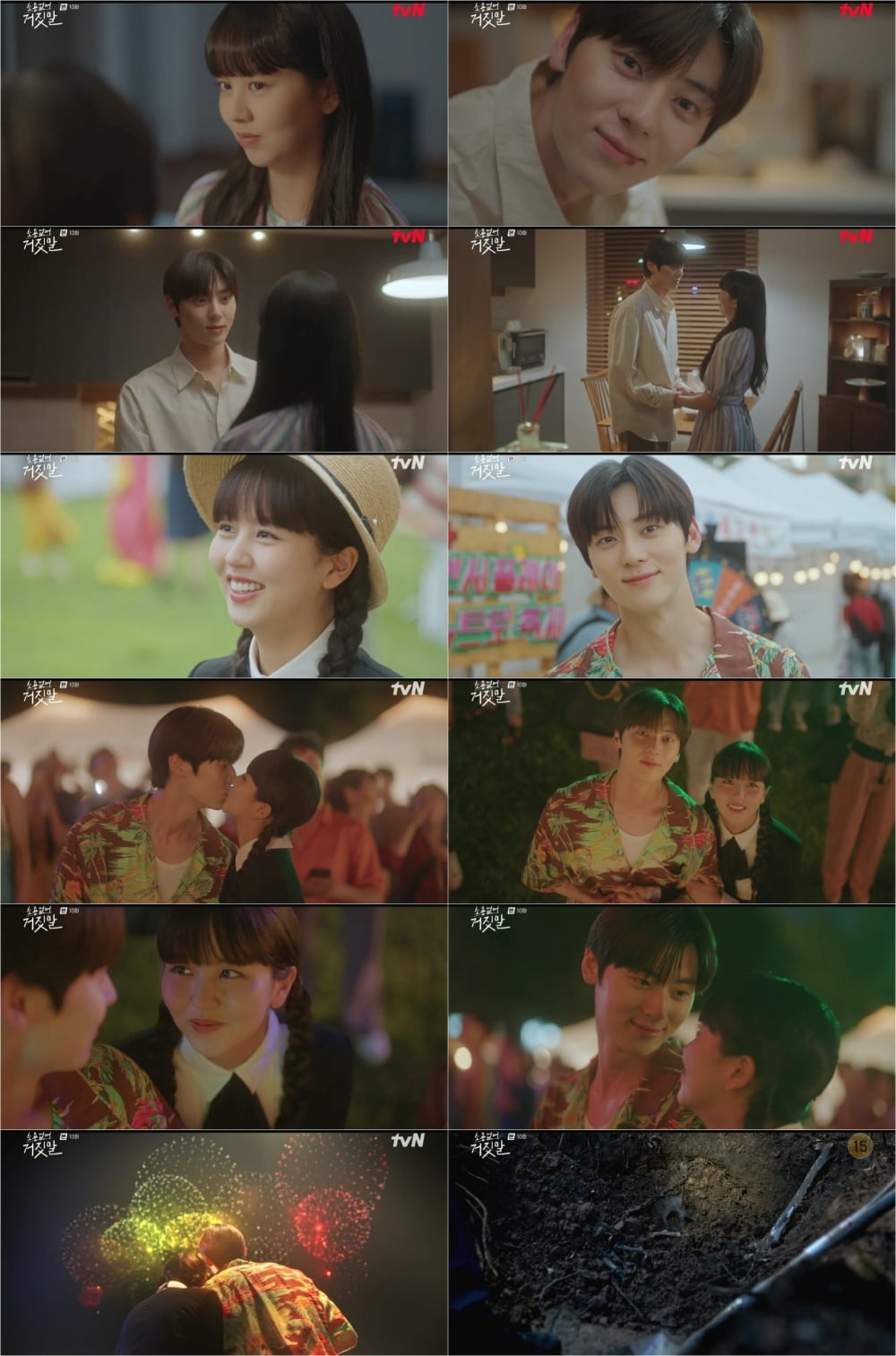 Another crisis has come to Kim So-hyun and Hwang Min-hyun.
In the 10th episode of tvN's Monday-Tuesday drama 'It's No Use Lies' aired on the 29th, Mok Sol-hee (played by Kim So-hyun) and Kim Do-ha (played by Hwang Min-hyeon) began a sweet relationship. However, the image of two lovers enjoying happiness intersected with the remains found in Hakcheon.
On this day, Kim Do-ha barely saved his life from the threat of Choi Eom-ho (played by Kwon Dong-ho). At a moment of desperation, detective Lee Kang-min (played by Seo Ji-hoon) appeared and saved him. In fact, Lee Kang-min was anxious that Kim Do-ha, a murder suspect, was next to Mok Sol-hee.
Lee Kang-min was worried about Mok Sol-hee and was watching Kim Do-ha, and while following him, he saved him from danger. Lee Kang-min, who was surprised to learn that Mok Sol-hee also knew about his past, warned Kim Do-ha, "Only good things should happen to Sol-hee. If a problem arises, I won't leave you alone." Kim Do-ha did not back down despite his sharp reaction and firmly conveyed his sincerity, saying, "I will make you happy in my own way."
Mok Sol-hee was secretly disappointed with Kim Do-ha, who did not formally confess to him. In response to Mok Sol-hee's cute complaint, Kim Do-ha confessed without hesitation, "Do you want to date me?" Although it was a confession without flashy rhetoric or events, Mok Sol-hee responded with the happiest face to Kim Do-ha's confession, which showed more sincerity than anything else.
The first date of the two people who became official lovers was the Yeonseo-dong Festival. Kim Do-ha, no longer avoiding people's gaze, looked happy. The faces of the two people were full of smiles as they enjoyed the festival and mingled with people. Mok Sol-hee and Kim Do-ha enjoy the happiness while watching the fireworks. However, the scene that followed foretold the crisis that loomed over them.
The remains were discovered on a hill near Hakcheon Beach. Attention is focused on what crisis will befall Mok Sol-hee and Kim Do-ha, who have just confirmed their feelings for each other and become lovers. Lee Kang-min's change increased tension. Lee Kang-min began tracking the truth of the Hakcheon Beach disappearance case. He went down to Hakcheon, dug into the events of that day, and discovered that there were questions about Kim Do-ha's alibi.
Kang Min-kyung, Ten Asia reporter kkk39@tenasia.co.kr