TV
In front of the birth of Hive's next girl group... RU Next?, now only the final round remains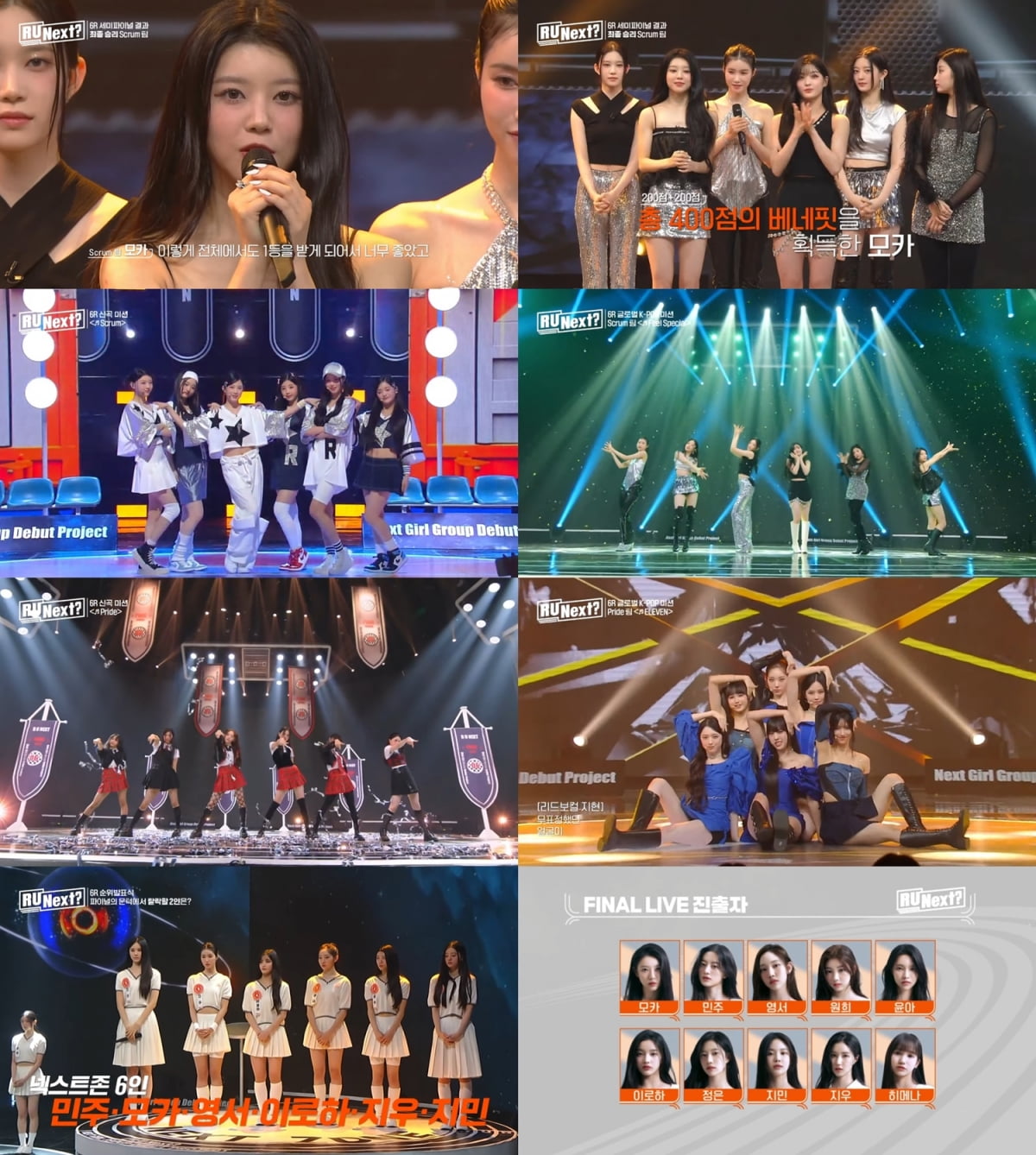 JTBC 'RU Next?' (R-U-Next) 10 finalists were revealed, and the TOP 6 were Minju (1st place), Mocha (2nd place), Youngseo (3rd place), Iroha (4th place), Jiwoo. (5th place) and Jimin (6th place) were named. Among them, Mocha earned a total of 400 benefits in the semi-finals and made her debut right for the first time. In 7th place, Wonhee was only 2 points behind Jimin, who was in 6th place.
In the 9th episode of 'RU Next?' (Producer Studio Jam/Mushroom Company) aired on the 25th, the 1st and 2nd mission stages of the 6th round semi-final were broadcast, and the 'Scrum' team (Mocha, Minju, Wonhee, Iroha) ·Jungeun·Jiwoo) beat the 'Pride' team (Chanel·Youngseo·Yoona·Jimin·Jihyun·Himena) who received 9974 points with a total score of 10898 by a margin of 924 points.
The first mission of the semi-final was a new song competition. Participants were divided into 2 units of 6 each and set up the stages of 'Scrum' and 'Pride'. With 'Scrum', which is about growing up through trust in each other and courage that can only be achieved together, and 'Pride', which contains a confident attitude of self-confidence to overcome the limit, the participants surprised everyone with their growth compared to the beginning of the broadcast. Park Gyu-ri, who was moved by the fact that the contestants were truly enjoying the stage, said, "I think we saw the power of idols that we wanted to see. It was a stage that really touched my heart."
The global K-POP mission continued. The 'Scrum' team performed TWICE's 'Feel Special', and the 'Pride' team performed Ive's 'ELEVEN' stage. At the threshold of their debut, the contestants showed their individual skills, but also performed a high-quality performance by matching every detail of the movement for team harmony. As a result, the 'Scrum' team won the global K-POP mission following the new song.
On this day's broadcast, Jihyun and Chanel were eliminated. It was clear that the competition had become fierce because the participants showed good skills in every round. After the two people were called out as the dropouts, the appearances of the contestants showing tears in regret were also shown.
'RU Next?' is co-produced by Belif Lab, Studio Jam, and Mushroom Company, and the final journey to select Hive Next girl group members will be held on Friday, September 1 at 8:50 pm JTBC and Hive Labels other than Abema in Japan. Simultaneously broadcast live on our YouTube channel.
Reporter Yoon Jun-ho, Ten Asia delo410@tenasia.co.kr