TV
Kim Ji-min, Kim Jun-ho Jealous Explosion Exposure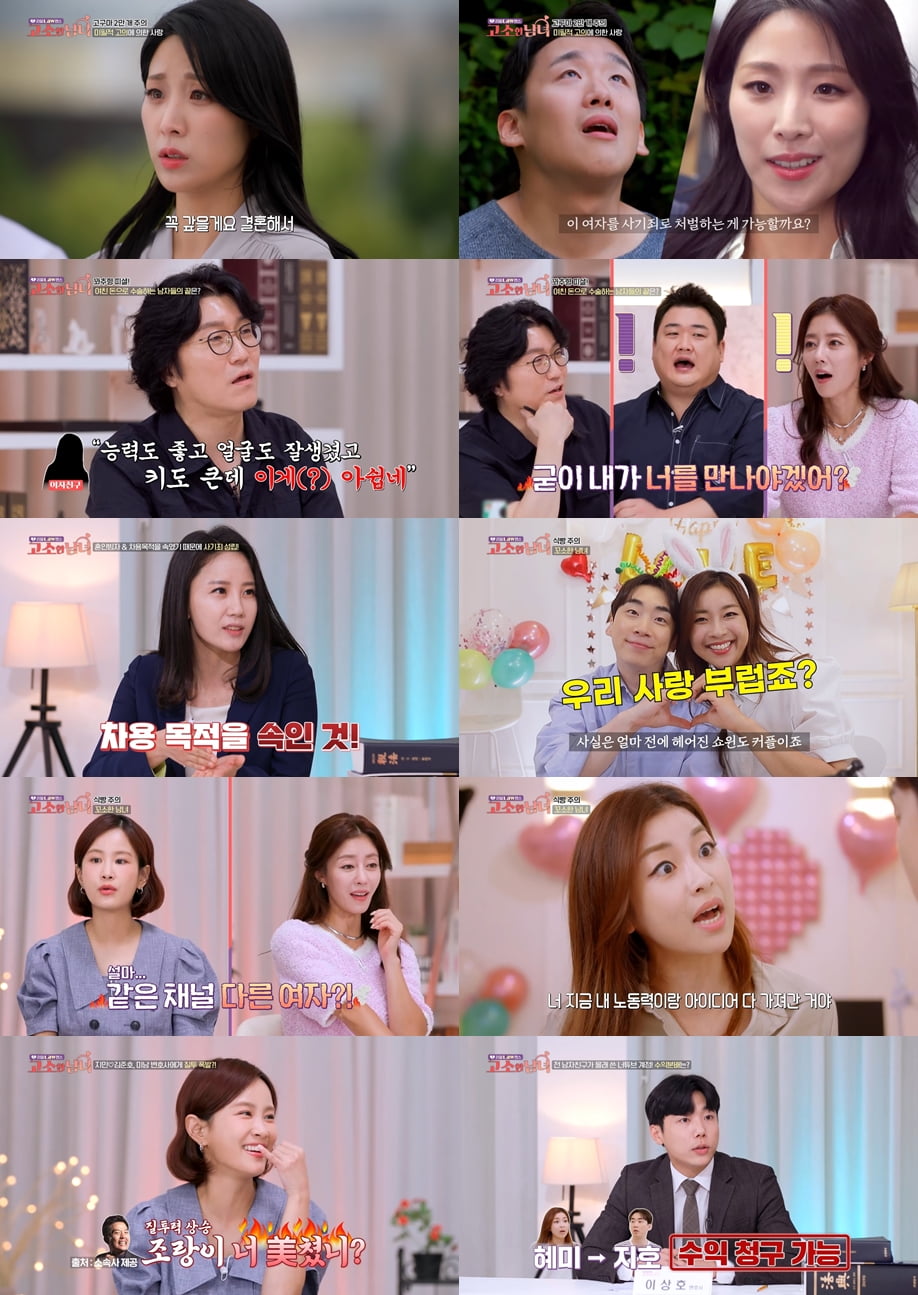 SBS Plus·ENA 'Real Lawman's Sue Man and Woman (hereafter, Sue Man and Woman)' made people hold back with a shocking true story that caused the greatest frustration, while providing a cool solution with a clear legal interpretation.
In 'Sweet Man and Woman', which aired on the 22nd, the story of a 'bean pod of love' man whose mentality collapsed due to fraud under the pretense of marriage and a woman who had 1.1 million YouTube channels of 'the goose that laid golden eggs' stolen in front of her eyes was revealed.
In the first story, 'Unrequited and Intentional Love', a man who fell in love with a high-ranking 'goddess at work' and extorted a huge amount of 130 million won appeared. When the woman said, "I have taken on all the debts due to my father's business failure," the main character borrowed all of her assets, including the subscription bankbook, pension savings, and fund, but the woman said, "I will pay back 200,000 won every month over 54 years." He just said "I'll do it" and disappeared without a trace. A hot talk continued among the MCs as to whether the main character would be able to punish a woman who cheated and trampled on his sincerity for fraud.
Lee Ji-hyun insisted, "Because it was given to a loved one on the premise of a romantic relationship, fraud cannot be established. It will not be returned." Kwakchu-hyeong evaluated, "Women are cleverly paying back 200,000 won, and it may be advantageous if they insist in court that 'I am thinking of paying back'." Kim Ji-min also said, "Since he is paying back 200,000 won every month, the court can also judge that 'this person seems willing to pay the debt'", and the MCs all agreed that the main character would not get the money back.
Regarding this case, Sohn Jeong-hye, an attorney specializing in divorce and family cases, judged, "The woman in the drama not only deceived her intention to get married, but also cheated the purpose of borrowing, so she is guilty of fraud." "I trusted and lent it for reasons such as my father's business failure and high-yield debt interest, but it is very likely that he received the money and used it for personal living expenses. In this case, it can be evaluated that the purpose of the borrowing was cheated," he explained. In addition, he added, "When lending money between lovers, it is very important to leave the circumstances one by one, even if it is a piece of SNS message.
Kim Yong-myeong asked Kwakchu-hyung a curious question, "Are there some people who do male surgery with money borrowed from their girlfriends?" In response, Kwakchu-hyung said, "Too many," and "My girlfriend said, 'This man is talented, has a handsome face, is tall, and everything is good, but I don't like this (?). It's old! I'll give you surgery. There are many cases," he said, surprising. He said, "But men have that, so they wear rubber shoes backwards, saying, 'Do I have to meet you?'" and conveyed the tragic prognosis of such male surgery, arousing regret.
The second story, 'Small Man and Woman', was a controversial story in which a couple YouTuber with 1.1 million subscribers promised to delete all videos and delete their account after a breakup, but one side reused the account with another member of the opposite sex. The channel is his account and all the videos of the two of them have been deleted, so there is no problem with his ex-boyfriend and only the account belongs to him. From item selection to filming and editing, he made 1.1 million subscribers with his own efforts, but claimed that it was stolen. A sharp conflict arose between his ex-girlfriend.
In order to solve this case, lawyer Lee Sang-ho, representative of MZ in the legal world, appeared on the mound. Kim Ji-min said, "I was a little scolded by lawyer Lee Sang-ho (by Kim Jun-ho)," and "I said (to lawyer Lee Sang-ho) 'show up a little earlier' on the air. I got a phone call right away and said, 'Are you crazy? Do you like a young kid like that?' He said," revealing the case of Kim Jun-ho's jealousy explosion.
When asked if a YouTube channel can be considered as a company, lawyer Lee Sang-ho said, "It can be seen that there was an agreement between the two to form a union. In this case, the YouTube channel becomes the property of the union," he judged. "If two people break up, the issue of organizing the property of the union becomes an issue. The judgment differs depending on whether the union itself was decided to disband," he said. "The couple in the drama agreed to break up and get rid of the channel, so the union is considered disbanded. "Because the boyfriend violated his dissolution obligations and was useful to him personally, the girlfriend can charge the boyfriend for money or request that the account be deleted."
Reporter Kang Min-kyung, Ten Asia kkk39@tenasia.co.kr