TV
Kim Ho-joong "I lost 5 kg through diet"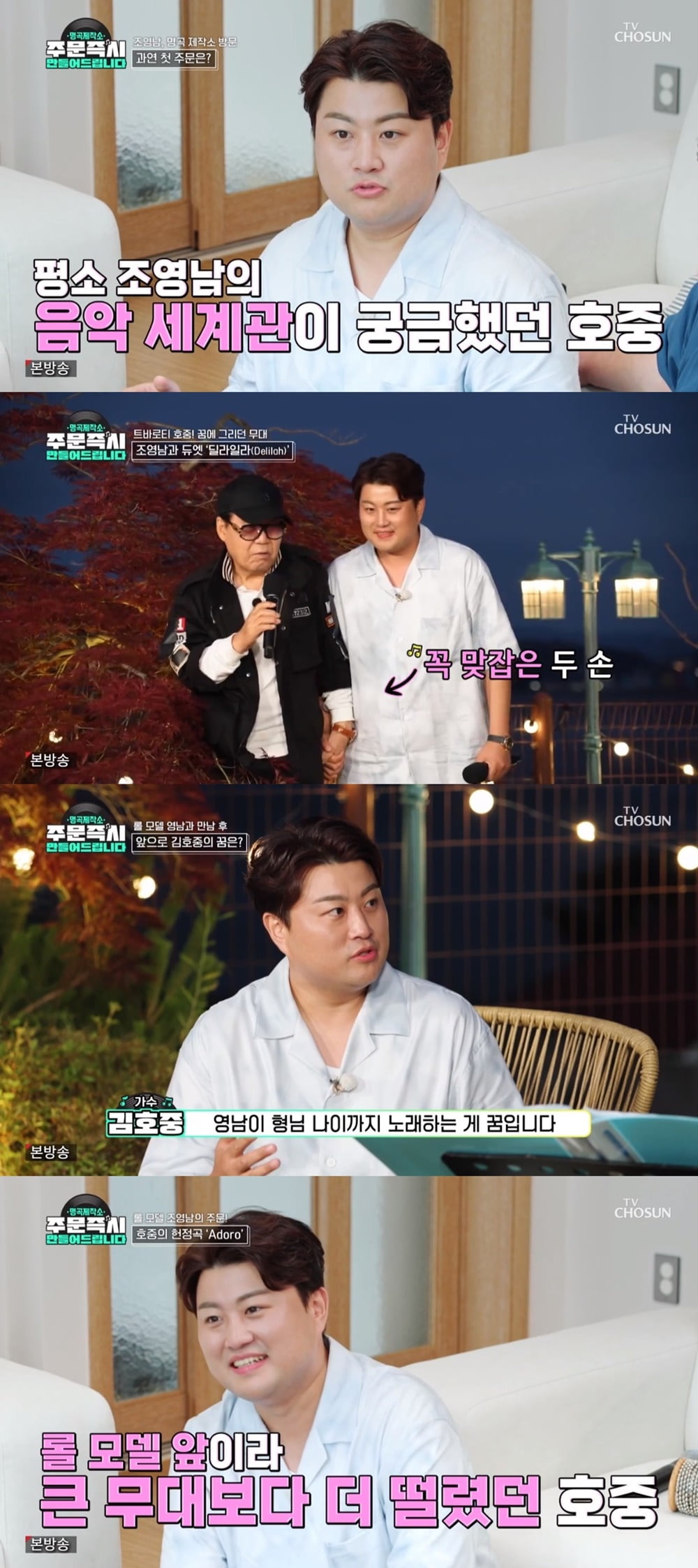 Singer Kim Ho-joong revealed that he lost 5kg for 'Myeonggok Factory'.
In TV Chosun's 'Myeonggok Factory', which aired on the 20th, Kim Ho-joong turned out to be in a coma and showed off fantastic chemistry with Kim Jun-hyun.
Kim Ho-joong said, "I'm happy to be with my brothers who are so comfortable and close." He added, "I lost about 5kg for this program. I went on a diet," drawing attention.
Kim Ho-joong, who continued a stable talk as a host, found out about composing skills in a coma, saying, "I am a person with experience. It's a person. The song comes out at the same time as you order," he praised. When the first guest Ahn Seong-hoon appeared, he said, "I have to sweep the floor and wash the car," causing laughter with the steamy chemistry.
Then, in Ahn Seong-hoon's story about his missing mother's home-cooked meal, Kim Ho-joong showed a clumsy appearance. He said, "There is a saying I like. There is a saying by Andre Malraux, 'Those who dream for a long time will eventually become like that dream.' I realized it again while listening to it."
Afterwards, Kim Ho-joong sang "Like Rain, Like Music" live to Kim Jun-hyun's guitar performance. At the appearance of Hong Jin-young, a guest who showed explosive energy upon arrival, Kim Ho-joong gave an exciting dance and monopolized his gaze with a cute dance.
Kim Ho-joong scrambled to pick up the third guest, Cho Young-nam, and as soon as he met, he showed a friendly appearance, saying, "I missed you, teacher." "I practiced singing while watching the teacher's video. The role of the teacher was important in the reason that I came to like folk and pop. I really wanted to meet you face to face and say this," said Kim Ho-joong, who conveyed his sincerity. made me reminisce
In addition, Kim Ho-joong even showed off a duet stage with Jo Young-nam. The two, who combined the words 'Dililah', 'Crooked' and 'Thank you', showed beautiful harmony. Here, Kim Ho-joong confessed his sincere heart, saying, "My goal is to sing well and polish up to the age of Mr. Cho Young-nam."
Reporter Kang Min-kyung, Ten Asia kkk39@tenasia.co.kr