TV
Choo Seong-hoon, the reason why he did not give up his Korean citizenship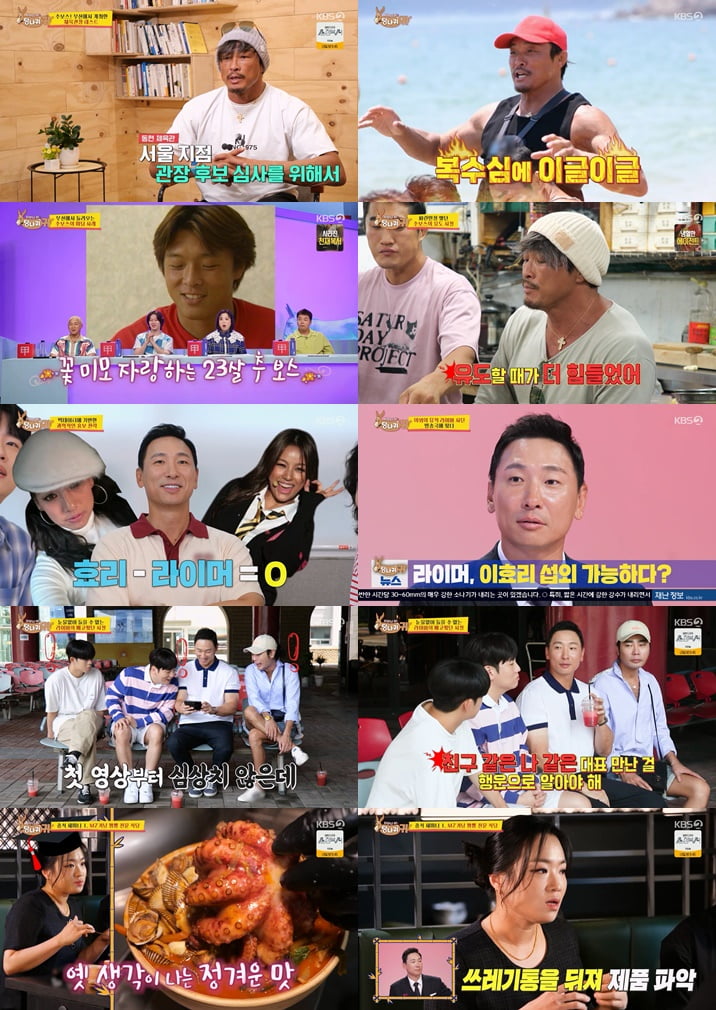 Choo Seong-hoon revealed why he did not give up his Korean citizenship.
Episode 221 of KBS2's "The boss's ears are donkey's ears (hereafter referred to as sadangwi)", which aired on the 20th, recorded 5.2% nationwide and 4.9% in the metropolitan area. With this, 'Sadangwi' has set a record of being number one in Sunday entertainment ratings for 70 consecutive weeks since its broadcast on April 24 last year. (Based on Nielsen Korea)
Special MC Shori was surprised by revealing her relationship with Choo Seong-hoon, who appeared in the drama 'Triangle' six years ago. Choo Seong-hun drew attention by revealing that he was still filming after receiving an offer to appear as the boss of the organization, even though he was embarrassed by Jeon Hyun-moo and the cast who were evaluating his acting, saying, "It is difficult to act." Seonghun Choo, who went on a business trip to Busan with Donghyun Kim, met juniors in martial arts for an audition for the manager who will be in charge of managing the gym in Seoul.
Director Lee Jung-won, who runs a gym in Busan, revealed his ambition to advance to Seoul, and Choo Seong-hoon immediately suggested a 3-on-3 cavalry match. Choo Seong-hoon's team collapsed helplessly when Lee Jeong-won said, "Old lion, Choo Seong-hun, I will take over Seoul." Choo Seong-hun, who charged like a bulldozer at Lee Jung-won's "toothless tiger" remarks, took the second round victory. At the start of the final, Lee Jung-won's pants were torn and burst into laughter. When Choo Seong-hun bet on a suit as the winning prize, Lee Jeong-won, with his fighting spirit, eventually led the team to victory. Heading to the underground shopping center, Choo Seong-hoon gave Lee Jeong-won a beautiful present.
Afterwards, Choo Sung-hoon, who visited his regular restaurant, greeted the merchants and added warmth. After ordering food, when juniors spread rumors that Choo Seong-hun, in his 20s, was not only interested in fashion and tanning, but also met a lot with members of the opposite sex and resided at a karaoke room. Choo Seong-hun was touched by the past when he did not give up his Korean nationality even though the unemployment team offered a high salary for his dream of participating in the Olympics as a national judo representative, even while exchanging jokes. Tsundere Choo Seong-hoon's business trip to Busan, where he postpones the calculation of dinner expenses to Kim Dong-hyun but reserves a hotel suite for his juniors, has come to an end.
The 2nd meeting of Brand New Music. Rhymer, Muse, Hanhae, and Gri were invited to analyze big data. Although the amount of comments on social networks is not so high, Rhymer, who recently performed with Lee Hyo-ri, was also evaluated as having a "oriental medicine", which made Rhymer smile. However, in terms of the amount of positive comments, Muzi and Hanhae were far higher, and Rhymer had the lowest positive level, bringing laughter. Muzie said, "It's no accident" and "It's good to have a good perception that you're an underrated musician. You can satisfy the public if you do a little bit well", which made Rhymer absurd. Rhymer continued to nag Hanhae, saying, "We need to raise the rapper's influence and awareness," and Gree drew laughter by accepting the strategy of "Let's raise curiosity by using our voice and rapping skills rather than our face." Rhymer provoked laughter by declaring that he would "carry on his back for the rest of his life" for Lee Hyo-ri, who has the largest share in his core keywords.
Afterwards, Rhymer even made custom-made rice cakes and went out to find broadcasting station officials. Muse, Hanhae, and Gree greeted the officials while embarrassed, and held an emergency meeting with the PD of 'Park at Night'. Instead of Hanhae, only Rhymer, who showed off a freestyle rap, was asked if it was possible to appear with Hyori Lee, and at a meeting with the PD of 'Immortal Song', Rhymer delivered only his idol album, leaving Muse, Hanhae, and Gree sad. Afterwards, Rhymer, who prepared a dinner for his younger siblings who suffered, preached his meat philosophy and then shocked everyone by specifying the order of eating to the dipping sauce. Even in the midst of that, Rhymer cheered, saying, "You are the three people I trust the most in the company," and the video ended with everyone shouting "fighting."
Boss Jeong Ji-seon started researching the restaurant market with his employees to meet customer needs. Jeong Ji-seon, who ordered popular social media menus with plenty of ingredients such as beef and octopus, attracted attention with an expert-like force that analyzed and savored the taste while imparting tips on caring for octopus to the staff while tasting it. Then, he recalled the past when he had burned his passion, saying, "I studied food ingredients and seasoning combinations by looking at the garbage cans of restaurants during my study abroad days." Upon learning that the boss was an acquaintance of Ji-sun Jeong's rival, chef Hyung-jin Choi, Jeong Ji-sun readily pointed out the boss's beard and tattoos while saying, "If you have any questions, please contact me." .
Reporter Kang Min-kyung, Ten Asia kkk39@tenasia.co.kr