TV
Kim Min-jong, who left SM, declares that he will "just live alone" due to marriage pressure around him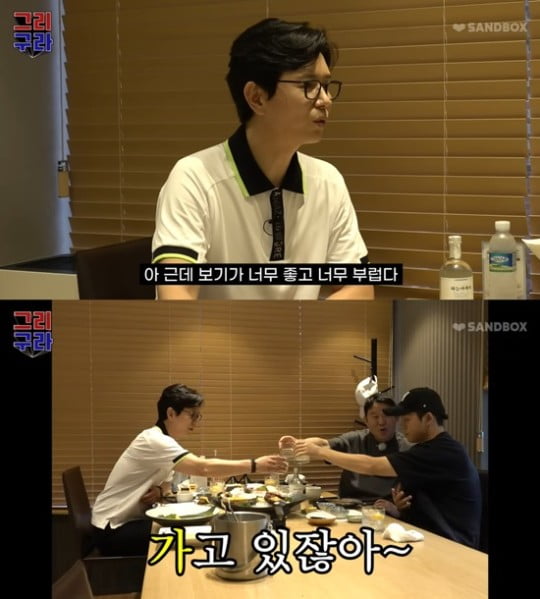 Singer and actor Kim Min-jong reported the current situation.
Recently, on the YouTube channel 'Grigura', 'We had a drink at a high-class Japanese restaurant in Gangnam that costs 200,000 won per person. In addition, a video titled 'with Kim Min-jong and Kim Heung-guk...' was uploaded.
In the released video, Kim Gu-ra said, "Mr. Kim Min-jong made a distilled liquor using sweet persimmons a while ago," and said, "If you drink, Mr. Kim Min-jong will appear (on the channel)."
Then, Kim Gura and Gri visited a Japanese restaurant in Gangnam that Kim Min-jong often went to. Kim Min-jong, who met Kim Gu-ra and Gree, looked at them and said, "It's so nice to see them and I'm envious. We take pictures while eating delicious food between rich people. When I'm born again, I want to be born as Gura-hyung."
Hearing this, Kim Gu-ra brought up the story of marriage, saying, "Min-jong is also married now…". In response, Kim Min-jong confessed, "I want to be born as a gura type when I am born again after filming while going out to eat."
Kim Gu-ra asked, "Didn't Choi Seong-guk get married?" and Kim Min-jong smiled, saying, "It's not even a shock."
In addition, Kim Gu-ra mentioned marriage again, saying, "Still, shouldn't Min-jong go to (marriage) before Dong-hyun?" Kim Min-jong once again emphasized his thoughts, saying, "I just want to live alone."
Kim Min-jong said with pride, "Since Dong-hyun likes it, I feel better" while watching fresh sashimi and seafood.
Kim Min-jong said, "When we see the two of us without a father, in fact, we can just be brothers and sisters." Kim Gu-ra hit the iron wall saying, "Don't do that." Kim Min-jong added, "It's a story about the feeling of being like a brother or sister."
Reporter Yoon Jun-ho, Ten Asia delo410@tenasia.co.kr