TV
High-level flying yoga with Chun-Soo Lee and Ha-Eun Sim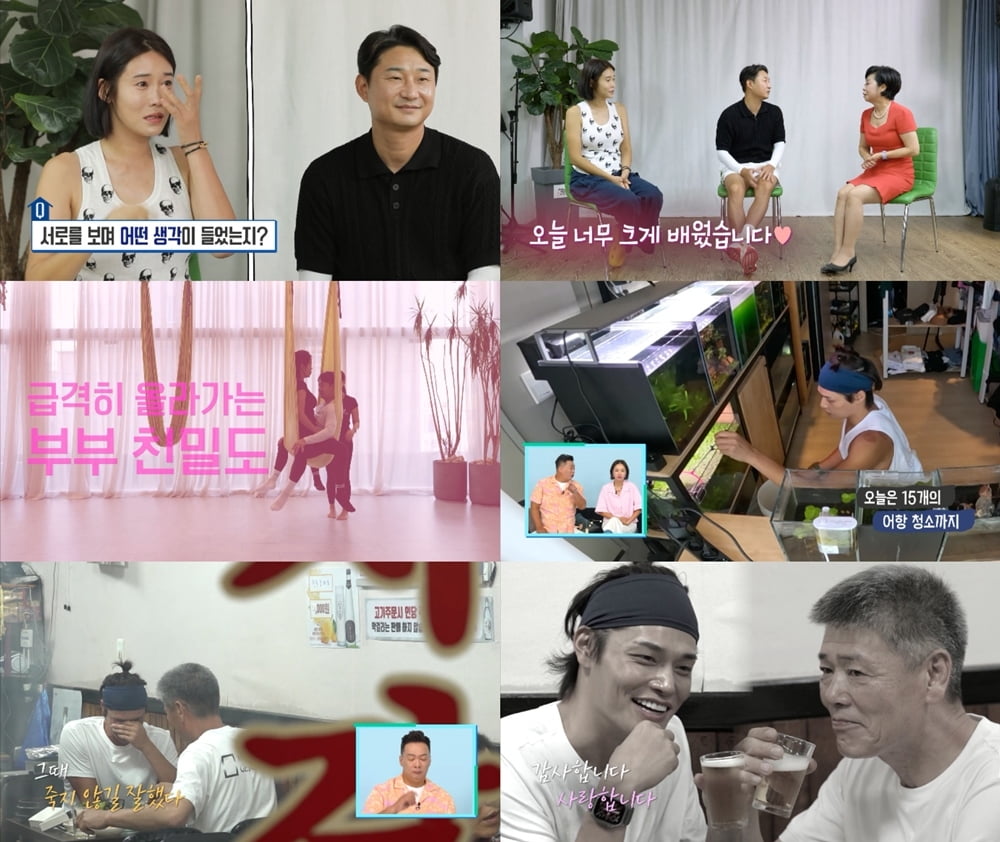 Lee Chun-soo and Shim Ha-eun showed off high-level couple yoga.
On the 19th, KBS2's 'Salim Men Season 2' (hereinafter referred to as 'Salim Nam'), the daily episodes of Lee Chun-soo's Become a Good Husband Project and New Housekeeper Jeong Hyuk's daily episodes were revealed. The viewership rating was 4.7% nationwide according to Nielsen Korea.
On this day's broadcast, Shim Ha-eun, Lee Chun-soo's wife, pointed out the way of addressing and talking when Lee Chun-soo called "Hey". Lee Chun-su said, "I'm not saying that because I'm in a bad mood. Athletes need to be called quickly." A good spouse started self-diagnosis.
Lee Chun-soo, who appeared in 'Husband with Lack of Communication', said, "I know the lacking part very well. I can definitely fix it and get better." Lee Chun-soo, who made eye contact with Sim Ha-eun, said, "Thank you. I think I've aged a lot because of me." Chun-soo Lee confessed, "I felt bad when I saw my wife crying. My actions in the past passed by. I was so sorry."
Lee Chun-soo and Shim Ha-eun, who became brighter through various laughter treatments, challenged flying yoga together. Chun-soo Lee shouted "I love you, Eun-ah Ha" as she struggled through the difficult movements of flying yoga. Sim Ha-eun said, "I haven't held hands in a long time since we got married. I don't think we've spent time relying on each other's bodies except when we were dating, but we had such a time." I will. Thank you."
'New Salimnam' model and broadcaster Jung Hyuk also appeared. Jung Hyuk introduced a new house full of his emotions and unveiled 15 fish tanks that are raising numerous companion fish. He said, "I studied Myeonglihak. The story of the lack of water touched me, so I brought in a fish tank from then on," boasting extensive knowledge about fish and managing the fish tank. Since then, Jung Hyuk has been living well, making and eating Jung Hyuk-pyo Ramen over rice, showing a thrifty and neat appearance.
In addition, Jung-hyeok went to the car center where his father worked and helped him with work, and while having a meal together, he talked about his father, who raised two brothers alone since the age of 25 after divorce. Jeonghyeok talked about his difficult financial situation as a child. "I lived harder than others. I lived underground all my life. I was bullied saying, 'Is it dirty?'" he said.
In response, Jung-hyeok's father confessed that he even climbed the bridge over the Han River when he was having a hard time. Hearing the story of his father for the first time, Jeong-hyeok eventually burst into tears. Jeong Hyuk expressed his respect, saying, "I don't really have tears, but my dad is my tear button. My dad got married at the age of 20. I think it's really great. I'm so grateful that he always raised us without giving up." said, "I love you. Thank you."
Reporter Kang Min-kyung, Ten Asia kkk39@tenasia.co.kr