TV
Hanhae "Strange smell when living in Gosiwon, turns out to be a dead body"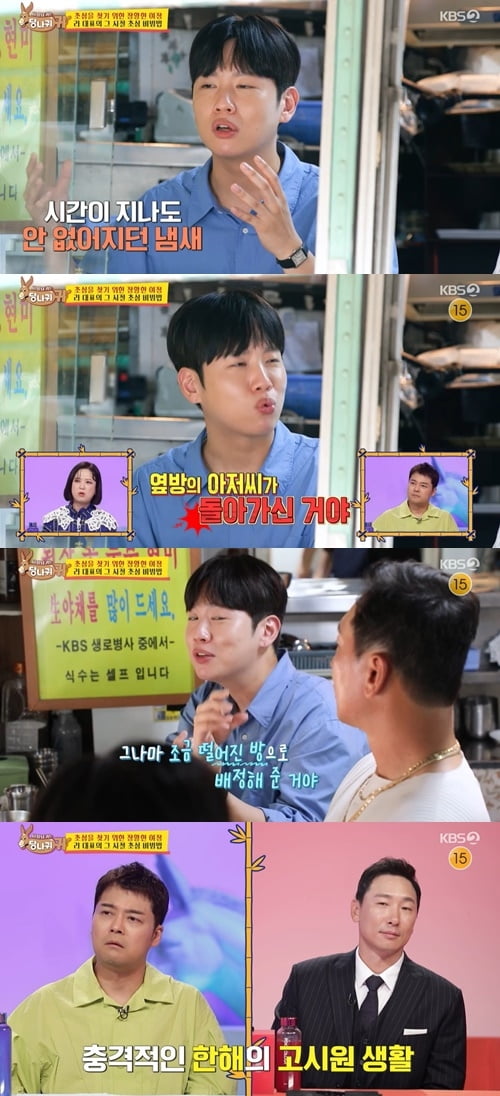 Singer Hanhae mentioned something she experienced while living in a gosiwon in the past.
In KBS2's 'The boss's ears are donkey ears', which aired on the 13th, Rhymer, the representative of label Brand New Music, appeared as a new boss.
On this day's broadcast, Rhymer had time to listen to Brand New Music's performance report for the first half of 2023. A year later, I went to eat old-fashioned bibimbap to find my first heart with him.
Rhymer started talking to Hanhae and Gree, "The reason I asked you to eat this today is that you are loved these days. It's good that you are doing musicals and doing various things these days, but when you first met me, you were eager." .
As soon as Rhymer turned his head, Hanhae took a bite of bibimbap. Grie, who saw this, interrupted Rhymer and asked, "I'm sorry, but hyung, I'm talking serious, so can you stop eating?" Hanhae replied, "Because I've heard it five or six times", drawing laughter.
Hanhae is currently serving as a non-registered director of Brand New Music. The appearance of Hanhae, who did not notice the representative, stood out. Gree confided, "It's something we've been hearing all along, but we have to have new reactions every time. In fact, we can't eat comfortably."
In the meantime, Hanhae said, "Since we talk about the old days, I also remember the first time I entered Brand New." He said, "(When I was living in Gosiwon) one day, there was a very strange smell in my room."
He continued, "I got better after a week or ten days. I found out that the man in the next room had passed away. What was even more miserable was that I couldn't go to another place because I didn't have money even after knowing that. gave," he added.
Jeon Hyun-moo, who was watching it on the VCR, said, "It's really great." "It was really shocking to me," Reimer said. Earlier in the year, he moved to a semi-basement, a gosiwon, and a studio. Recently living in Seoul, it drew attention by revealing that it had bought a Han River View apartment only with savings without a loan after 10 years. Hanhae's house was a newly built apartment with three rooms and two bathrooms.
Reporter Kang Min-kyung, Ten Asia kkk39@tenasia.co.kr