TV
Jo Bo-ah, Rowoon's Curse Remedy 'Key'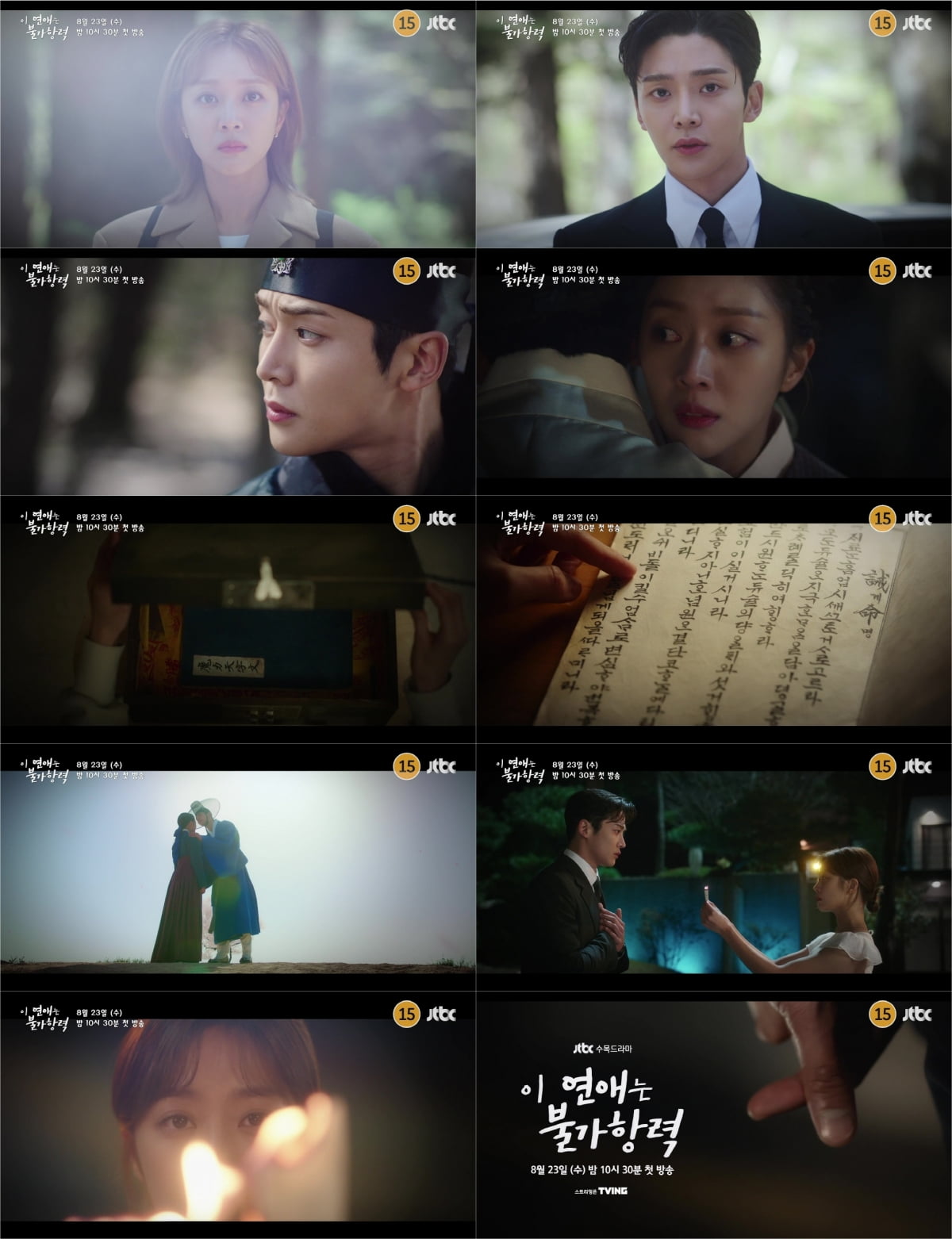 The mysterious meeting between Jo Bo-ah and Rowoon begins.
On the 20th, JTBC's new Wednesday-Thursday drama 'This Love Is Irresistible' released the first teaser video of Jang Shin-yu (played by Rowoon), who is destined to be attracted to Lee Hong-jo (played by Jo Bo-ah). The irresistible attraction of the two people who have been in their previous lives foretells an unusual relationship and stimulates excitement and curiosity.
'This Love Is Force Majeure' is an irresistible romance between Lee Hong-jo, a low-level civil servant who obtained a forbidden book that was thoroughly sealed 300 years ago, and Jang Shin-yu, a lawyer who fell victim to the forbidden book. The sweet and pleasant romance that began with the earnest wishes of those caught up in an inseparable fate will attract viewers with irresistible excitement.
The first teaser video that took off the veil makes us look forward to the fateful first meeting between Lee Hong-jo and Jang Shin-yu. First, Lee Hong-jo and Jang Shin-yu, who cannot take their eyes off each other in a strange attraction, draw attention. Jang Shin-yu's narration, "I'm thrilled. I thought my heart was melting", raised the heart rate of the viewers.
Lee Hong-jo's meaningful words, "Mr. Jang Shin-yu, don't you think the amulet energy is still gone?" The appearance of Lee Hong-jo and Jang Shin-yu intersecting with a wooden box in which a mysterious forbidden book is sealed and a man and a woman who were in love 300 years ago makes us more curious about the relationship between the two. Indeed, I wonder what secrets are hidden in the 'forbidden book' related to Lee Hong-jo and Jang Shin-yu, and what irresistible fate the two were brought together.
Jo Bo-ah takes on the role of Lee Hong-jo, a 9th-grade civil servant who solves civil complaints at the city hall in Onju and solves the curse of Jang Shin-yu. Lee Hong-jo, who always does his best despite suffering from complaints beyond imagination, is a person who is familiar with being alone. Suddenly, he becomes the owner of an old wooden box and holds the key to unlocking Zhang Xinyu's curse. Rowoon plays Jang Shin-yu, an ace lawyer who waits for the owner of the wooden box to lift the curse passed down from generation to generation in the family.
Jang Shin-yu is a straight man who smells like a well-dried linen shirt in the clear autumn sun, and is in the spotlight wherever he is. As the disease of unknown cause becomes severe, he seeks help from Lee Hong-jo, who is said to be the owner of the wooden box, and encounters an unexpected upheaval. It is hoped that the chemistry of Jo Bo-ah and Rowoon, who will colorfully unravel the fateful narratives of Lee Hong-jo and Jang Shin-yu, will provide irresistible excitement.
"This Love Is Irresistible" will premiere on August 23 at 10:30 p.m. KST.
Reporter Kang Min-kyung, Ten Asia kkk39@tenasia.co.kr