TV
Naver Playlist launches Korea's first monthly K-pop chart show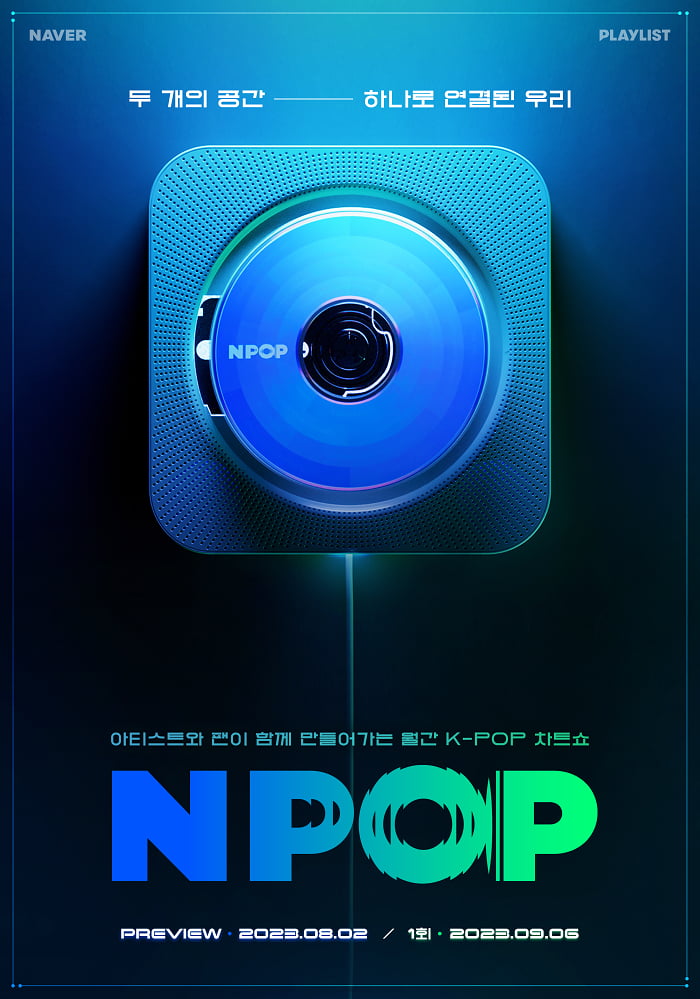 Portal sites Naver and Playlist are introducing Korea's first monthly K-pop chart show, 'NPOP,' where artists and fans communicate and create together.
On the 21st, Playlist reported this news. 'NPOP' consists of a set of 'STAY N' and 'STAGE N'. STAY N is a mission observation reality content that fans can participate in real time online. Artists play games, and fans watch live and communicate with artists through chat. At STAGE N, performances of new songs by artists will be held.
You can meet 'NPOP' every week. Pre-recorded VOD content is aired every Wednesday from the 1st to 3rd week of the month. On the 4th Monday of every month, a live broadcast with 12 teams of artists will be held, and it will be broadcast live. In particular, during the live broadcast in the 4th week, the 'NPOP' chart rankings are announced, and the 'NPOP Artist of the Month', the No. 1 artist in performance, is selected.
New Jeans is the artist of the PREVIEW episode that announces the start of 'NPOP'. New Jeans' performance stage will be released on the 2nd, 9th, 16th, and 23rd of August. In addition, the pre-recorded reality of New Jeans' STAY N (Stay N), which will be held on the 24th, will be broadcast live in real time.
'NPOP' has two different points of differentiation from existing music broadcasts. First, 'NPOP' selects the No. 1 artist based on monthly counts. It differentiated itself from other chart shows that rank through weekly tallies. The 'NPOP Artist of the Month' is selected by integrating trend indicators such as the music index reflecting the music score and album sales, the Naver index based on pre-voting and live voting, and the number of views and searches.
Second, 'NPOP' content presents a variety of attractions with various images of artists performing missions. It is made in large quantities in the recent popular short form format, so you can meet it lightly anytime, anywhere, and you can check it on the Naver platform.
In addition to this, an opportunity to view the 'STAGE N' stage offline is provided to selected people, and a multi-live function is applied. Multi-Live is a function that allows users to select and watch the live they want by simultaneously providing broadcasts in different spaces within one program. Through multi-live within the NPOP channel, the two axes of 'NPOP', 'STAY N' and 'STAGE N', are simultaneously broadcast live, and users watching 'NPOP' go back and forth between the two corners to choose their favorite artist can see.
Park Tae-won, CEO of Playlist, said, "In line with the rising status of K-pop worldwide, we have launched a show complete with communication with fans who love K-pop." Combining the data technology of 'Playlist' with differentiated show direction, we will present a new type of content that has never been seen before."
Reporter Kang Min-kyung, Ten Asia kkk39@tenasia.co.kr