TV
Kim Hae-sook, who killed her husband and son, was blinded by money and traded with Kim Tae-ri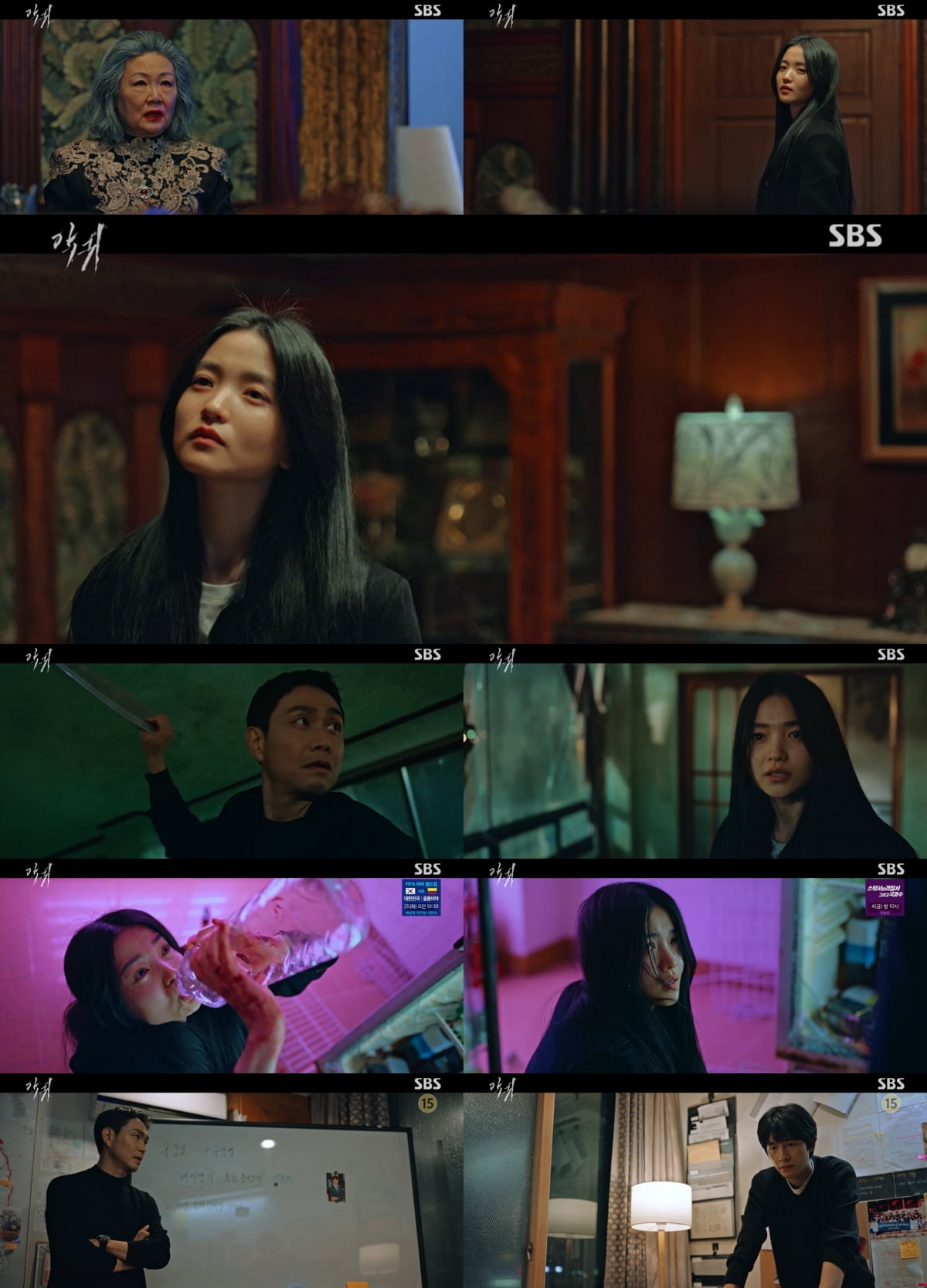 Kim Tae-ri finally found out the name through Kim Hae-sook, who created the demon.
According to Nielsen Korea, a ratings research company, on the 23rd, the 10th episode of the Friday-Saturday SBS drama 'Ghost', which aired the previous day, recorded 12% of households in the metropolitan area and 10.9% of households nationwide. The highest viewer rating at the moment recorded 13.7%, and took first place in the same time zone and Saturday mini-series for 5 consecutive weeks. The 2049 audience rating, a key indicator of channel competitiveness and topicality, recorded 5.2%, maintaining the first place among all programs broadcast for a week.
Sanyeong (played by Kim Tae-ri) and Hae-hae (played by Oh Jeong-se), who found out that the demon's name was not Lee Mok-dan, spurred the excavation of the remaining two of the five objects related to the demon. A fourth object, a glass bottle, was found in an abandoned building where a victim who occurred near Kang-mo (played by Jin Seon-gyu) hung himself. However, the moment Sanyeong touched the glass bottle, she behaved strangely like a madman. He ran to a nearby convenience store and drank water and drinks at random.
Hae-hae, who stopped her, said, "I kept begging. Something to eat, just a sip of water. You killed me." Hae-hae questioned why the demon was trying to find five things that could get rid of the demon through him.
In the meantime, detective Hong Sae (played by Hong Kyung), who was tracking the flow of funds from Joonghyun Capital, headed for Sanae Hospital, which received donations from this place every year. Haeui's grandfather Yeom Seung-ok (played by Kang Gil-woo) and father Yeom Jae-woo (played by Lee Jae-won) both died here at a relatively young age in their 40s, and the donations so far have far exceeded 5 billion won. The hospital director, who refused to testify, saying he knew nothing, confessed a surprising fact to Hong-sae's threat to accompany a reporter next time.
Hae-hae's grandmother, Byeong-hee (played by Kim Hae-sook), orders Hae-hae's friend Woo-jin (played by Kim Sin-bi), who is in critical condition, to be transferred to the hospital. At the time, Woojin was in a coma, but was alive. However, even the lifeline that Byeonghee was barely attached to was severed. I knew that Woojin had overheard her conversation with Kangmo, saying, "I know that I created a demon and raised the family."
Hae-hae told Byeong-hee's closest aide and Woo-jin's father Chi-won (played by Lee Gyu-hoe) the hospital director's statement recorded by Hong-sae and informed the truth. Only then did Chiwon, who had remained silent despite the sea's pleasures, tore up the memorandum saying, "I will not disclose anything that happens inside." And he brought out the strange things he had witnessed. Yeom Jae-woo, who showed abnormal symptoms every night, such as shoving food into his mouth, wanted to get rid of the evil spirit when it tried to kill the most precious person to him, namely the mother of the sea. After that, Yeom Jae-woo cut off grain by himself. The demon starved him to death like himself.
Just as the demon aimed for Hae-ri's mother, this time San-yeong wanted the person she loved the most in return. Unbeknownst to San-yeong, she found out that her mother, Gyeong-moon (played by Park Ji-young), had purchased a death insurance policy that would receive a large sum of money if she died. When the demon threatened her mother's life, San-yeong became more desperate. Hae-hae, who saw through his heart, said that he didn't care if the demon said he was going to kill him, and that he wouldn't be easily harmed.
Sanyeong recalled the Chinese character for family register (戶籍簿) in the documents that Munchun (played by Kim Wonhae) was reviewing before he died. Accordingly, Hae-hae deduced that the edict restored by Mun-chun had information about Lee Mok-dan's family, and that there would be a demon name among them. If so, there was a high possibility that the demon was Lee Mok-dan's older sister and that she attended Jangjin Middle School. It was the moment when the reason Munchun said "Isn't it the second?"
However, it was a family register that required the domicile and the name of Australia to be issued. Sanyeong said that she saw something whenever she touched an object related to evil spirits, but when she found the glass bottle this time, she saw someone holding a glass bottle filled with red powder standing in front of the main house on the sea. Hae-hae came to the conclusion that there was no way that Byeong-hee was unaware of what had happened at the home, and that she had no choice but to open her mouth. At that time, an idea came to Hae-sang, whose eyes were fixed on the calendar. Let's use Mubangsu Day, which is February 9 in the lunar calendar and February 28 in the solar calendar, which is "the day a ghost can never come out on a single day in a year."
Byeong-hee checked the date February 27 on the wall calendar. And he thought that San-yeong, who came to him and said, "Your grandson wants to know my name," is a demon. That's why he said without hesitation, "I killed my husband and children, but there is nothing I can't do with my grandchildren." And a shocking fact was revealed. Byeong-hee, who could not stop her desire for wealth, ended up making a deal with a demon. She taught her husband and son, who wanted to get rid of the evil spirits, how to change their names. "If you live, I will live too. I'll keep that promise, it's Hyang," said Sanyeong, looking at Byeonghee with a strange smile. Attention is focusing on how the demon, who showed a strong will to "live because it is unfair," will respond in the remaining two episodes to the situation where even the name is revealed.
Reporter Kang Min-kyung, Ten Asia kkk39@tenasia.co.kr