TV
Ahn Seong-hoon, the first museum-grade 500 million house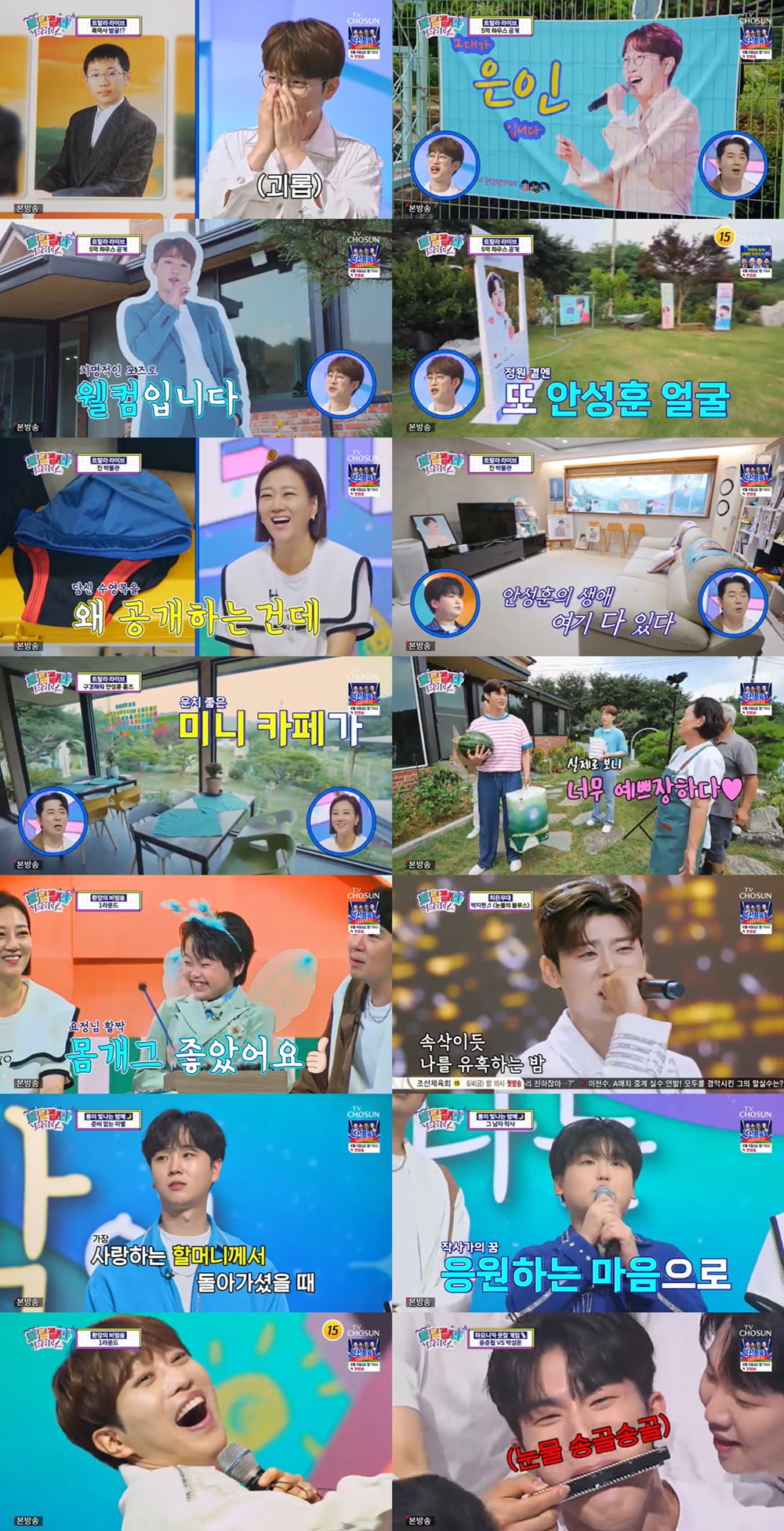 The inside of singer Ahn Seong-hoon's 500 million house was revealed for the first time.
According to Nielsen Korea on the 3rd, TV Chosun's 'Tralala Brothers', which aired the previous day, recorded 5.244% nationwide ratings, up from the previous week. The highest audience rating at the moment rose to 6.1%.
On this day's broadcast, Ahn Seong-hoon's visit to Anseong's house was drawn. Ahn Seong-hoon, along with Pong team Park Ji-hyeon, Choi Soo-ho, and Yoon Jun-hyeop, visited his Anseong country house and revealed the inside of the house for the first time on the air. Ahn Seong-hoon House is a place that Ahn Seong-hoon bought for his parents with the prize money of 500 million won that he received for winning Mr. Trot 2.
Throughout the way, a guide sign saying 'On the way to Ahn Seong-hoon's house' appeared, and the Pongtim Brothers couldn't hide their surprise, saying, "Is this a tourist destination?!" In addition, Ahn Seong-hoon's life-size stand welcoming from the entrance of the house, the photo zone, and the placards attached to the outside of the house drew attention. Subsequently, the interior of the house was revealed to viewers for the first time.
The loess sauna, the enormous lawn garden, and the window terrace filled with memos written by fans were a surprise. Since the exterior of the house was revealed through a previous broadcast, fans have come and the terrace is said to be a space open to fans. The highlight of Ahn Seong-hoon House was the Ahn Seong-hoon Museum on the second floor. The room was filled with narcissistic Ahn Sung-hoon cushions, numerous trophies and medals, newspaper articles and goods.
In the meantime, the swimsuit Ahn Seong-hoon first wore in elementary school and the trophy for graduating from an art academy were caught, giving viewers a big smile. In addition, the middle school graduation album, the flower of dark history, was released and made Ahn Seong-hoon sweat. Ahn Seong-hoon's appearance in middle school, where the voice "Who is this?" came out, made everyone burst into laughter.
The special fan meeting 'On the night when the mulberry shines', which can only be met in 'Tralala Brothers', gave a sense of touch. The story of listening to Song Min-joon's song after his father suddenly left him and gaining strength, the story of giving up singing after bereavement and then starting to grow his dream again after seeing Ahn Seong-hoon, and the story of a bank teller who writes lyrics dreaming of being sung by Park Seong-on. The drama-like story of the fans surprised and impressed viewers at the same time.
Reporter Kang Min-kyung, Ten Asia kkk39@tenasia.co.kr