TV
Yang Ji-eun vs Ahn Seong-hoon, it's bloody from the start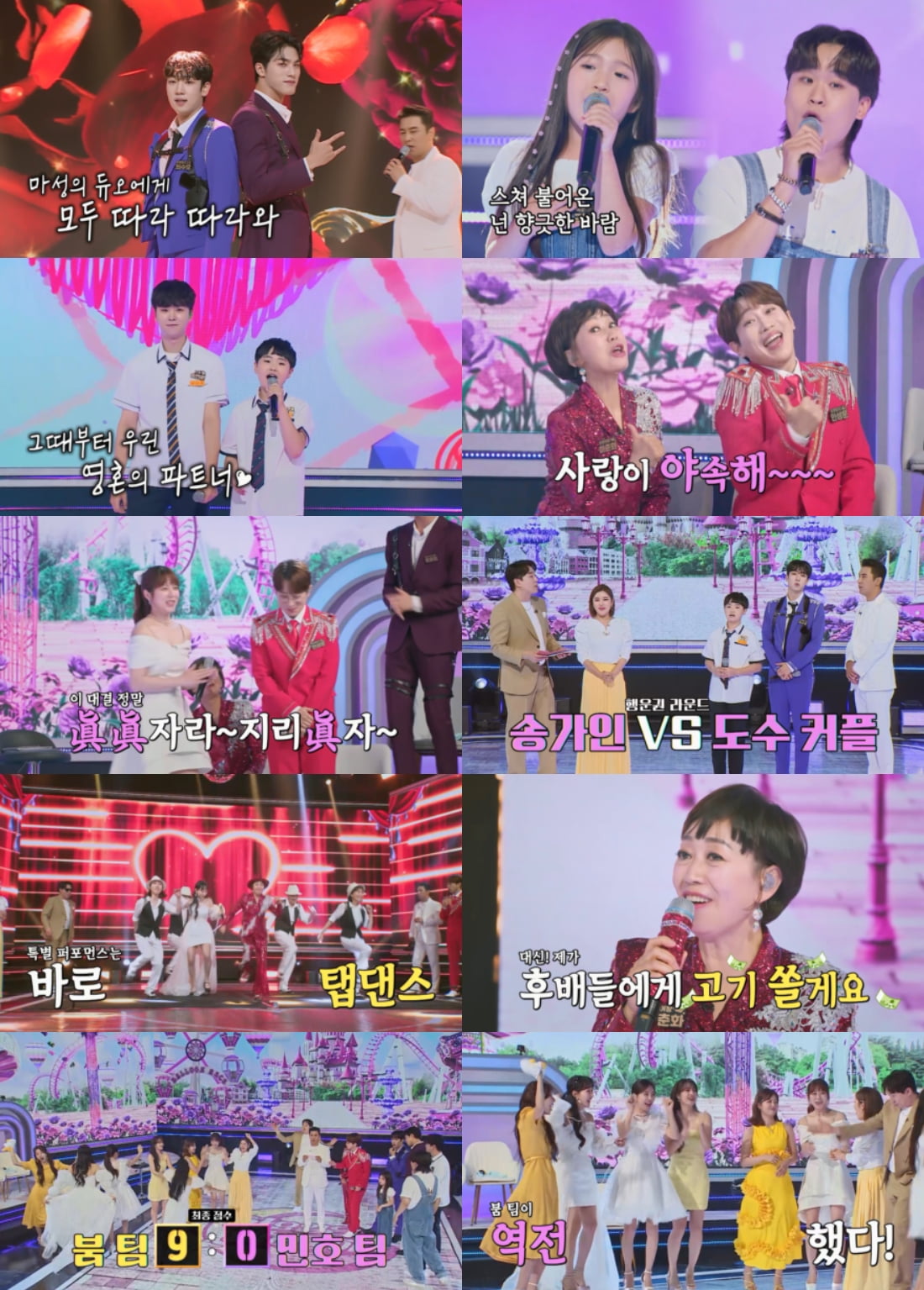 In 'I like Tuesday night', the 'Ssangsang Trot Festival', which was more fun because it was two, was held.
According to Nielsen Korea, a ratings research company on the 2nd, the 78th episode of TV Chosun's 'Tuesday is Good at Night', which aired the previous day, recorded a nationwide rating of 5.3%. The highest viewer rating per minute rose to 6.3%.
On this day, the broadcast was decorated with the 1st Twinsang Trot Festival special feature, and Ha Chun-hwa X Ahn Seong-hoon, Kim Yu-ha X Kim Dong-hyun, Yun Jun-hyeop X Choi Su-ho, Song Do-hyeon X Song Min-jun appeared and had a singing competition with the misses of 'Hwabam'. Ha Chun-hwa X Ahn Seong-hun, Kim Yu-ha X Kim Dong-hyun, Yoon Jun-hyeop X Choi Su-ho, Song Do-hyeon and Song Min-joon sang "The Man Who Abandoned Me" by Ha Chun-hwa, "Your Meaning" by IU & Kim Chang-wan, "Follow Me" by Kim Hee-jae, and "Partner" by Nam Jin. Opened the door of 'Fire Night'.
Song Ga-in, Yang Ji-eun, Kim Tae-yeon, Eun Ga-eun, Jeong Da-kyung, Kim Eui-young, Kang Ye-seul, So Yu-mi became Boom Team, Ha Chun-hwa, Ahn Seong-hun, Kim Yu-ha, Kim Dong-hyeon, Yun Jun-hyeop, Choi Su-ho, Song Do-hyeon and Song Min-jun became Jang Min-ho's team, and a full-fledged one-on-one death match began. done. In the first round, Kim Tae-yeon and Yoon Jun-hyup met. Yoon Junhyeop selected Yumi's 'Amore Mio'. Yoon Jun-hyeop, who captivated everyone with a sexy dance line with a strong start, received 93 points. Kim Tae-yeon confronted Jin-seong's 'upper person'. Kim Tae-yeon, who showed off her baby tiger force with her cool singing skills, received 97 points.
The second round was a confrontation between Yang Ji-eun and Ahn Sung-hoon. As it was a confrontation between 'Mr. Trot 2' Jin and 'Mr. In the 'I'm better' game, Ahn Seong-hoon attacked Yang Ji-eun, saying, "I don't have any more wrinkles." In response, Yang Ji-eun responded, "I think I'm taller," and laughed. And in the song competition that followed, Yang Ji-eun passionately sang her own song, 'Hung Arirang'. The stage that made my shoulders shake naturally received 100 points. Ahn Sung-hoon sang Yoon Min-ho's 'Older Woman'. Ahn Seong-hoon, who showed plenty of composure even on Yang Ji-eun's 100-point stage, received 96 points.
In the third round, Kim Eui-young and Kim Yu-ha faced each other. Euiyoung Kim selected Seojio's 'Acacia'. Kim Eui-young, who robbed attention from the start with a splendid dance, showed off her spicy singing skills and earned 93 points by properly exuding her charm. Kim Yoo-ha sang Kim Kwang-seok's 'Where the Wind Blows' (solar ver). Everyone fell in love with Kim Yu-ha's voice, which is innocence itself, and Kim Yu-ha's healing stage, which made people smile naturally just by looking at it, received 99 points.
The lucky draw round was held in a special way. Song Do-hyeon X Choi Soo-ho of Jang Min-ho's team challenged Song Ga-in of Boom Team. The confrontation began with +2 points and a lucky ticket, and Song Ga-in took the lead with Geum Jan-di's 'one-sided'. Song Ga-in enjoyed the stage with an attractive husky voice thanks to the group cheering of Miss 'Fire Night', but only scored 92 points. Song Do-hyun and Choi Soo-ho, who sang Na Sang-do's 'Ssangssang', saying, "I practiced this song for three weeks," exploded with excitement and made both teams dance and received 95 points. As a result, Jang Min-ho's team took +2 points and a lucky ticket.
In the 5th round, Kang Ye-seul and Song Min-joon faced each other. Kang Ye-seul selected Ha Chun-hwa's 'It's Raining at Masan Port'. Ha Chun-hwa took the stage herself and pretended to be a backup dancer and performed together, and thanks to Ha Chun-hwa's support, Kang Ye-seul performed well and received 96 points. Song Min-joon sang Cho Yong-pil's 'That is also my life'. Putting the excitement aside for a while, everyone immersed themselves in Song Min-joon's uniquely deep emotional stage and received 100 points.
In the 6th round, Jeong Da-kyung and Choi Soo-ho met. Choi Soo-ho, who pointed out Da-kyung Jeong, stimulated Da-kyung Jeong by saying, "I competed once on 'Fire Night' and won coolly, but I chose it because I wanted to win again." Afterwards, Jeong Da-kyung performed Choi Jin-hee's 'I'm in Love' and received 95 points with a smile on the stage full of excitement as if she was in love. Choi Soo-ho, who sang Jin Simon's 'Forgiveness', showed a stage full of desperation and won again with 96 points.
The 7th round was a confrontation between Eun Ga-eun and Song Do-hyun. Eun Ga-eun selected Kim Yeon-ja's 'Oh Mu-i' and showed deep emotional lines, making listeners cry, and received 96 points. Song Do-hyun sang Song Ga-in's 'Mom Arirang'. Song Ga-in was also satisfied with the stage completed with a different feeling from Song Ga-in. However, it only scored 90 points, and Song Ga-in sparingly praised it, saying, "This is the first time anyone has sang 'Mom Arirang' so well. I am sincere. Regardless of the score, it is the best."
In the last 8 rounds, Soumi So and Donghyun Kim sortied. MC Boom made Soumi nervous by saying, "Kim Donghyun sings like an AI. He scored well, so many singers lost." Soyoumi sang Lee Ji-min's 'This Man is My Person'. He showed a fresh and lively charm with a clear voice, but only scored 91 points. Kim Dong-Hyun selected 'I haven't been in a while' of love and peace. With AI-like singing skills and relaxed stage manners, both teams were brought together, but they received 90 points.
Not only the death match, but also Ha Chun-hwa's special stage caught the eye. For the first time in his life, he showed a high-quality tap dance to the song for 'Hwabam', and drew a standing ovation with a passionate look. In addition, following 'Cry in love and cry in love' (discover), he boasted of perfect collaboration with Ahn Sung-hoon and raised the excitement by decorating the live stage of 'Good job, good job'.
The result of the death match was 4 to 5, with Jang Min-ho's team leading. Everyone focused on the lucky ticket selected by Choi Soo-ho of Jang Min-ho's team, and a +5 victory point cycle came out for the opposing team. As a result, the final score was 9-0, and the boom team succeeded in overturning it at the last minute and took the victory. All the members of Jang Min-ho's team were devastated, and Ha Chun-hwa warmed them with his extraordinary love for juniors until the end, saying, "Whichever team wins, I'll buy you Korean beef that our team couldn't eat."
Reporter Kang Min-kyung, Ten Asia kkk39@tenasia.co.kr