TV
Jo Bo-ah and Rowoon, undeniable affectionate excitement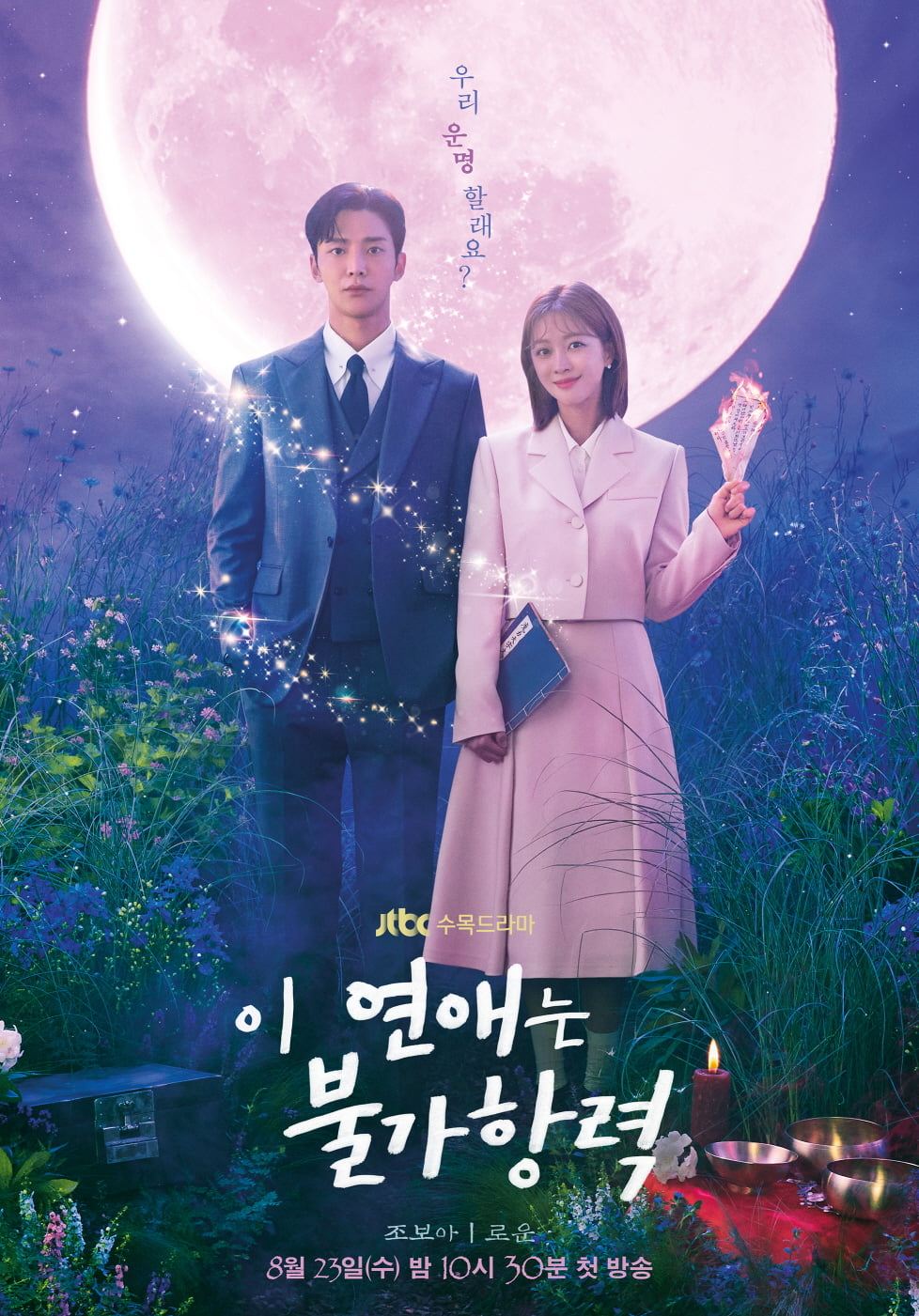 Jo Bo-ah and Rowoon's irresistible fateful narrative creates a heartbreaking yet thrilling story.
On August 1st, JTBC's new Wednesday-Thursday drama 'This Love Is Irresistible' unveiled the main poster with the dreamy atmosphere of Lee Hong-jo (played by Jo Bo-ah) and Jang Shin-yu (played by Rowoon) under the mysterious moonlight. 'This Love Is Force Majeure' is an irresistible romance between Lee Hong-jo, a low-level civil servant who obtained a forbidden book that was thoroughly sealed 300 years ago, and Jang Shin-yu, a lawyer who fell victim to the forbidden book.
The released main poster makes us more curious about the fateful narrative of Lee Hong-jo and Jang Shin-yu, who are entangled in their previous lives. Lee Hong-jo and Jang Shin-yu stand under the mysterious pink door. The moonlight that falls on the two of them creates a dreamy atmosphere. It is also interesting to see Jang Shin-yu surrounded by countless lights next to Lee Hong-jo, who is holding a page from a forbidden book that is being burned. The strange atmosphere surrounding the place, such as an old wooden box that stands out among the lush greenery, candles and ceramic bowls placed on red silk, adds to the curiosity.
Here, the phrase 'Shall we have a destiny?' arouses curiosity about the relationship between Lee Hong-jo and Jang Shin-yu, which has been going on for more than 300 years. Indeed, attention is focused on what kind of curse was placed on Jang Shin-yu, the victim of the forbidden book, and how it is intertwined with Lee Hong-jo, the owner of the wooden box, who is the only one who can lift the curse.
Jo Bo-ah will play Lee Hong-jo, a civil complaint solver at the Wenju City Hall and a 9th-grade civil servant who will solve the curse of Jang Shin-yu. He always does his best even though he suffers from complaints beyond imagination, but he is familiar with being alone. Suddenly, he becomes the owner of an old wooden box and holds the key to unlocking Zhang Xinyu's curse. I wonder why Lee Hong-jo, an ordinary low-level civil servant, became the owner of a wooden box overnight.
Rowoon plays Jang Shin-yu, an ace lawyer who is waiting for the owner of the wooden box to lift the curse passed down through the family. He is a straight man who seems to smell like a dry linen shirt in the clear autumn sun. As the disease of unknown cause becomes severe, he seeks help from Lee Hong-jo, who is said to be the owner of the wooden box, and encounters an unexpected upheaval.
The production team of 'This Love Is Uncontrollable' said, "The heart-fluttering fateful narrative and the delightful and sweet irresistible romance will bring a different kind of fun." You can expect synergy," he said.
'This Love Is Irresistible' will premiere on August 23rd.
Reporter Kang Min-kyung, Ten Asia kkk39@tenasia.co.kr