TV
Lee Jun-ho Lim Yoon-a Romance Rumors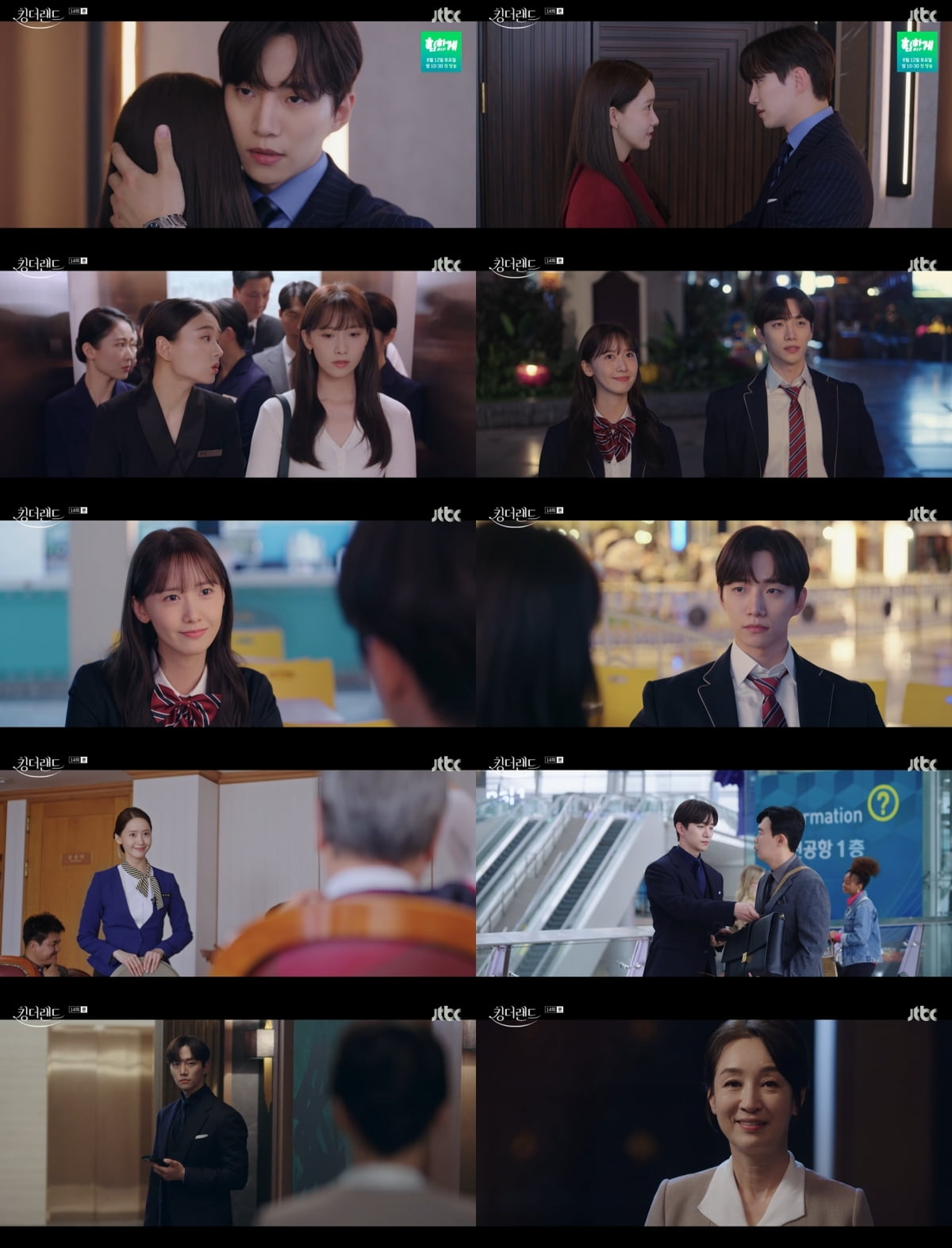 Lee Jun-ho and Lim Yoon-a's heartbreaking love, which hit the wall of reality, made my heart choke.
In the 14th episode of JTBC's Saturday and Sunday drama 'King the Land', which aired on the 30th, dark clouds hung over the heads of Gu-won (played by Lee Jun-ho) and Cheon-rang (played by Yoon-ah Lim), whose secret love was discovered all over the world, creating a feeling of dejection. The 14th episode, which gave a sad impression to the two people who were separated due to irresistible instructions, recorded 11% in the metropolitan area and 10.7% nationwide (based on paid households in Nielsen Korea), and the highest rating in Bundang was 12.6%.
The photo of Gu-won and Cheon-rang, who spend time alone together, and Cheon-rang's affectionate embrace was published in an article with the provocative title, 'Secret dating between a third-generation conglomerate and an ordinary person'. Employees reacted enthusiastically to the article, but were curious about the other person's identity, and Cheonrang had to remain silent even though he felt uncomfortable with the story going back and forth about him.
Guo-won, who confirmed the article, ordered Cheon-rang to stop her face from appearing, but even this was in vain due to Goo Hwa-ran's (played by Kim Seon-young)'s scheme. Not only revealing the identity of Cheonrang, but also bringing out the story of the mother of salvation, damaging the image. It was an intention to destroy Salvation using a scandal as an excuse, but the situation began to flow in an unpredictable direction as Gu Il-hoon (played by Son Byeong-ho), who noticed his daughter's thoughts, took all of Gu Hwa-ran's positions.
In addition, Gu Il-hoon instructed Cheon-rang to go to the King Tourist Hotel, the implicit place of exile in the King Hotel, until it is quiet while Gu-won prepares for his business trip. However, the bitterness doubled as Cheonrang did not say that he was going to the King Tourist Hotel even when he was with Guo, because he was considerate of Guo, who had an important task ahead.
The message of salvation expressing affection until right before leaving the country without knowing the fact that Cheonrang's greetings was issued made the angelang more sad. The conflicting expressions of Salvation flying in the blue sky without a single cloud and Angelang passing through a dark tunnel where not a single light enters added to the sadness.
Time passed, and after returning from a business trip, Gu-won hurried his steps to Kingdom in search of Angel, but he was nowhere to be seen. Even when asked about the whereabouts of Cheonrang, the staff responded that they did not know, and smiled fakely, awakening the childhood trauma of salvation. However, since he couldn't let go of Angel, Guo-won escaped from his childhood memories and looked into the other person's sincerity and found out that Angel was at the King Tourist Hotel.
Salvation set out to find Angel, who was still out of touch. And at that moment, Han Mi-so (played by Nam Gi-ae), the missing mother, appeared in front of Gu-won, and he had no choice but to stop his steps towards Cheon-rang. While the heart of salvation is also shaken by the affectionate smile of the mother who vaguely emerges, I wonder why Hanmi-so suddenly appeared in front of salvation.
Reporter Kang Min-kyung, Ten Asia kkk39@tenasia.co.kr