TV
Kim Seong-joo, tricked by his son's method acting "Scary Program"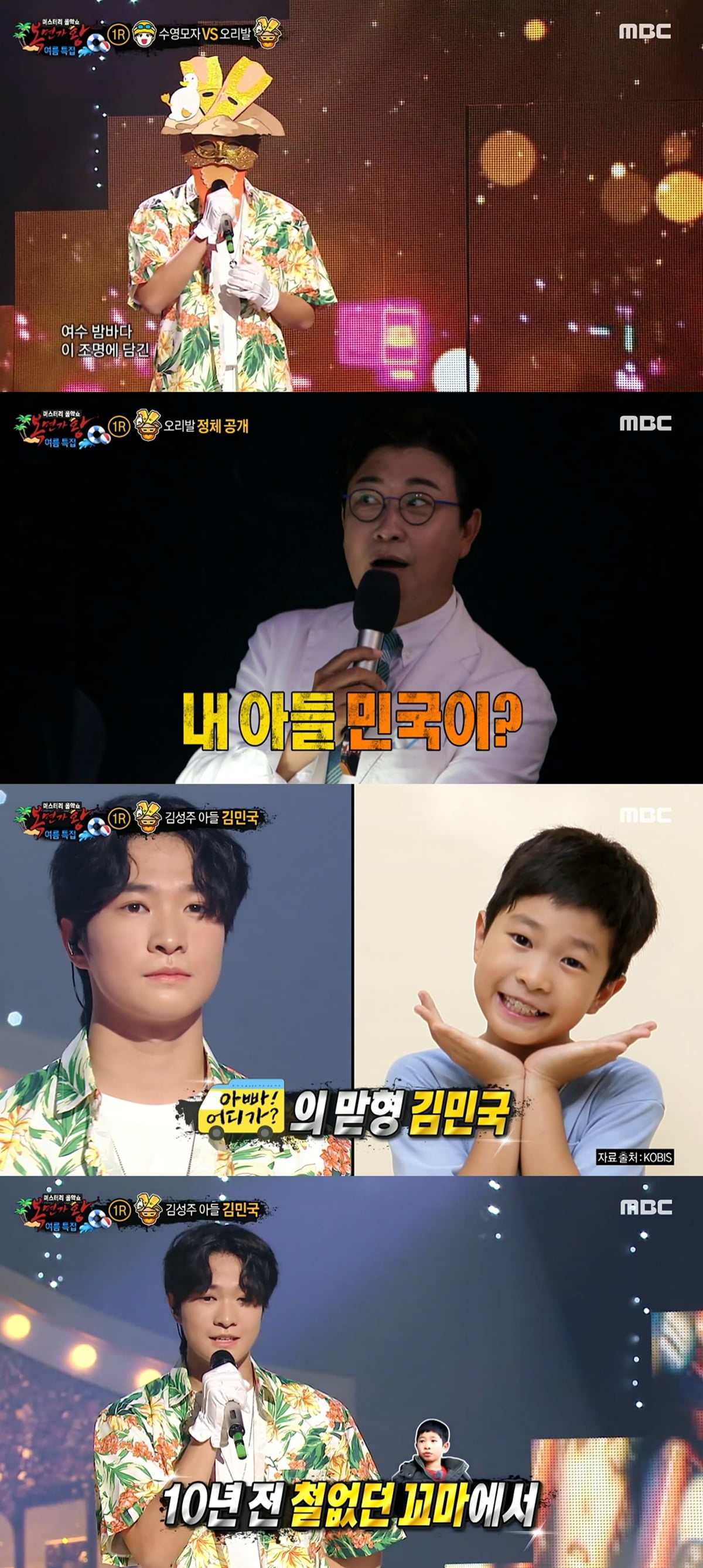 Broadcaster Kim Seong-joo's son Min-guk appeared on 'King of Mask Singer' with a big figure.
In MBC's 'King of Mask Singer', which aired on the 30th, 8 masked singers were drawn to challenge the eight color group of singers.
On this day's broadcast, the main character of the final confrontation in round 1 said, 'Will you get caught up in my soft voice? Swimming cap (hereafter swimming cap)' and 'Those who didn't vote for me, don't think about sticking out your flippers! It was a flipper (hereinafter referred to as a flipper). For the swimming cap and flippers, a duet competition was held by selecting Busker Busker's 'Yeosu Night Sea'.
As a result of the judges' vote, the swim cap advanced to the second round with a score of 52 to 47. The flippers performed a solo stage by selecting Hyukoh's 'Wiing Wiing'. The flipper who took off his mask and revealed his identity was Minguk, the son of Sungjoo Kim.
Kim Seong-joo hurriedly received a cue card from the production team of 'The King of Mask Singer'. Kim Seong-joo explained, "This is the eldest brother who received a lot of love through 'Daddy, Where Are We Going?'. He is Kim Min-guk, who has returned after 10 years of rapid growth." Then, he looked surprised. Kim Min-guk awkwardly reunited with Kim Seong-joo after the solo stage was over.
Kim Seong-joo received applause for saying, "The identity of flippers is my son." He added, "'King of Mask Singer' is a scary program. This friend didn't come home yesterday." Kim Seong-joo said, "Shouldn't we talk right before taking off the mask?
Kim Min-guk introduced, "Hello. I'm 20-year-old Kim Min-guk, who has been appearing on 'Daddy Where Are We Going?' this year." Kim Min-guk told the story of his method acting, saying, "I played a song in the car for a while. I sang along with the song. I tried to confuse my father by singing it."
Kim Min-guk said, "My mother knew" and laughed. Kim Seong-joo said, "We didn't talk about anything when we ate breakfast this morning." Kim Min-guk's dream is to be a film director. Kim Min-guk said, "When I was young, I often went to my grandfather's house, and he showed me a lot of 'Jurassic Park' DVDs. My first dream was to be a dinosaur."
He added, "Because I have a big head, I had the idea to make a movie like this. I wanted to learn more about TV and movies while watching my father for 10 years, so I'm going to go that way."
Kim Seong-joo asked, "What kind of father am I to Kim Min-guk?" Kim Min-guk replied, "I missed my father every time because he was very busy. That's why he spent a good time with him and cherished it. Thank you for thinking so too. A good father." The two hugged each other and warmed up.
Also, Kim Min-guk said, "I am grateful once again that 10 years is a long time, but there are many people who remember me. I would be grateful if you welcomed me again."
Reporter Kang Min-kyung, Ten Asia kkk39@tenasia.co.kr