MUSIC
ENHYPEN revealed that Bang Si-hyuk also praised the new song 'Sweet Venom'
ENHYPEN releases 5th mini album 'Orange Blood' on November 17th
Title song 'Sweet Venom', English song also prepared separately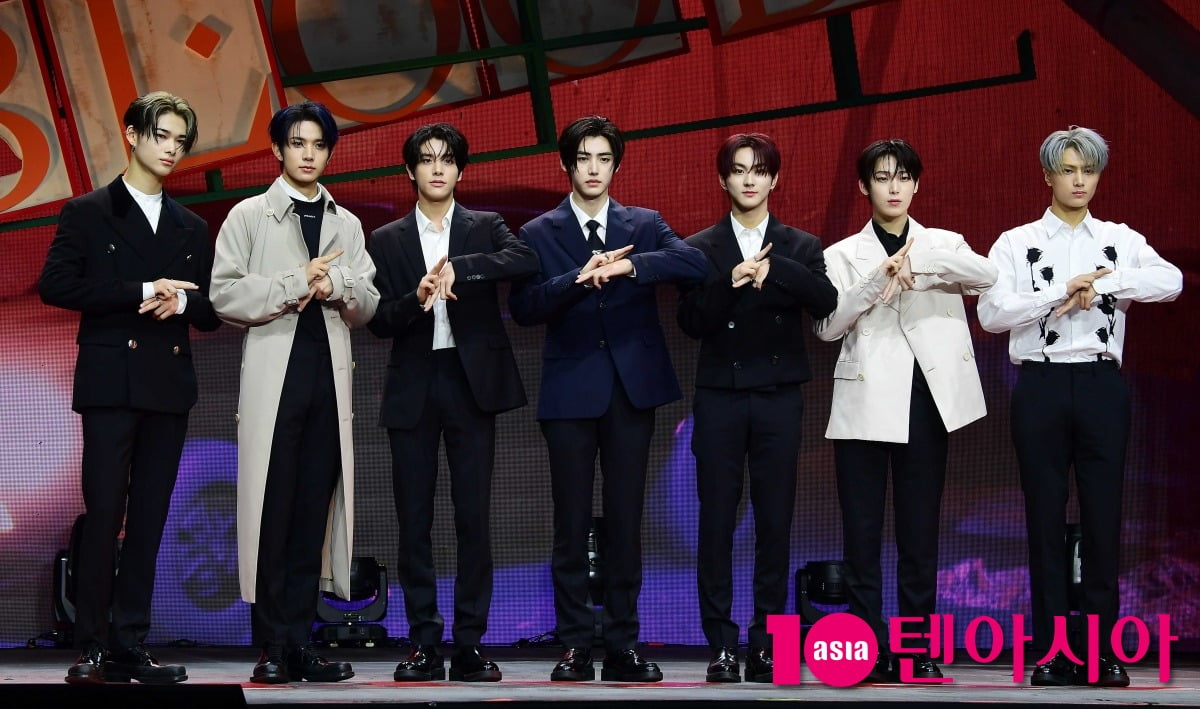 Enhyphen presents a stage that adds a groovy yet rhythmic touch to its dark charm. Showing off their unique charm with the title song 'Sweet Venom' of their 5th mini album. Enhypen boasted that even Bang Si-hyuk praised this song, which they prepared with confidence.
On the 16th, a showcase commemorating the release of Enhyphen's 5th mini album 'ORANGE BLOOD' was held at Yes24 Live Hall in Gwangjang-dong, Seoul.
'Orange Blood' consists of 7 tracks. Each song contains a series of stories about a boy who realizes 'finitude and mortality' and falls in love in a 'carpe diem' way. 'Orange Blood' tells the story behind the previous work 'DARK BLOOD'. 'Dark Blood' tells the story of a boy who was punished for forgetting 'you' due to his arrogance, but then realizes the existence of 'you' and prepares to sacrifice himself by abandoning himself.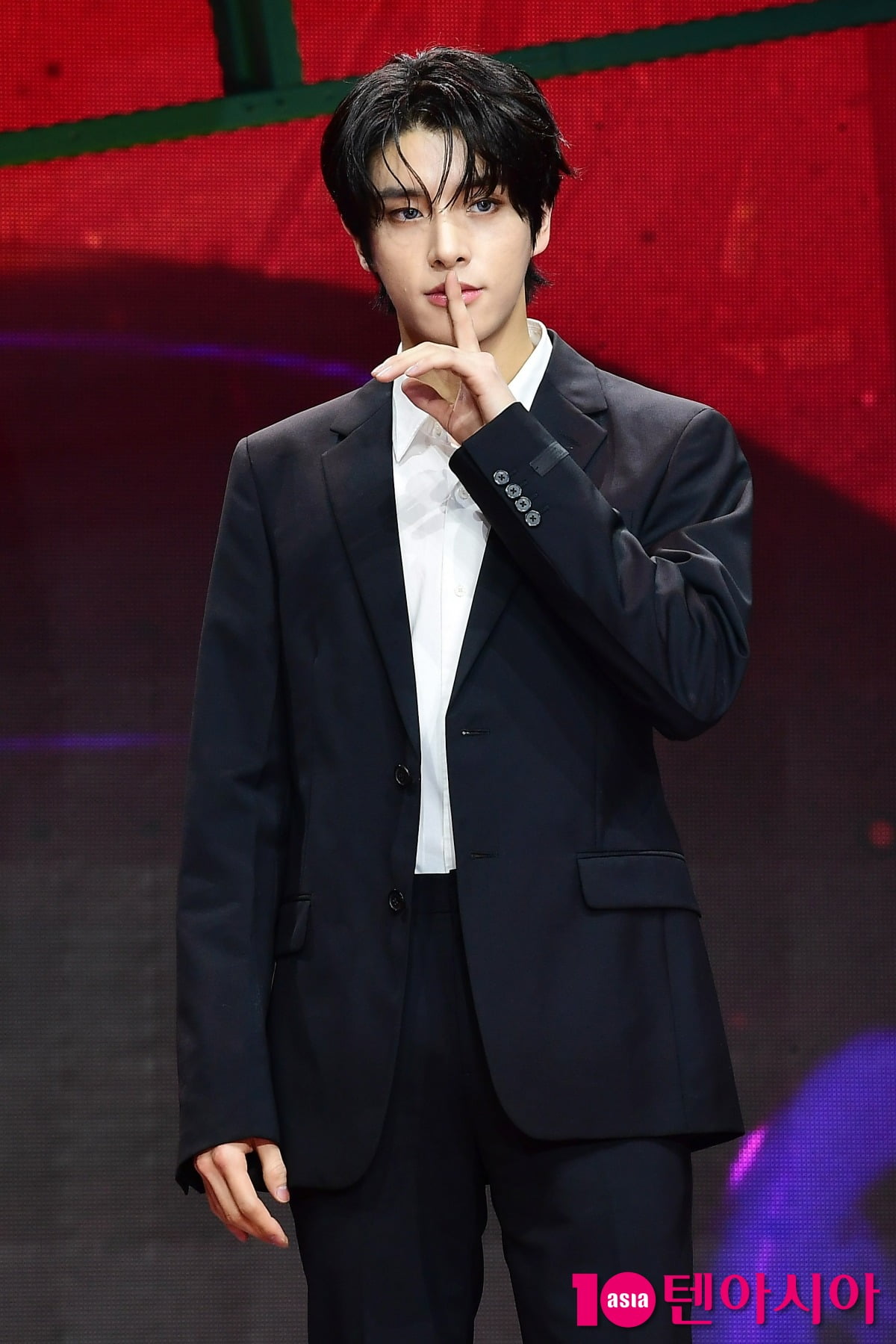 Jake introduced, "We are back with 'Orange Blood', which is much more upgraded than 'Dark Blood'. You will be able to see a different side of Enhyphen in this album." Seonghoon expressed his thoughts, "The half-year of preparing for Orange Blood has passed quickly. It feels special to be able to show good songs and content." Jeongwon said, "I worked hard to prepare not only the choreography but also the facial expressions to show the performance well." He also expressed confidence that "the album so far is good enough to be renewed."
Enhyphen expresses their earnest desire to connect with Engine (fandom name) through the boy's story. Sunwoo said, "I felt grateful and precious to the engine I met for the first time, but on the other hand, I also doubted whether we deserved to be loved. It contained my wish to overcome my inner shortcomings and connect with the engine." Heeseung expressed his affection for his fans, saying, "I would compare the relationship with an engine. Just as a stretched rubber band bounces back even if it is far away, the distance in my heart (with the engine) is close, and they are like a rubber band that cannot be broken." Seonghoon said, "When I listen to Engine sing along during a performance, I think I feel the same emotions as Engine. I think we and Engine are connected to each other."
This song also contains some elements of Hive's original story 'DARK MOON: Altar of the Moon', a collaboration with Enhyphen.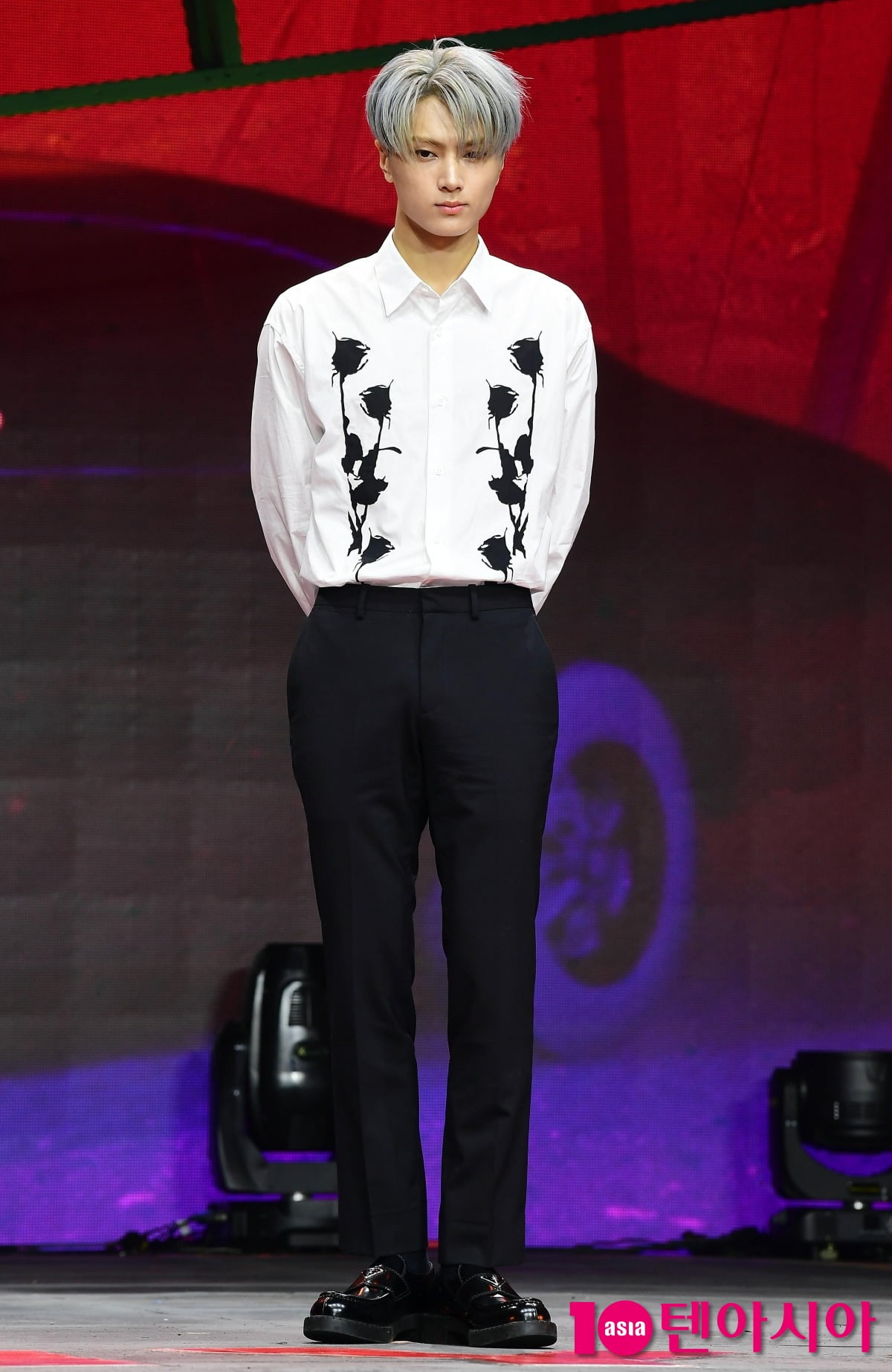 The title song 'Sweet Venom' is a groovy bassline-based funk and pop song that tells the story of a promise to stand by 'you' even if poison spreads throughout the body. The poison of 'you' is sweet and it expresses the boy's feelings in a playful and rhythmical way that makes him realize that he is alive.
After performing 'Sweet Venom', Seonghoon said, "Before, we went on an overseas tour. During the overseas tour, we mainly practiced performance, but this time, we practiced 'Sweet Venom' together. We tried our best in the hope that many people would love it. "He said.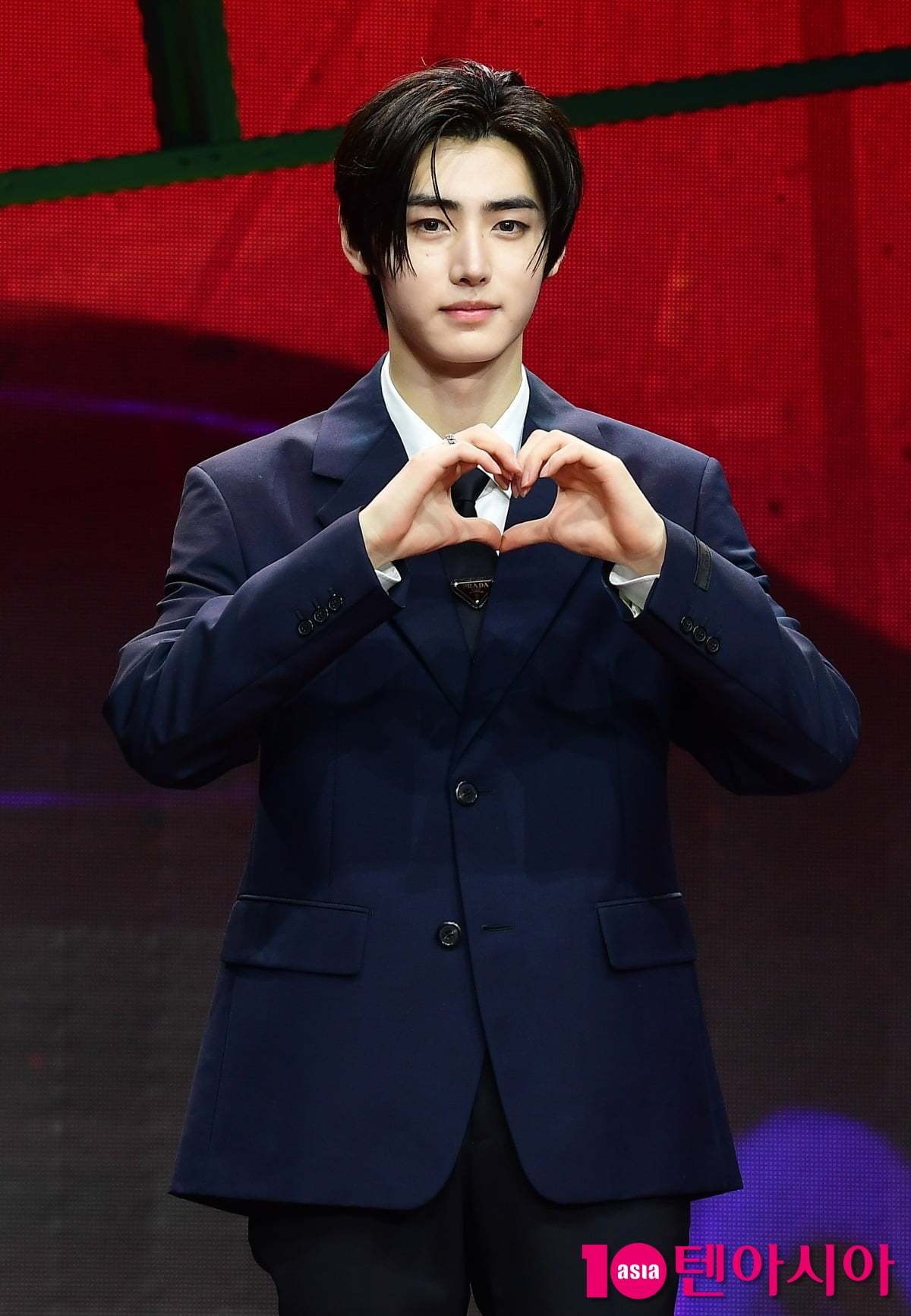 'Sweet Venom' can be found in three versions, including the original Korean version, an English version, and a version sung with popular American singer Bella Porch. The English version went beyond simply translating the lyrics into another English and was created with new content. The point of 'Sweet Venom' is that one song can be enjoyed with various meanings and voices.
Jake said, "I think 'Sweet Venom' is a song with a unique feel that Enhyphen has never tried before. It was a song with an unexpected atmosphere when I first heard it, so I recorded it with high expectations." He also said, "When I heard that it was my first English song, I was excited because I thought I could express it better."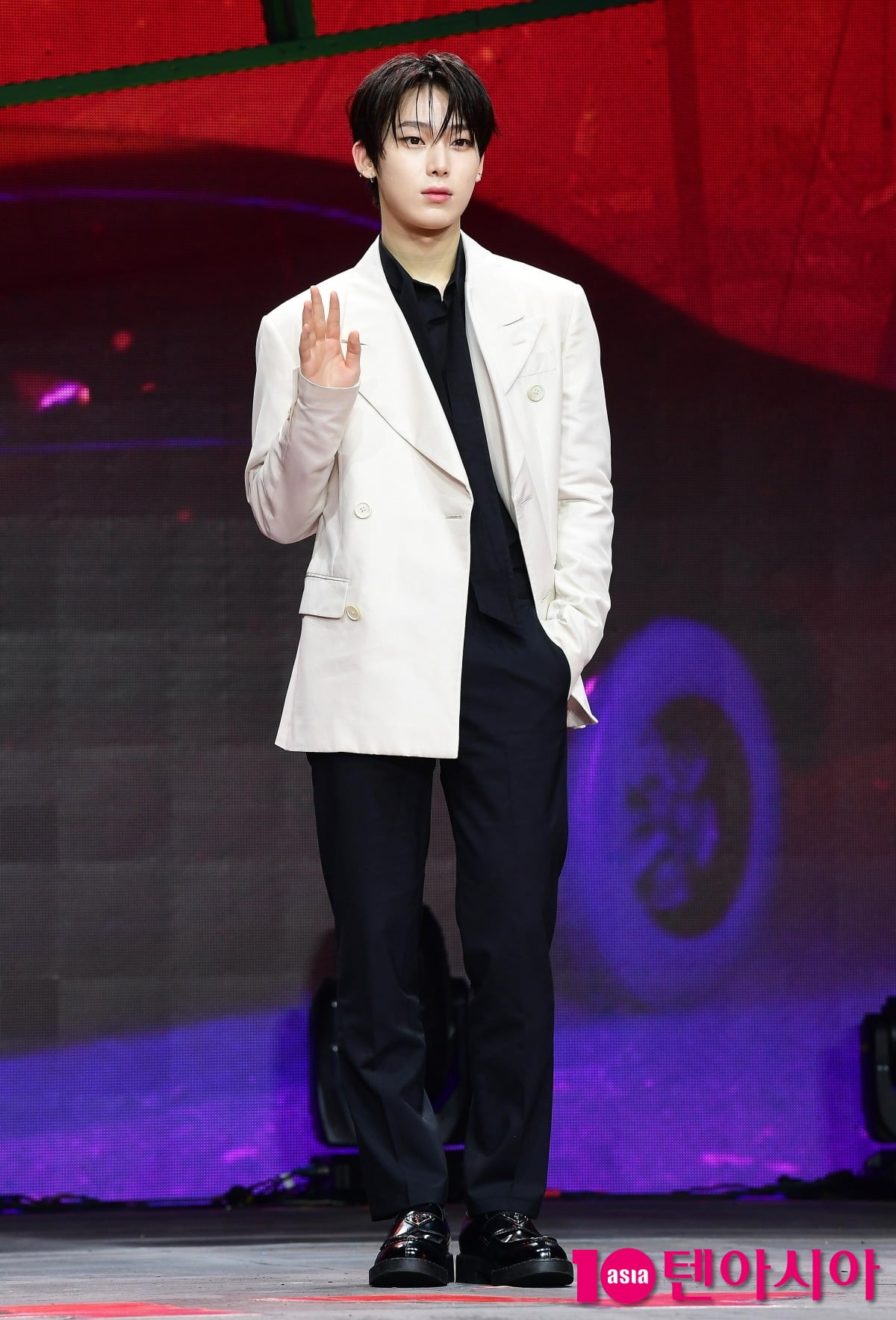 Jeongwon said, "When you think of Enhyphen, you probably think of a dark and strong image, but this time, I prepared a subtle sexiness and a sensuous look. I tried it to show a change from before." He also said, "It has been difficult to capture the feeling during the choreography of the title song so far. I wanted to do well with the difficult choreography, so I practiced repetitive movements on the plane."
The point choreography is 'Sweet venom dance' and 'Quiet dance'. The 'Sweet Venom Dance' expresses the phenomenon of sweet poison spreading throughout the body through hand movements that wipe the lips and sweep from the neck to the upper body. 'Quiet Dance' focuses on the visuals during the static section of the song, quietly approaching and slightly showing his fangs.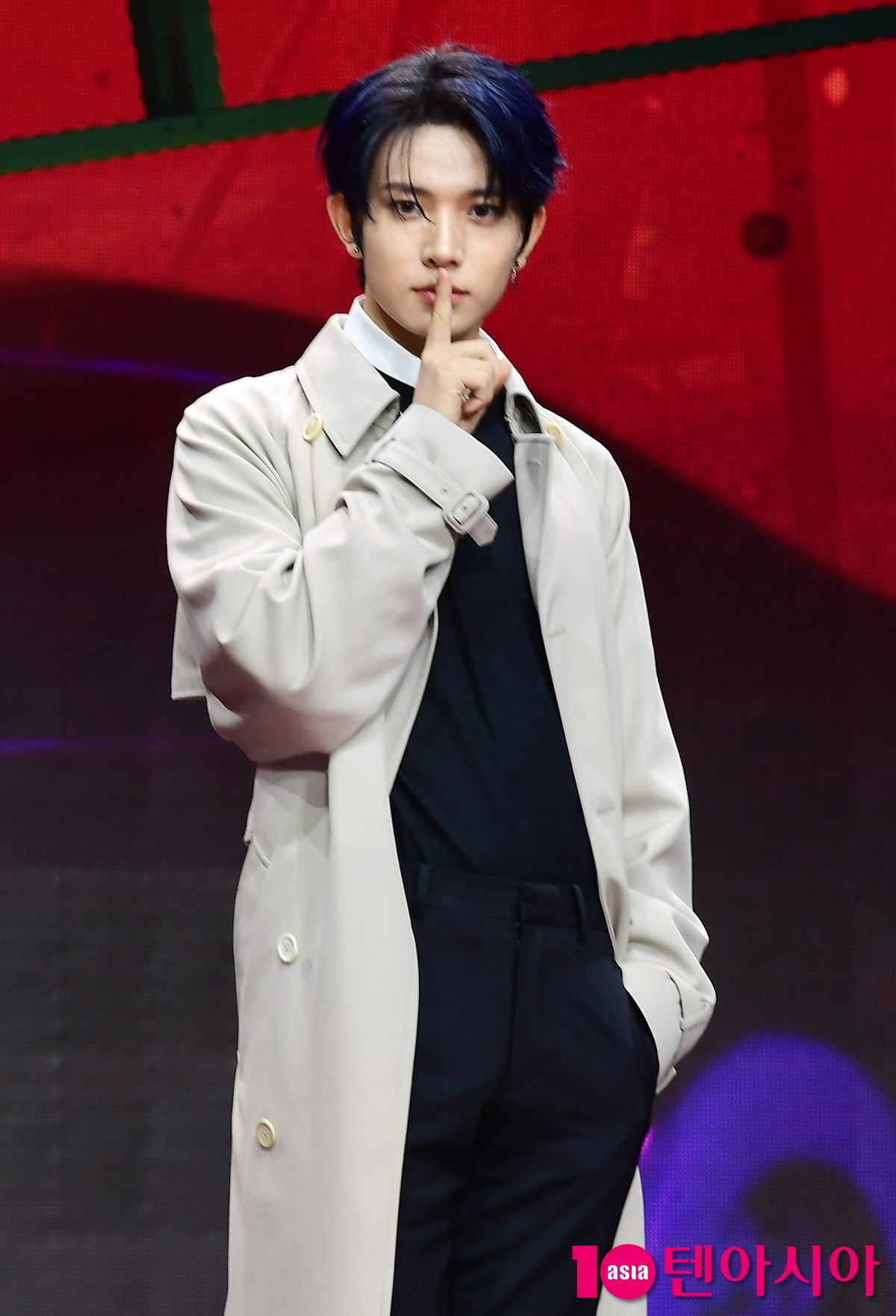 Member Jay participated in writing the lyrics for 'Sweet Venom'. Jay explained, "I wrote the lyrics while thinking about what lyrics would suit our team." He continued, "I've always wanted to participate in writing lyrics, and I'm glad that my name was listed and that I had a great opportunity. I will work hard to bring you good news next time."
When asked if there were any comments from Bang Si-hyuk, Heeseung replied, "I recorded 3 versions of 'Sweet Venom'. I recorded the Korean version for the second time, and Bang Si-hyuk praised the recording and said it went well." Also, "Actually, we don't often hear praise from Si-hyuk. He's strict, so it felt good to think we were praised by that standard. If you keep that in mind, you'll be able to listen to Si-hyuk's praises more if you think of them as songs." He said proudly.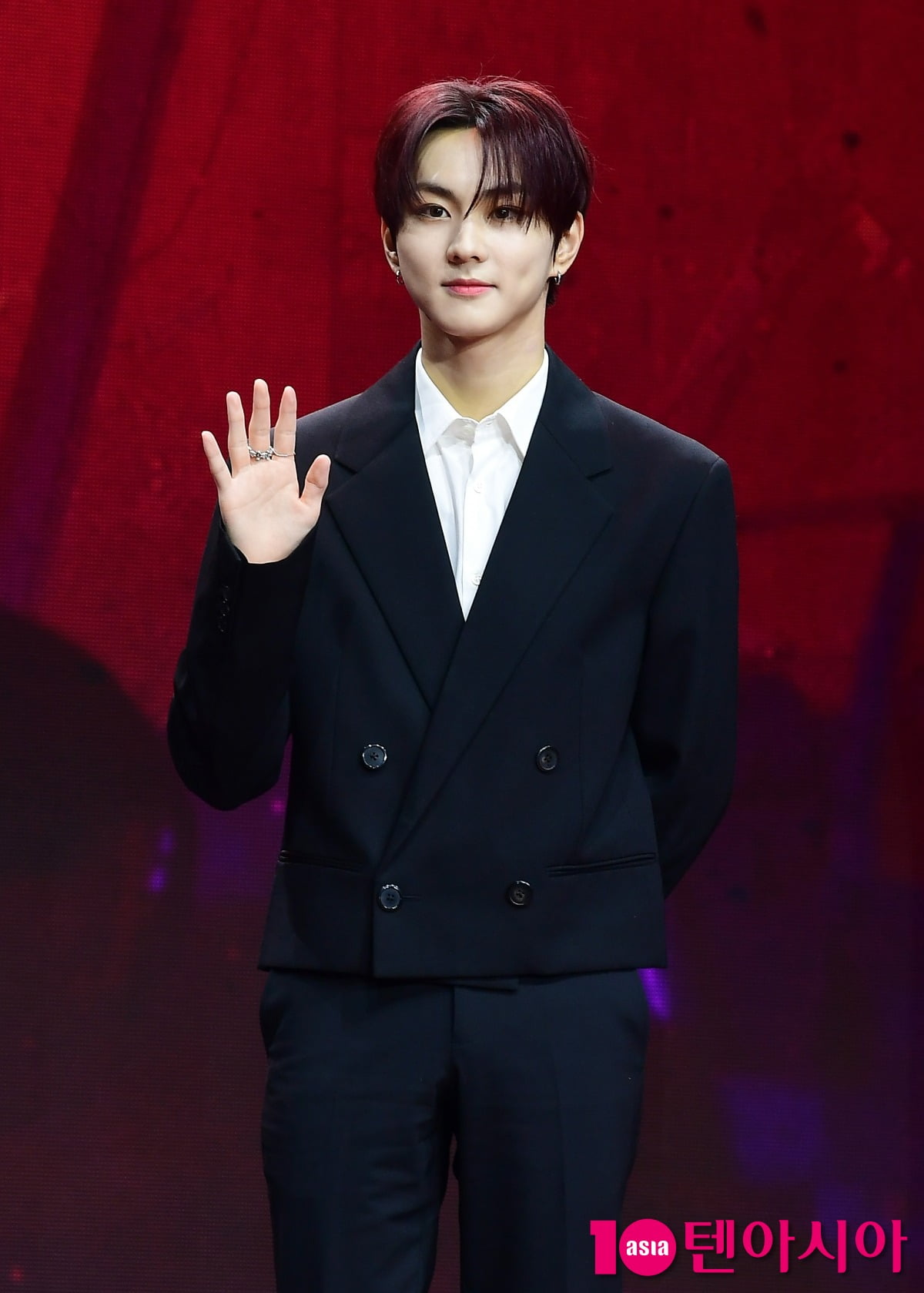 The music video for 'Sweet Venom' metaphorically expresses the boy's permanence through the image of Enhyphen trapped in a space where time has stopped. It was created in a novel way using the 'Mannequin Challenge', which involves filming a person standing still like a mannequin as if time and space had stopped.
Seonghoon boasted, "Unlike before, the gorgeous sets and unique costumes are the key points. We like scenes where everything is still but only our mouths are moving, or we are moving but everything is still. It's a music video with a lot to see."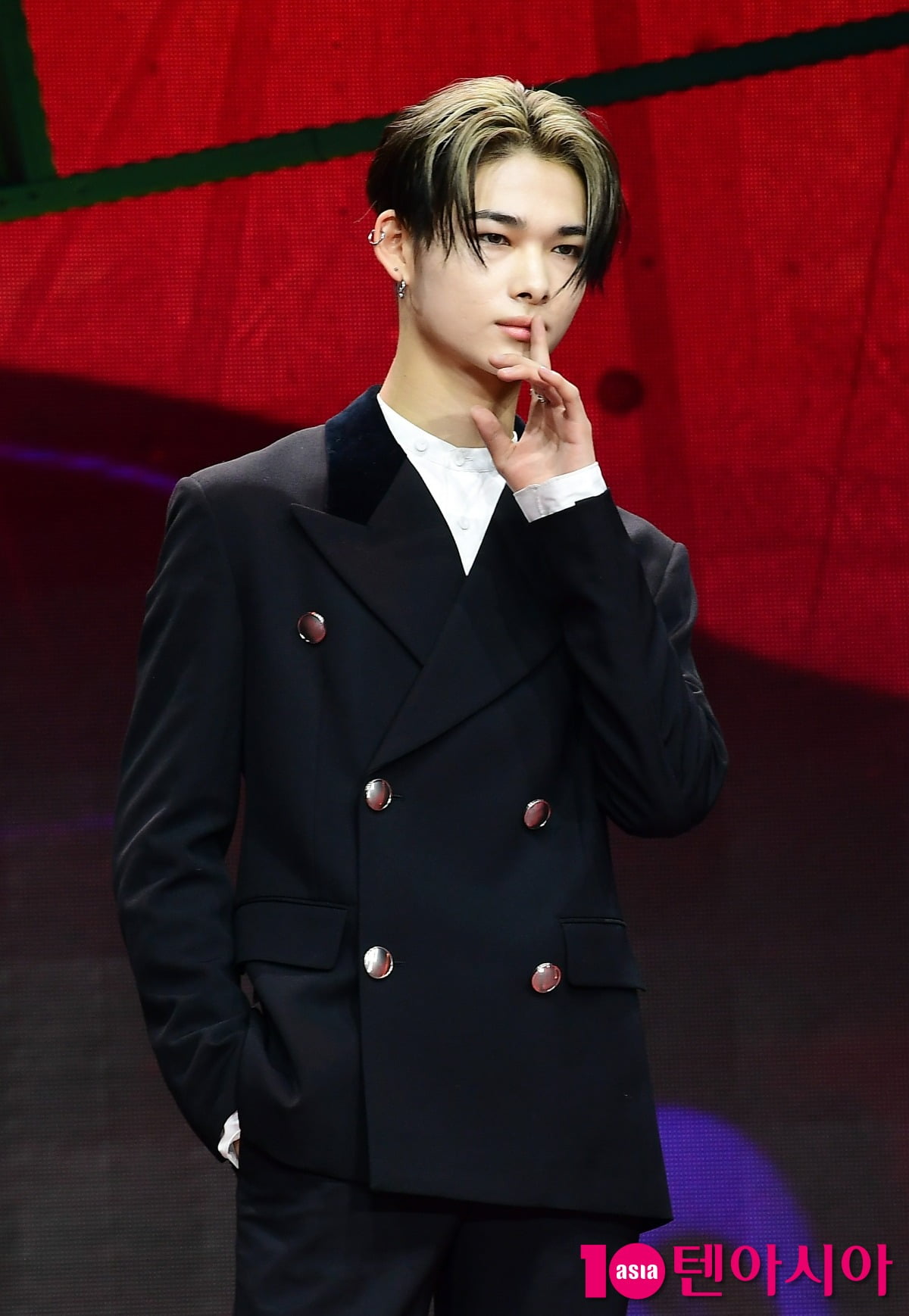 When asked how the past six months have been, Jake said, "We went on tour starting in Seoul in July. It was a good memory to meet various engines (fandom names). I was grateful and meaningful to be able to perform at a bigger concert hall than last time. LA concert hall. "It was outdoors, and the weather was good and the energy was good, so I think it was even more special."
Enhypen set a record for being the K-pop boy group to enter and perform at Tokyo Dome in the shortest period of time. Nikki, who is from Japan, said, "I think the Tokyo Dome concert is the stage that every artist dreams of. When I first heard that there would be a concert at Tokyo Dome, I couldn't believe it. All seven of us grew while preparing. It was meaningful to be able to go to the next level as artists."
Nikki said, "It was meaningful to us because it was the place where Hive's seniors, BTS and Seventeen, performed. We are thankful that we entered the Tokyo Dome in the shortest time among K-pop boy groups. The engines rode the waves while performing on the Tokyo Dome stage. "I don't think this is the end, but that the journey of the seven of us has begun. I will strive to be in the same position as my seniors in BTS and Seventeen. I will strive to become an artist who can make a strong impact on K-pop history." "he said.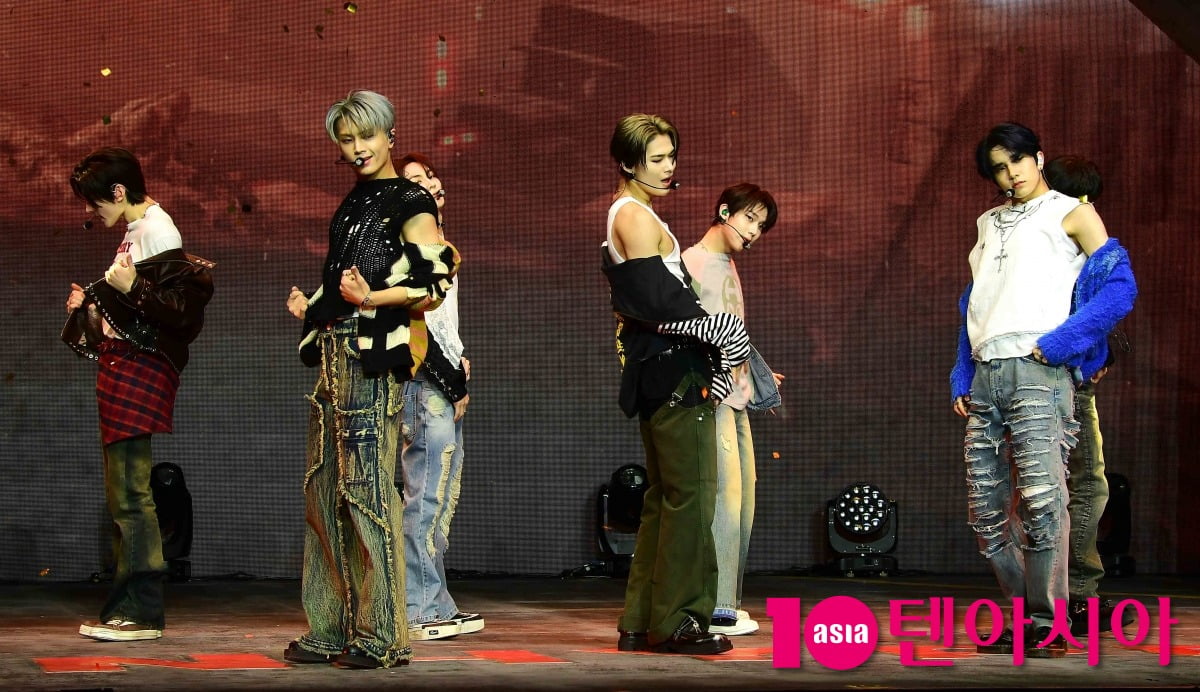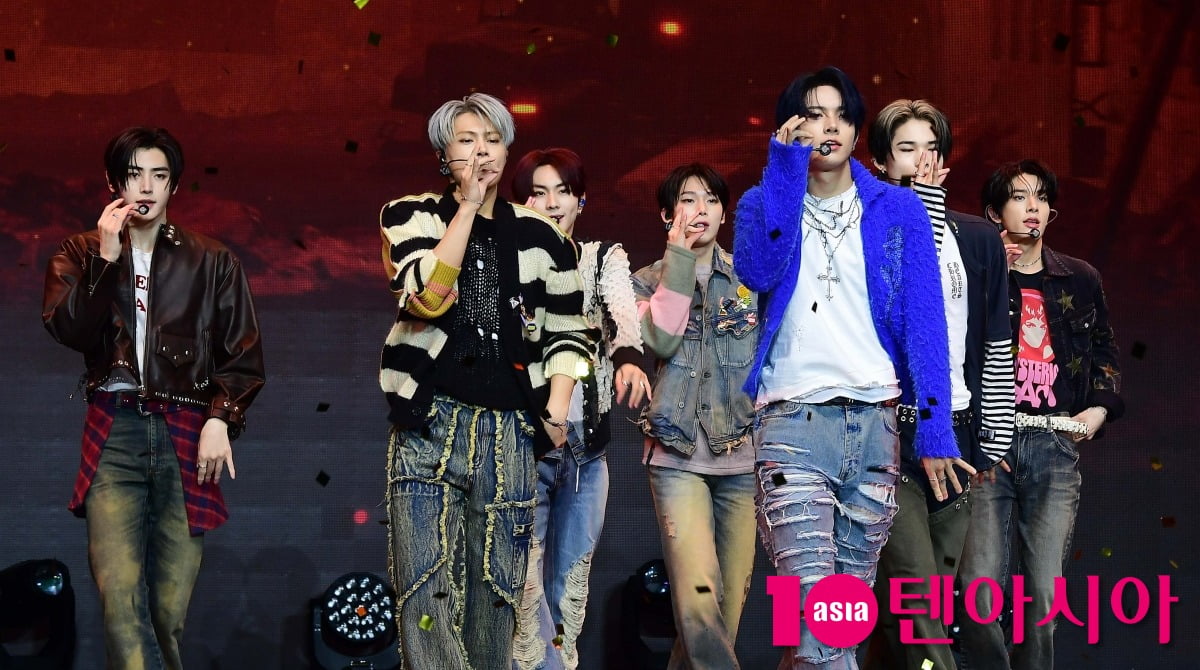 Recently, Hive and MBC signed a memorandum of understanding (MOU) to create a sound broadcast production environment and enhance artist rights. Hive artists who had not previously appeared on MBC were able to appear on MBC broadcasting this time.
Accordingly, Enhyphen will appear on MBC's 'Music Core'. Jeongwon said, "The more we perform on stage, the more fans like it. With our new costumes, you can see more diverse stages. I'm happy because my job is to show the stage to the fans."
When asked if there were any seniors, juniors, or colleagues with whom he would like to take on the challenge, Seonghoon replied, "I would like to take a photo with TOMORROW X TOGETHER, SEVENTEEN seniors, and, if I have the opportunity, BTS seniors." Heeseung and Jake also chose BTS. Jake also said, "I also want to film with my personal friends, Jeongin (I.N) of Stray Kids, Beomgyu of Tomorrow by Together, and Uiju of Team N."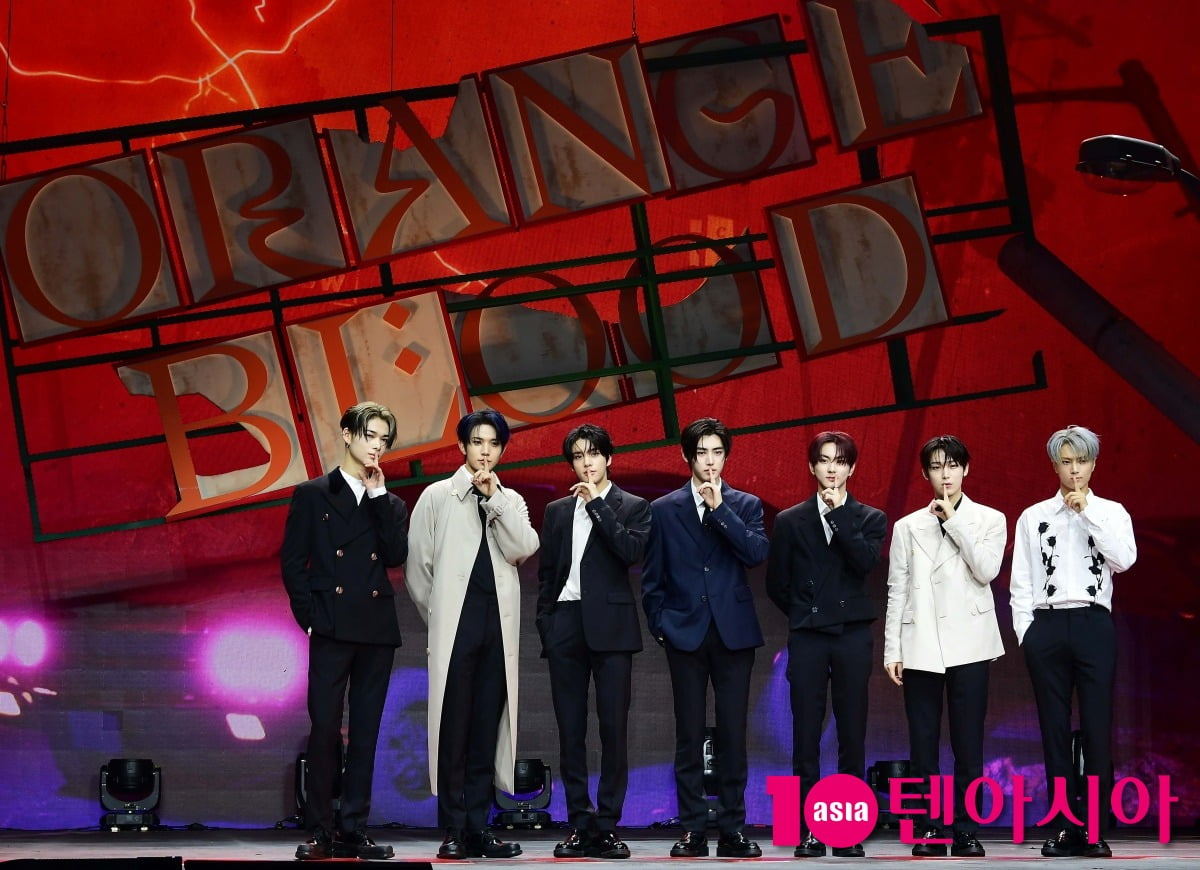 Jay said, "It's been 3 years since our debut. Our thoughts about our fans, our feelings for them, and our various experiences have given us a lot of knowledge and heart. We will not forget our feelings for our fans and present a stage that suits them. "We are working hard for it," he said.
When asked about the goal of this activity, Sunwoo expressed his expectations, saying, "This is my first time performing an English song, and I hope it achieves good results on Billboard." Heeseung said, "The main keyword of the album is 'Carpe Diem'. Like this keyword, we hope you can enjoy it to the best of your ability and that people who see us think we're cool." Jake said, "I prepared this album earnestly and confidently. Many people are making a comeback in the K-pop market, and my goal is to release an album that stands out. Not only 'Orange Blood', but also Enhyphen's charm and 'Dark Moon' There are a lot of interesting things, such as collaborations and storylines. The goal was to create a high-quality album while paying attention to each of those things. Please look into those aspects."
Jeongwon said, "I am well aware of the criticism that ENHYPEN can be seen on overseas charts but not on domestic charts." He added, "I will show ENHYPEN that they are not complacent and work hard. All 7 members are confident and this is a high-quality album, so listen to all the songs." "Please give it to me," he asked.
Enhyphen's 'Orange Blood' will be released at 2pm on the 17th.
Kim Ji-won, Ten Asia reporter bella@tenasia.co.kr