MUSIC
BTS Jungkook has released part 1 of the track poster for his first solo album.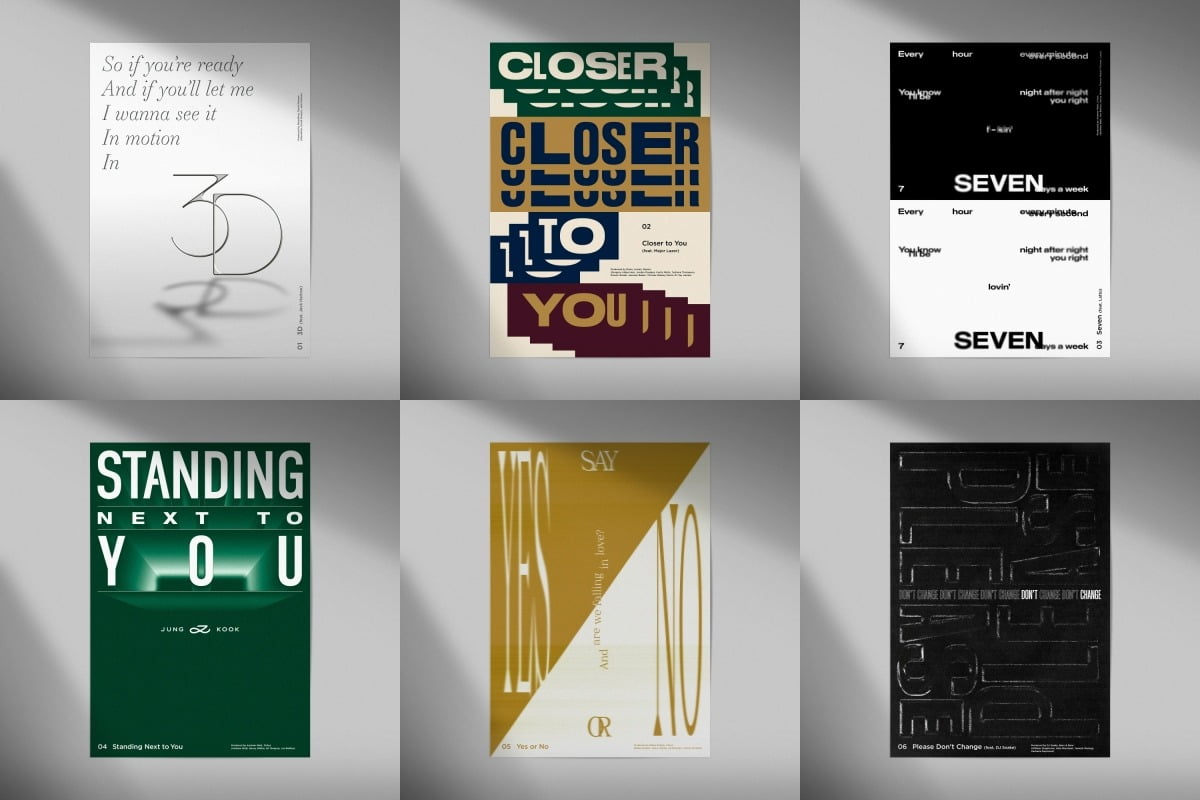 Jungkook has released the first track poster of his first solo album.
Jungkook posted ''GOLDEN' THE TRACKS' PART 1 on BTS' official SNS at midnight on the 26th (Korean time). In the track poster, you can get a preview of some of the lyrics along with the atmosphere of the songs in the solo album 'GOLDEN', which will be released simultaneously around the world at 1 PM on the 3rd of next month, and you can also see the faces of the musicians who participated in producing or featuring on each track.
The track poster includes track 1, '3D (feat. Jack Harlow)', 'Closer to You (feat. Major Lazer)', 'Seven (feat. Latto)', 'Standing Next to You', and 'Yes or No'. , 'Please Don't Change (feat. DJ Snake)', and consists of 6 songs according to the track list order. Each poster caught the eye with its sensuous colors and composition, and the six individual posters gathered together gave the feeling of viewing an exhibition.
The first track, '3D', is an R&B pop song that harmonizes a minimalist instrument composition and a sophisticated rhythm with a striking feel with an old school sound. 'Closer to You' is an R&B genre song with a reggaeton rhythm, featuring Major Lazer, who is gaining popularity in the EDM music industry. 'Seven' is a passionate serenade that combines an addictive melody, warm-sounding acoustic guitar, and the rhythm of the 'UK garage' genre (electronic music made in the UK in the early 1990s).
The album title song 'Standing Next to You' is a retro punk song that stands out with Jungkook's groovy vocals. Jungkook is expected to once again present an unprecedented performance, heralding a 'complete performance' through the title song. 'Yes or No' is a song that impresses with Ed Sheeran's unique sensibility and guitar playing, and 'Please Don't Change' is an electronic dance pop song through the combination of Afropop and DJ Snake. It was completed with
Among the 11 songs included in this album, track posters for the remaining songs not included in PART 1 will be additionally released on the 27th.
'GOLDEN', filled with songs of various genres and moods, is an album based on solo artist Jungkook's 'golden moment' as a motif. Jungkook participated with great care in the entire production process of his first solo album, including personally selecting all the included songs, and created a highly complete album through collaboration with artists from around the world.
Meanwhile, Jung Kook plans to carry out various activities at home and abroad upon the release of 'GOLDEN', and will meet fans closely by holding a fan showcase 'Jung Kook 'GOLDEN' Live On Stage' at Jangchung Gymnasium in Jung-gu, Seoul at 8 PM on the 20th of next month. We are also preparing available positions.
Kim Ji-won, Ten Asia reporter bella@tenasia.co.kr