MUSIC
'HYBE Rookie' I'LL-IT Minjoo "BGM in everyday life? BTS's 'Fire'"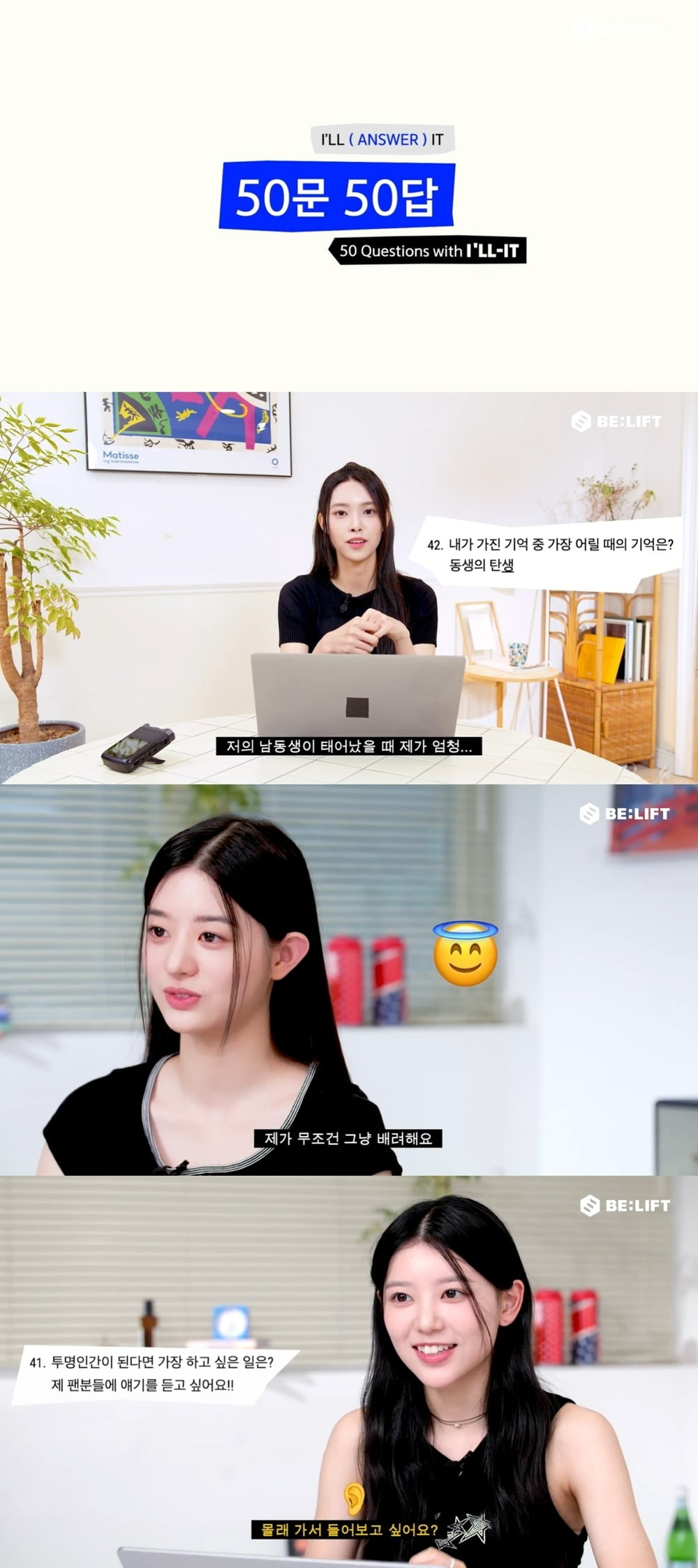 The members of HYBE's new girl group I'LL-IT introduced themselves with 50 questions and 50 answers, each with their own unique characteristics.
I'LL-IT (Yoona, Minjoo, Mocha, Youngseo, Wonhee, Iroha) sequentially released 50 questions and 50 answers videos delivered directly by the three members Yoona, Minju, and Mocha through their official SNS on the 22nd and 24th. The video contains self-introductions such as name, age, personality, and special skills, as well as answers to unique questions such as favorite moment of the day, favorite song, and what you want to do when you become invisible, making it a useful 'reference' for fans waiting for their debut. It is expected that it will be.
◆ Passionate Yoona's oldest memory is 'the birth of her younger brother.'
Yoona introduced her personality by saying, "I seem to be passionate." Yoona, who is full of energy, chose shower time as her favorite moment of the day, saying, "When I take a shower, all the fatigue and accumulated stress of the day seems to wash away." Yoona went on to say that the earliest memory she had was 'the birth of her younger brother.' He said, "When my younger brother was born, I loved him so much that I wanted to give him everything, even if it meant sacrificing my life, but now… "They couldn't stop talking, showing off their appearance as siblings in real life.
◆ Minjoo is busy every day, and the BGM for his daily life is 'Fire'.
Min-joo showed that he has a kind and considerate personality, saying, "If I think a conflict will arise with my friends, I give in unconditionally." When asked how he would react when his friend was an hour late for an appointment, he said, "I think I would just reply, 'Are you here?'" Minju said that she is leading a busy daily life these days and that if she had to choose BGM for her daily life, she would choose BTS's 'FIRE'. Min-joo, who chose Lee Sun-hee's 'Destiny' as her favorite song, sang this song herself, and with her unique voice and vibe, it gave off a different feeling from the original song.
◆ Unusual charm Mocha "If I were to become invisible, I would like to hear the stories of my fans."
Moka has a new nickname. 'Mokhwa' is pronounced similarly to the name. Moka said she liked her new nickname. Moka introduced herself as a timid person and revealed her 'ambivalence' by saying that her biggest fear was riding roller coasters, but that her specialty was "watching horror movies." Moka said, "If I were to become invisible, I would secretly go and listen to fans' stories. "I'm curious about what you're talking to me about," he said, showing off his quirky charm.
I'LL-IT Youngseo, Wonhee, and Iroha's 50 questions and 50 answers will be posted on the official SNS every day at 8 PM from today (25th) to 27th. The full text of 50 questions and 50 answers for each member can be found on the global fandom life platform Weverse Eyelet Community.
I'LL-IT was selected through the JTBC audition program 'RU Next?'
Kim Ji-won, Ten Asia reporter bella@tenasia.co.kr