MUSIC
JYP American girl group project 'A2K', final member revealed tomorrow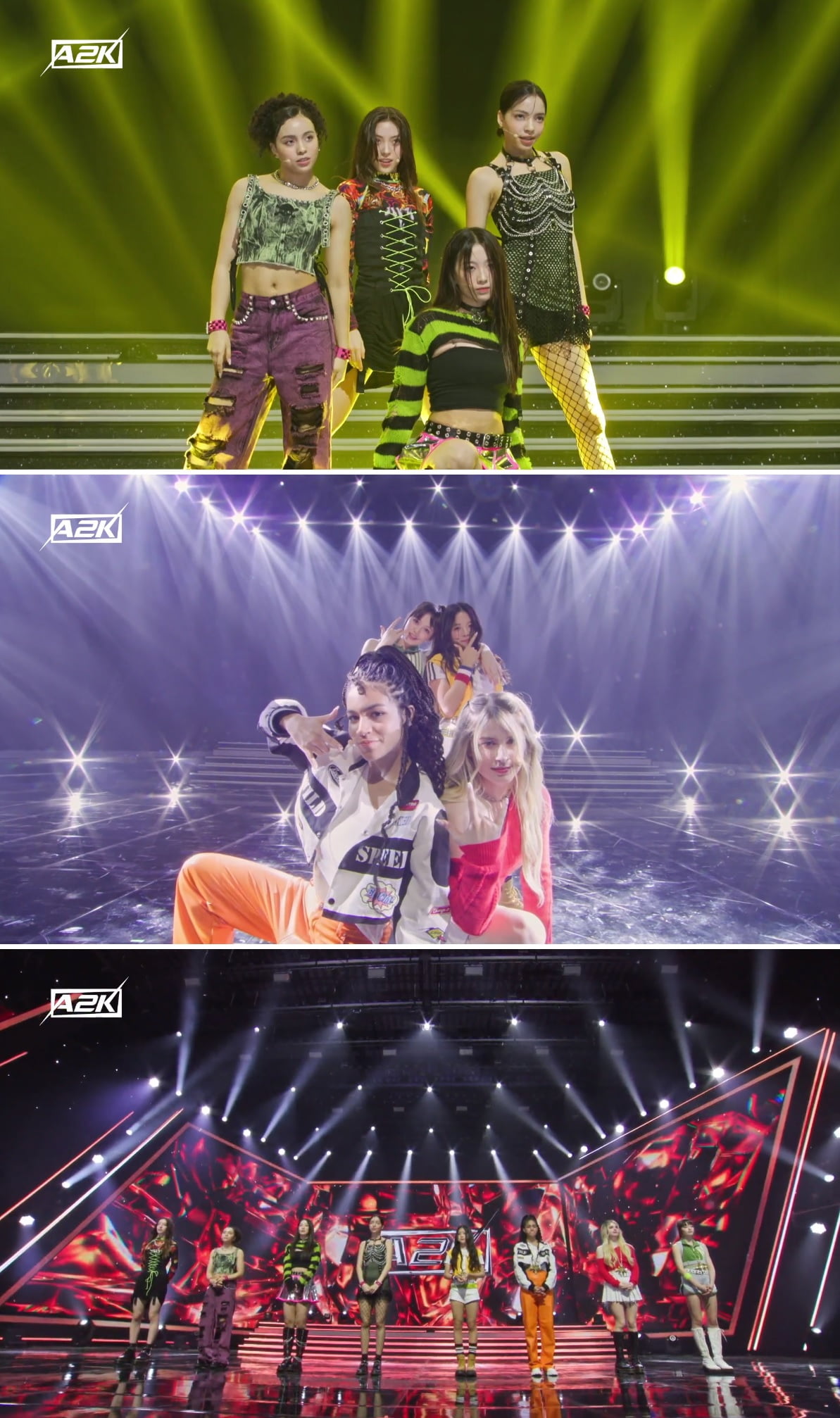 With JYP Entertainment's (hereinafter JYP) global girl group launching project 'A2K' (A2K, America2Korea) one day ahead of the final episode airing, the winner of the first mission of the final round was decided.
In the 20th episode of 'A2K', which was released on the 19th, the final winning team of the second round team mission held in Seoul and the eight participants who will advance to the next gate: Cage, Savannah, Kaylee, Christina, Camilla, Gina, Kendall, Lexus, and The first eliminated member from Korea, Yuna, was announced.
Episode 21, which was released on JYP's official YouTube channel on the morning of the 21st, unfolded the process and results of the first mission performance of the participants who entered the final round. The final round, which determines the debut member, consisted of two missions: the 'Individual Song Contest', in which eight participants were divided into two teams and sang different songs, and the 'Common Song Contest', in which they performed the same song.
Broadcaster Ahn Hyun-mo participated as MC, and Sunmi and Rachika Gabi participated as special judges in the final round. Park Jin-young explained the multi-faceted evaluation criteria, saying, "Today we have to select the final members. We look at the level of ability, growth and development, and lastly, the most important deciding factor, personality." Additionally, in response to Ahn Hyun-mo's question, "Is the number of members in the debut group set?" he responded, "It hasn't been decided at all. It could be all eight, or two or three," heightening tension.
The final round location is the broadcasting station. The participants were unable to hide their excitement at the bigger and more spectacular stage and spotlight, and expressed their passion and determination, saying, "Seeing this stage, I really want to seize the opportunity. It's not over until it's over. I'll give it my all and do my best."
Team 'Topic', consisting of Gina, Lexus, Savannah, and Camilla, performed 'Know Me Like That', a song written by producer David Stewart, who has numerous hit songs including Jinyoung Park and BTS's 'Dynamite'. Prior to the mission day, Jinyoung Park personally coached the participants by telling them about his work with David Stewart, informing them of the key points of the song, and even helping with the distribution of parts.
During dance practice, the participants, led by Savannah and Lexus, helped each other and shed a lot of sweat, and received a one-point lesson from Sunmi, who made a surprise appearance, to show off her true emotions on stage and fully prepared.
As soon as the performance began, the 'Topic' team showed off their charm that shook the stage. The special judges said, "I was holding a pen to write a comment, but I got so caught up in the stage that I forgot to write it down. It was like a team that debuted. Lexus, in particular, was the complete star of the stage. They made us focus right from the first part and looked like rock stars. .
He praised Savannah for doing so well that it made me think, 'I want to dance like Savannah.'" Meanwhile, "Camilla has long arms, so she looks flashier and I think she needs more strength to use them well. He also commented, "On the contrary, a lot of power was put into it." Finally, Park Jin-young said, "It was a performance that exceeded expectations. All four did well. "What was good enough to make me scream was Lexus' dance and Savannah's song," he said, expressing satisfaction.
'Clover', a team of Kaylee, Kendall, Cage, and Christina, attracted attention with an introduction embodying a four-leaf clover. The song 'Go Getter', created by Jinyoung Park and the famous production team Space Primates, added to the lively charm of the 'Clover' team with a powerful and lively atmosphere.
Park Jin-young introduced, "It's one of my favorite songs. It's an upbeat, bright song that makes you feel good whenever you listen to it," and distributed parts according to the participants' voices, including Cage's singing ability in high notes and Kendall's rapping skills with a strong personality. Sunmi cheered on the participants by providing not only teaching but also motivating advice and feedback.
The 'Clover' team caught everyone's attention with their lively stage and received an evaluation from Gabi, saying, "Their energy stood out. I could feel the effort they put into using a variety of facial expressions. One thing I would point out is that the details of using their bodies were a bit off." Sunmi said, "Even though she was the youngest, Kaylee, who was the team leader, conveyed her bright energy. However, it was disappointing that her movements were inaccurate and not loud." Jinyoung Park gave Christina a sharp evaluation, saying, "When practicing, you should think about each and every movement, but you can't do that on stage. You have to enjoy the stage yourself."
On the other hand, "Cage must have been worried about his dancing, but today's dance was completely integrated into the team. He showed what he wanted to see, such as development, growth, and concentration, and was holding the center of the stage with stable vocals." He also said, "The vocal power is weak." Kendall, who improved her weaknesses, was also given good news, saying "she received the most votes from trainers," and high scores were given to her attitude and ability to overcome her limitations.
Among the teams 'Topic' and 'Clover', which competed with different songs and showed off their charms and strengths, 'Topic' won by receiving the selection of all three judges, Jinyoung Park, Sunmi, and Gabi. Attention is focused on whether 'Clover' will be able to turn the tables in the second mission of the final round, 'Common Song Contest', and which participants will receive the honor of final debut.
Episode 22 of 'A2K', where the final mission that concludes the last 12 months' journey and the final selection of new JYP global girl group members, can be watched on JYP's official YouTube channel at 10 a.m. on the 22nd (Friday).
Meanwhile, 'A2K' is a large-scale joint project between JYP, a representative K-pop agency, and Republic Records, the No. 1 label in the United States according to Billboard under Universal Music.
Kim Se-ah, Ten Asia reporter haesmik@tenasia.co.kr