MUSIC
Lim Young-woong meets the Heroic Age again this year with a nationwide tour concert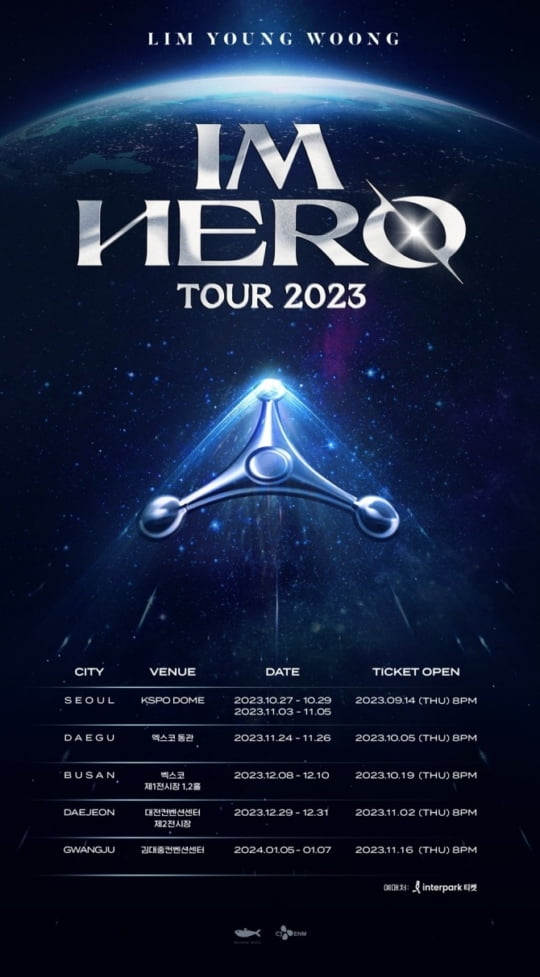 Singer Lim Young-woong's national tour concert schedule has been released.
According to Lim Young-woong's agency Fish Company on the 5th, the schedule for the 2023 national tour concert 'IM HERO' was released this morning through Lim Young-woong's official SNS channel.
According to the released schedule, Lim Young-woong's national tour concert will kick off spectacularly at KSPO DOME in Seoul in October. Afterwards, the excitement continues in Daegu, Busan, Daejeon, and Gwangju.
Lim Young-woong's Seoul concert, which will first color KSPO DOME in sky blue, will be held on October 27th, 28th, 29th and November 3rd, 4th, and 5th. Then, the Daegu concert will be held at the Daegu EXCO East Building on November 24th, 25th, and 26th, and the Busan concert will be held on December 8th, 9th, and 10th at Halls 1 and 2 of BEXCO Exhibition Hall 1.
The Daejeon concert held at the 2nd exhibition hall of the Daejeon Convention Center will be held on December 29, 30, and 31, and the Gwangju concert will be held at the Kimdaejung Convention Center on January 5, 6, and 7, 2024.
The image released along with the national tour concert schedule attracts attention. The image reminiscent of a spaceship was also mentioned in the previously released teaser. It even presents the joy of imagining what connection it has with this concert.
Following the release of a teaser that combines the magnificent and mysterious appearance of the universe with Lim Young-woong, who boasts a more sophisticated visual and atmosphere, each content released in this schedule has attracted attention, predicting that Lim Young-woong will create a stir all over the country this year as well.
Kang Min-kyung, Ten Asia reporter kkk39@tenasia.co.kr