MUSIC
TWICE Nayeon's 'Pop!' music video reached 200 million views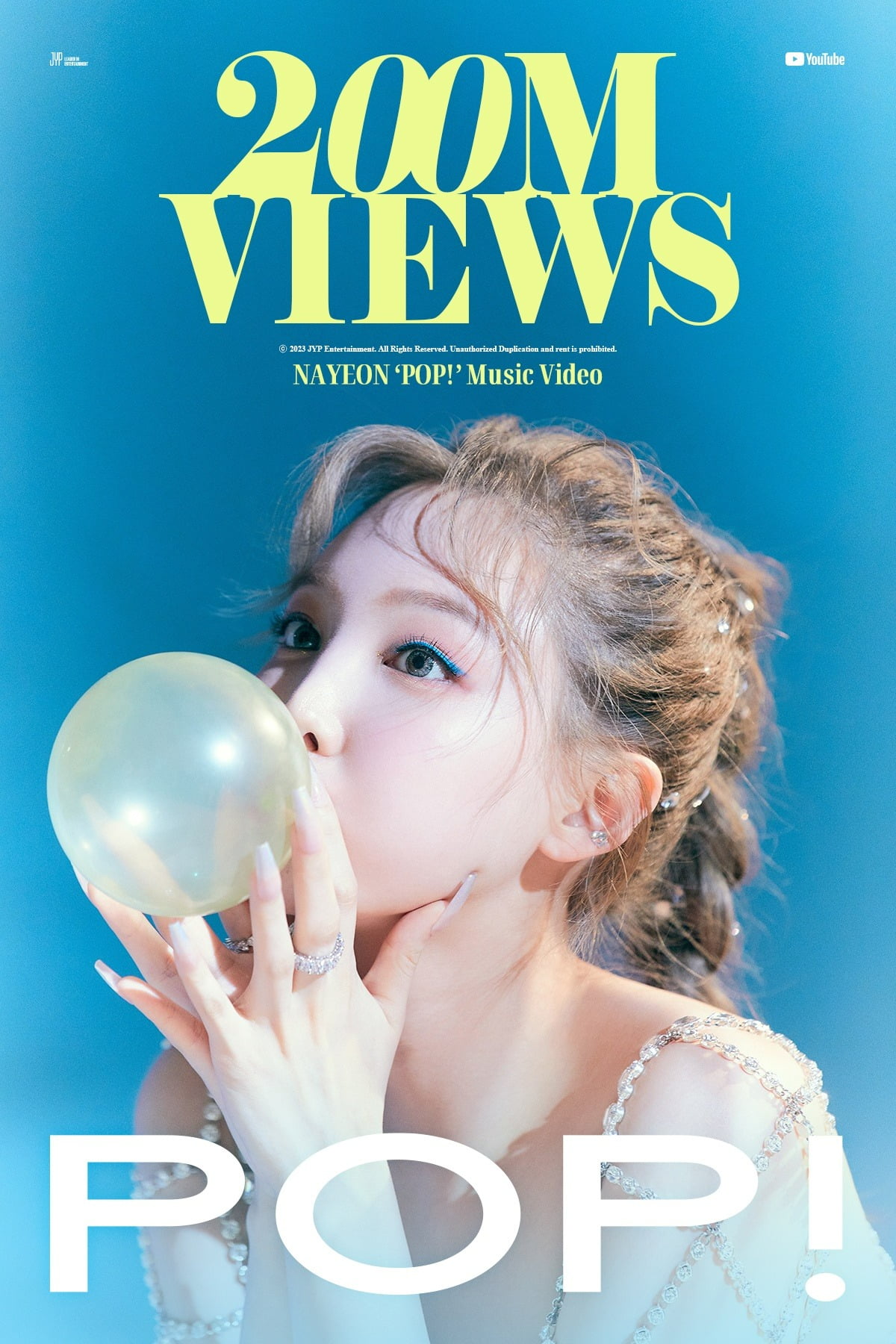 TWICE Nayeon's solo debut song 'POP!' music video has achieved 200 million views on YouTube.
Nayeon's first solo mini album 'IM NAYEON', released on June 24, 2022, title song 'POP!' The music video surpassed 200 million views on YouTube around 6:20 pm on the 11th. The agency JYP Entertainment posted congratulatory images on its official channel and thanked fans around the world.
'POP!' is the title song of Nayeon's 1st mini album, which ranked 7th on the US Billboard main chart 'Billboard 200' on July 9, 2022 (hereafter local time) and is recording 'the highest ranking on that chart based on K-pop female solo artists'. . Above the addictive melody, the message "I will burst the opponent's heart that has swollen like a bubble" is included. The music video presented Nayeon's refreshing energy and summer sensibility with various screen effects, giving viewers the pleasure of watching. Nayeon's 'POP!' In the performance video, it boasts a popping charm that blows away the heat and elegant dance lines, leading to high popularity, and is on the verge of breaking through 100 million views on YouTube.
Nayeon's first solo song, as well as TWICE's music video, are also setting various records and making her presence shine. On the 4th, the title song 'I CAN'T STOP ME' of TWICE's 2nd regular album exceeded 500 million views on YouTube, making it the sixth music video with 500 million views. From the debut song 'Like OOH-AHH' to the title song 'Talk that Talk' of the 11th mini album 'BETWEEN 1&2' (Between One and Two), a total of 17 active songs and the first English single 'The Feels' (The Fields), and 3 songs released in Japan, a total of 21 music videos, including 100 million views, are maintaining the record of 'Must have the most music videos with over 100 million views among female groups in the world'.
TWICE is expanding its worldwide influence by launching its 5th world tour 'TWICE 5TH WORLD TOUR 'READY TO BE' ('Ready to Be') with 38 concerts in 22 cities around the world. In particular, it became the first female group to enter and sell out at Sopai Stadium in Los Angeles and MetLife Stadium in New York, and mobilized a total of 250,000 people in 13 performances in 9 cities in North America, breaking the record for its own largest number of North American tour audiences. On September 2nd and 3rd, they will resume their unprecedented scale tour in Singapore and continue the fever. September 7-8, London, England, 11, Paris, France, 13-14, Berlin, Germany, 23-24, Bangkok, Thailand, 30 and October 1, Bulacan, Philippines, December 16-17, Japan Performances will be held in Nagoya and Fukuoka on the 27th and 28th.
Reporter Kim Ji-won, Ten Asia bella@tenasia.co.kr