MUSIC
(G)I-DLE showed off their witty talk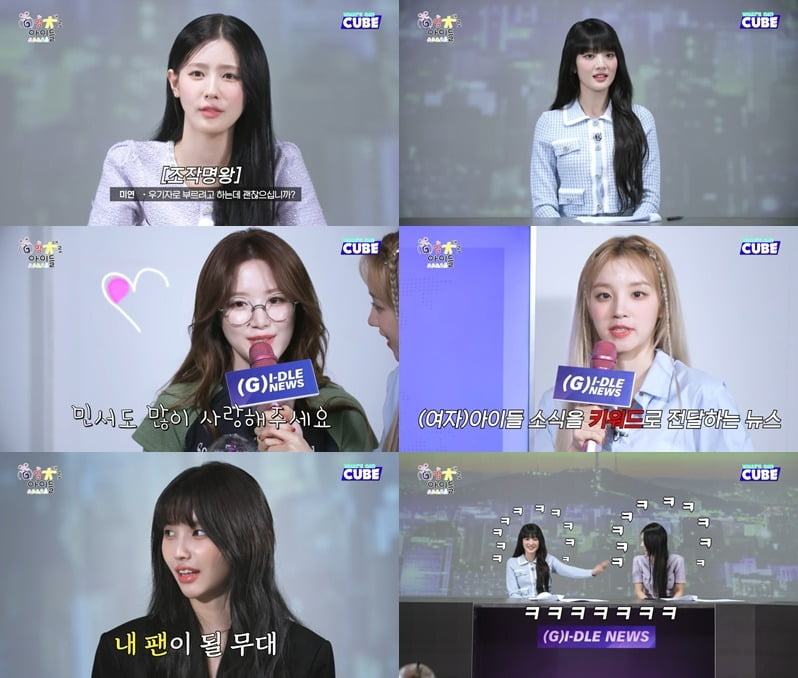 (G)I-DLE (Miyeon, Minni, Soyeon, Yuqi, Shuhua) released witty jokes through their own variety content, '(G)Children as You Like'.
On the 9th, (G)I-DLE's official YouTube channel released the first episode of the special program '(G) Children as You Like'.
This episode is composed of the concept of '(G)I-DLE NEWS' to deliver news of (G)I-DLE's world tour. Miyeon and Minnie appeared as anchors of '(G)I-DLE NEWS' and showed lively tension from the start by hosting the first segment, 'Dang Sister's General News'.
The second corner, 'Keyword News', was hosted by Yuqi, who turned into a reporter. While explaining the news of (G)I-DLE, which corresponds to the keyword 'D', Yuqi made the viewers laugh by showing unexpected actions that were not in the script, such as singing, "Tears are flowing."
Yuqi then interviewed Shuhua, who transformed into Neverland at the world tour site. Shuhua, who appeared in a modest appearance wearing glasses, played the 16-year-old Neverland Min-seo who couldn't hide her love for (G)I-DLE, and exploded her candid charm and extraordinary sense of entertainment.
Lastly, Soyeon revealed the behind-the-scenes of the world tour through the invitation seat corner. Regarding the ending pose that became a hot topic during her solo stage, Soyeon said, "I didn't think about it until the rehearsal. When I was on the stage, I suddenly thought of it, so I did it." In addition, to the question, "What have you been inspired by recently?", Soyeon answered, "I am inspired by Shuhua's MC ability today", arousing curiosity about Shuhua's appearance that will be revealed next week.
(G)I-DLE's own variety content, '(G)Children as you like', special episode 2 will be available on the 16th at 6pm on (G)I-DLE's official YouTube channel.
Reporter Kim Ji-won, Ten Asia bella@tenasia.co.kr