MUSIC
KCON LA 2023, ITZY→Ive sortie confirmed... The K-Culture Grand Festival is completed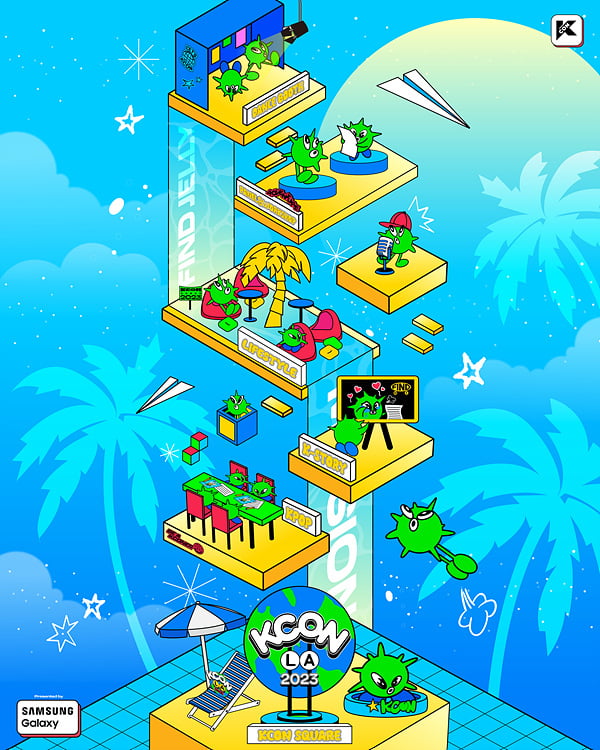 KCON is the world's largest K-culture festival that spreads K-culture, which is in the spotlight worldwide, with a variety of contents. Among them, the convention is a program that is in line with the symbolism of K-Con, and is a place where you can intensively meet everything about K-culture. In 'KCON LA 2023', expectations are raised by the fact that convention contents that can be immersed in K-culture with rich experiences sniping the culture of global GenZs have been prepared.
The theme is 'BE A KCONer'. A 'KCONer' is a person who discovers himself through K-POP and K-Culture, solidarity with others, and creates new trends.
The composition of the convention content was well-organized so that people could feel that they had completed a 'one journey' after completing the experience. The audience performs all the missions in each zone and receives an ID card to prove that they have been reborn as true KCONers.
The main spaces and programs of the convention include 'KCON SQUARE', 'KPOP', 'K-STORY', 'LIFESTYLE', 'PANEL&WORKSHOP' )', 'KCON STAGE', 'DANCE ALL DAY', 'CJ LIVE STUDIO', 'SHOWCASE: NICE TO MEET U' (Showcase: Nice to Meet You) ' and 'KCONers' Choice.
▲ The artist sees my message? Expand GenZ immersion with interactive play contents
The starting point and destination of the convention itinerary is 'KCON SQUARE'. Here, there is an 'INTERACTIVE DIGITAL WALL' that transmits messages to artists through real-time beams, and a 'FANDOM' program where fans participate. It seems to add a sense of immersion to the K-culture journey from the beginning and provide an opportunity to further narrow the distance between the audience and K-culture.
In the 'KPOP' space, you can experience a photo studio where you can take pictures with artist AR filters and a 'MESSAGE PLAYGROUND' where you can write fan letters for 'MEET & GREET' artists to read. In 'K-STORY', if you select the emotion you want, such as love, anger, or courage, you can receive a receipt for famous lines from dramas and entertainment. If you receive an admission coupon distributed at the sponsor booth, you can have time to recharge at the 'Lifestyle Plaza' in the 'LIFESTYLE' space. Considering GenZ's propensity to always be with digital devices, this rest area even allows charging of digital devices.
If you want to go on the same stage with an artist, the place you should pay attention to is 'DANCE ALL DAY'. It is because it is like a gateway to the Dream Stage. Dream Stage is a corner where fans and artists decorate the Crypto.com Arena SHOW stage together. Above all, global idols such as ITZY, IVE, and ZEROBASEONE will be on the stage of the main show at Dream Stage, and fans from all over the world are expected to actively participate.
▲ K-Culture protagonists are coming! Colorful stories blooming, communicative content attracts attention
In the 'PANEL & WORKSHOP' session, an interactive program will be conducted with outstanding performers representing K-Culture, such as artists and influencers. They are expected to tell vivid stories, from the time to directly experience GenZ's lifestyle, culture, and interests, to the behind-the-scenes of K-content that is loved worldwide.
'KCON STAGE' is the main stage where you can see artists from the closest distance. Various programs and live streaming are held here for artists and fans to be together. At 'CJ LIVE STUDIO', a talk show featuring LA celebrities and artists enjoying games and music will be held in a radio format, providing joy to many audiences.
In 'SHOWCASE: NICE TO MEET U', where KCON's notable artists perform special performances and communicate with fans, 6 promising global idol groups, including VERIVERY and 8TURN, have made headlines by announcing their appearances. . In addition, on the 7th, the joining of the rookie boy group RIIZE, which is scheduled to debut this year, was confirmed, and expectations for the showcase stage are soaring. Beyond the local stage, they plan to communicate with global fans through live broadcasts around the world.
In addition, various interactive contents, such as 'KCONers' Choice', which installs a special booth for artists selected by KCONer, are arousing interest.
'KCON LA 2023' will be held at the Crypto.com Arena and LA Convention Center for three days from August 18th to 20th.
Reporter Yoon Jun-ho, Ten Asia delo410@tenasia.co.kr