MUSIC
Stray Kids' S-Class MV has surpassed 100 million views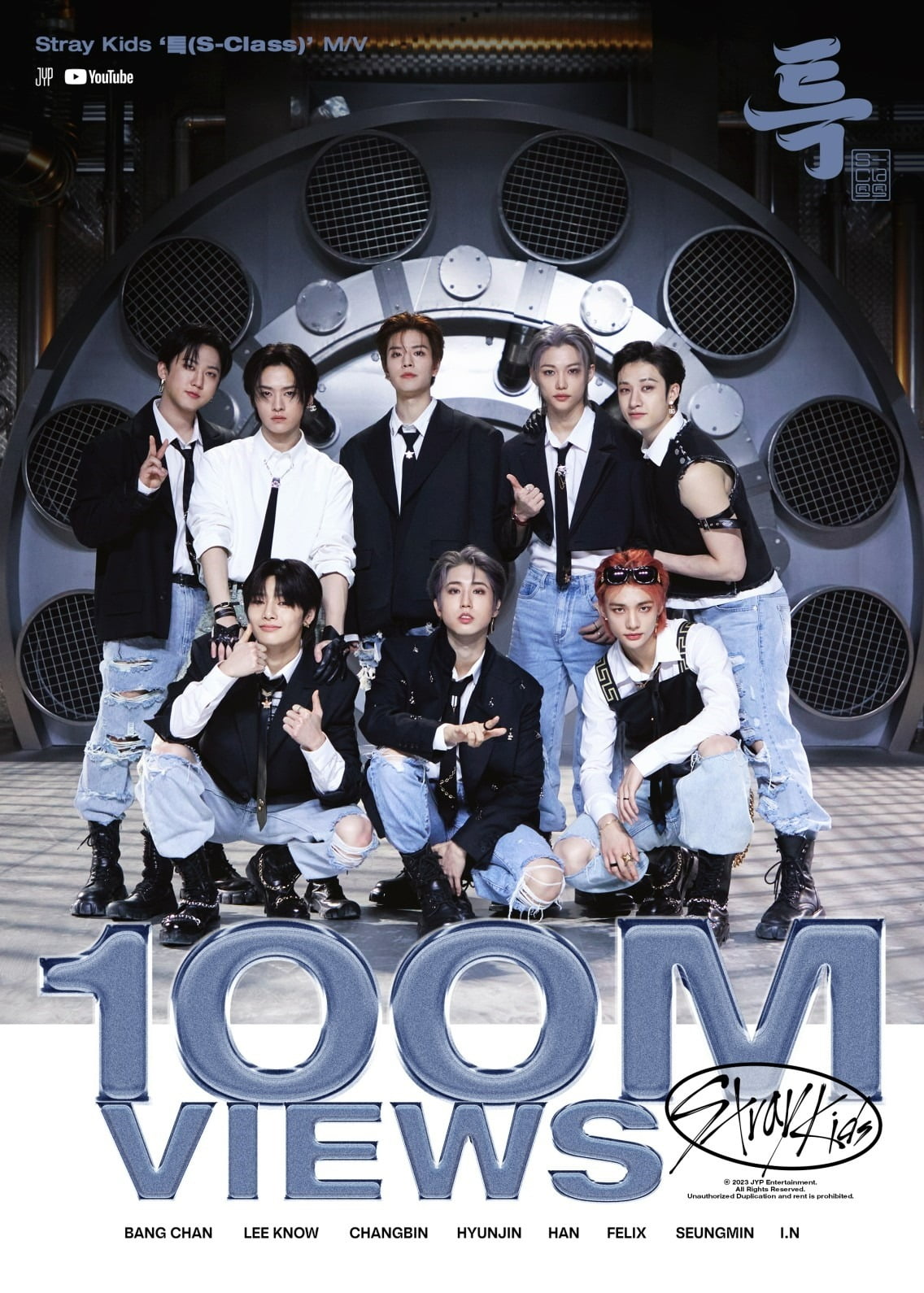 Stray Kids achieved 100 million views for the 10th time in their career with the music video for 'S-Class'.
Stray Kids' 3rd regular album '★★★★★ (5-STAR)' (Five Star) title song 'S-Class' MV, released on June 2nd, exceeded 100 million views on YouTube around 10:42 am on the 8th. stood With this, Stray Kids has released 'God's Menu' (New Menu), 'Back Door' (Back Door), 'MIROH' (Miro), 'My Pace', 'Sorikkun', 'MANIAC' (Maniac), and 'Hellevator'. ', 'Christmas EveL', 'CASE 143' (Case One Four Three), followed by 'S-Class', with a total of 10 music videos ranked in the hundreds of millions of views, revealing the presence of a K-pop trend.
'S-Class' is an album that ranked first on the US Billboard main chart 'Billboard 200' for three consecutive years following the two mini-albums 'ODDINARY' and 'MAXIDENT' released in 2022, '★★★★★ (5 -STAR)' with the message 'the most eccentric among the unusual kids, and the brightest among the special kids'. The music video, which boasts an all-time scale, is receiving a lot of love from home and abroad, with the eight members' exceptional performances and colorful sights against the backdrop of Seoul.
Stray Kids recently ranked 26th on the Billboard main chart 'Billboard 200' as of July 29th with their 3rd regular album, and has been on the chart for 7 consecutive weeks. Along with the mini-album "ODDINARY" released in March 2022, it set a tie record for the longest period on the chart. In addition, he ranked 14th on the 'Artist 100', which ranks artists by comprehensively counting their performance, and ranked in the top 20 for 7 weeks in a row.
Starting with PayPay Dome in Fukuoka, Japan on August 16th and 17th, large-scale events will be held at Vantelin Dome Nagoya on September 2nd and 3rd, Kyocera Dome Osaka on September 9th and 10th, and Tokyo Dome on October 28th and 29th. The dome tour has exceeded about 2.5 million pre-registrations alone. In addition, it boasted a hot local popularity, such as achieving a sold out. Stray Kids will release their first EP 'Social Path (feat. LiSA) / Super Bowl -Japanese ver.-' in Japan on September 6. On September 30th and October 1st, he will hold a Seoul special solo concert at KSPO DOME, Olympic Park, Songpa-gu, Seoul, and meet fans.
Reporter Kim Ji-won, Ten Asia bella@tenasia.co.kr