MUSIC
Group BOYNEXTDOOR confirms comeback in September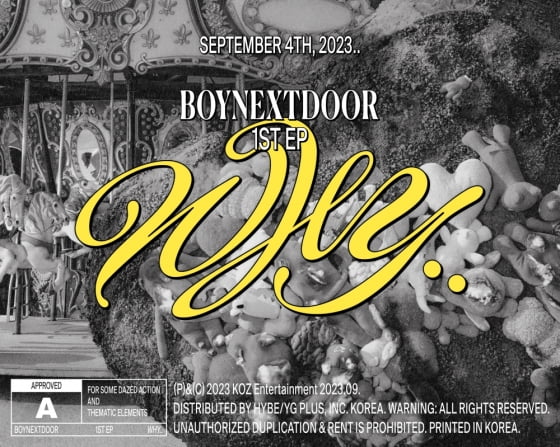 Hive's rookie boy group BOYNEXTDOOR will make a comeback on September 4th. They are going to face off against SM Entertainment's rookie boy group RIIZE.
According to Hive on the 8th, BOYNEXTDOOR (Seongho, Liu, Myeongjaehyun, Taesan, Leehan, Unhak) will release their 1st mini album 'WHY..' at 6pm on September 4th. Debuting in the music industry on May 30th with their first single 'WHO!', they are making a comeback in about 3 months.
Boy Next Door previously signaled a comeback by posting artwork and a scheduler on the team's official SNS channel. The comeback artwork, which reminds me of the ending title of a black and white movie, is a pile of scorched heart-shaped objects and shredded dolls, arousing curiosity about the new album concept.
Like the ending credits of a movie, the scheduler for the new album's promotion is written in detail. Boy Next Door will start with a trailer film on the 13th, content titled 'WHY are you so..?' on the 15th, track list on the 17th, and concept photos of two versions of 'MOODY' and 'DAZED' on the 20th and 23rd. and release the film.
From the track spoiler on the 27th, the music video teaser on the 31st, and the album release on September 4th, the comeback atmosphere is heated up with rich content for about 3 weeks.
They left hints for the next album by inserting a hidden track that can only be heard on CDs as an easter egg in their last debut single. The short track of about 13 seconds contains the low lyrics of "It's okay, yes, yes" above the lyrical prelude, raising fans' curiosity.
Reporter Kim Se-ah, Ten Asia haesmik@tenasia.co.kr