MUSIC
Infinite, comeback D-5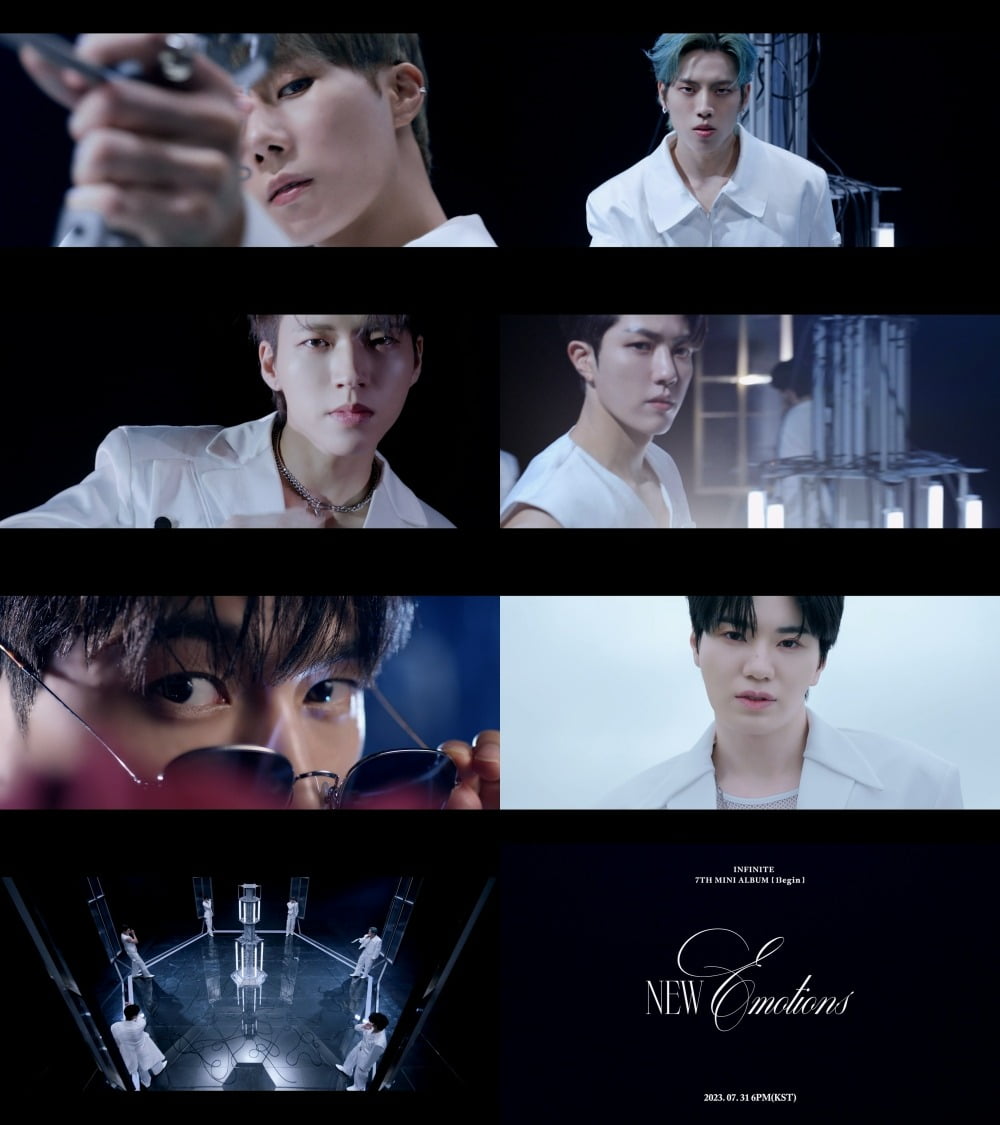 The group INFINITE (Kim Sung-gyu, Jang Dong-woo, Nam Woo-hyun, Lee Seong-yeol, L, Lee Seong-jong) will take over the music industry this summer with stronger charisma.
At 0:00 on the 26th, Infinite Company released a music video teaser for the title song 'New Emotions' of Infinite's seventh mini-album '13egin' through their official YouTube channel.
The released video started with leader Kim Seong-gyu looking down at the screen under colorful fireworks. Then, fantastic close-up shots of the members wearing all-white outfits appear one after another.
L's deep eyes with sunglasses down, Lee Seong-yeol walking in the dark, Jang Dong-woo shining a flashlight, Nam Woo-hyun showing off a flashy dance, Lee Seong-jong looking at the screen with a strange expression, and Kim Sung-kyu aiming a bowstring, the upgraded visuals and matured The Infinite members, who returned with mature beauty, heralded another unprecedented performance with strong charisma that seemed to pierce the screen.
Through this teaser, a part of the sound source of the new song 'New Emotions' was released for the first time. The teaser video, which combines Infinite's unrivaled force with the sensuous beat that overwhelms the eardrums, raised expectations for a comeback with a full lineup that is not long left along with the main music video.
Infinite's new song 'New Emotions' is a song that catches the ears with an interesting and addictive instrument from the intro, and the unique progression and production stand out. The rich vocals of the 6 members and 6 colors of the members and the tight harmony of the chord progression are attractive.
This new song is the work of composer and producer Ryan Jhun. Anticipation is amplifying what kind of synergy the meeting between 'Legend' Infinite and 'Hit Maker' Ryan will create.
Attention is focusing on what kind of unique music and stages Infinite, who is making a splendid return to the music industry with a full lineup of six members in about five years, will prove their presence as 'K-pop legends' through their new album.
Infinite's seventh mini-album 'Begin' will be released on the 31st at 6:00 pm on each music source site, and the solo concert 'COMEBACK AGAIN' will be held at the Seoul Olympic Park Gymnastics Stadium (KSPO DOME) on August 19-20. unfolds in
Reporter Kim Ji-won, Ten Asia bella@tenasia.co.kr