MUSIC
Infinite broke the Initial Chodong record and continued their 'Career High' trend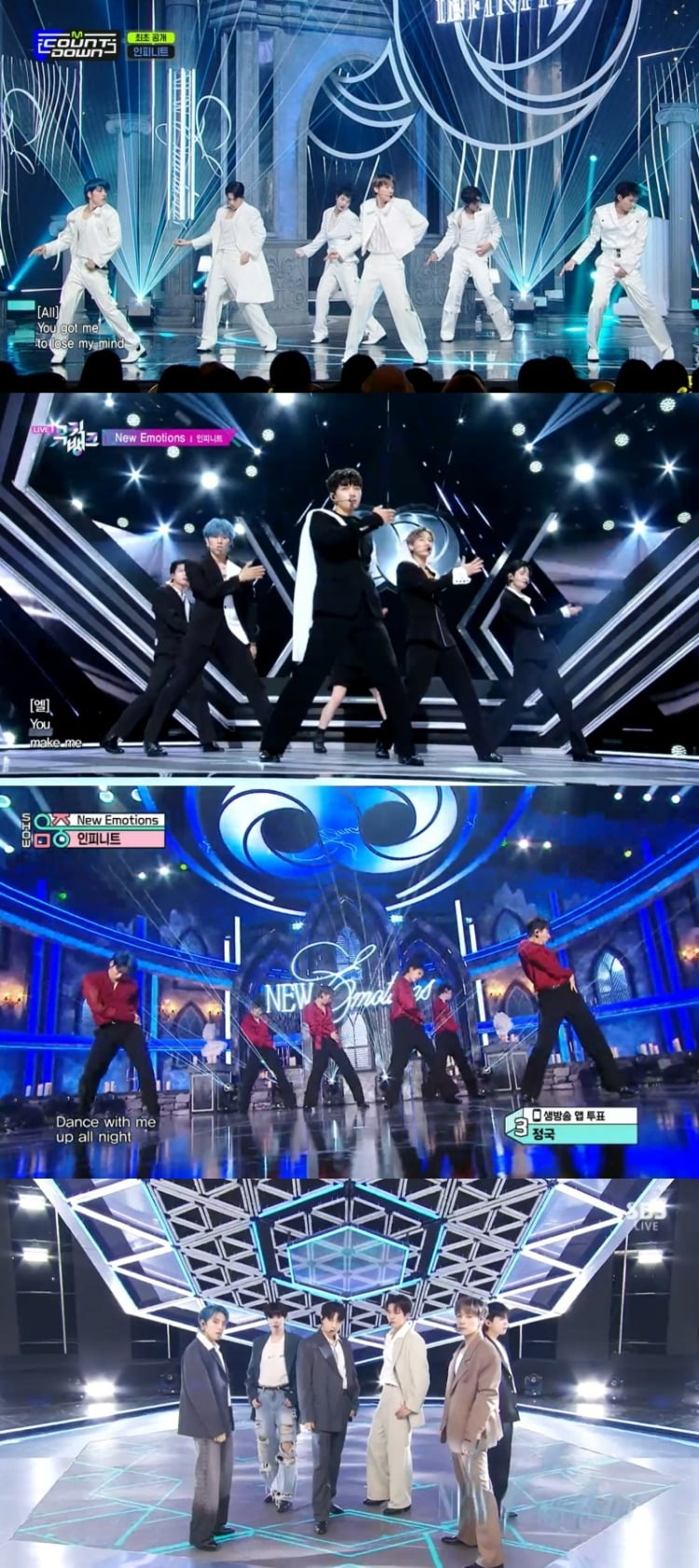 Group INFINITE (Kim Sung-kyu, Jang Dong-woo, Nam Woo-hyun, Lee Seong-yeol, L, Lee Seong-jong) successfully completed the first week of their comeback.
Infinite, who released their seventh mini-album '13egin' on the 31st of last month, started with Mnet's 'M Countdown' on the 3rd, followed by KBS2's 'Music Bank' and MBC's 'Show! Music Core' and SBS' 'Inkigayo' in succession and performed the comeback stage of the title song 'New Emotions'.
Infinite, who performed on a music show with a new song for the first time in 5 years, completely overwhelmed the stage with an enchanting choreography that showed mature men's languid sexiness, throwing away their signature angular group dance. Despite the fierce choreography, the unwavering singing ability and synergy of 6 colors of 6 people made global fans admire.
The colorful styling that maximizes Infinite's fatal charm on stage has also become a hot topic. The members added fun to the stage by perfectly digesting various outfits, from black and white luxury suits and burgundy shirts to casual looks with calm tones that made use of their individuality, and generously displayed their unique luxurious aura and stronger charisma. It spread and all-killed the global fan spirit.
After successfully completing the music broadcast stage in the first week of their comeback, Infinite set a meaningful record in terms of performance, proving their overwhelming presence as 'K-pop legends'. Upon its release, 'Begin' recorded TOP 10 in 12 overseas countries and regions on the iTunes Top K-Pop Album Chart, and achieved 1 million streams on Melon in less than a day after its release, 18 hours and 50 minutes, and became a member of the Hall of Fame. .
'Begin' achieved a career high by recording more than 80,000 copies in Initial Chodong sales (sold in the week after the album's release). This surpasses the Initial Chodong sales of 67,000 copies of Infinite's 4th mini-album 'New Challenge' released in 2013, and is their own highest record, making them realize once again their solid popularity and powerful influence.
The music video for the title song 'New Emotions' is also continuing its unstoppable rise, surpassing 8 million views on YouTube.
'Begin' is a new album released by Infinite as a complete group of 6 members in about 5 years since their 3rd regular album 'TOP SEED' released in 2018. Those who recently established Infinite Company, led by leader Kim Sung-kyu, are taking the first step in their new home. The 'B' in the album's title 'Begin' is marked with the number '13' to convey the meaning that Infinite, who celebrated their 13th debut anniversary, will open a splendid second act.
The title song 'New Emotions' is the work of Ryan Jhun, a 'hit maker' in the music industry. It is an attractive song with a tight expression of sound that is harmonized with the members' rich vocals and code progression.
Infinite continues to be active with the new song 'New Emotions'. On the 19th and 20th, the solo concert 'COMEBACK AGAIN' will be held at KSPO DOME in Olympic Park, Seoul.
Reporter Kim Ji-won, Ten Asia bella@tenasia.co.kr