MUSIC
Stray Kids sold out tickets for their first Japanese dome tour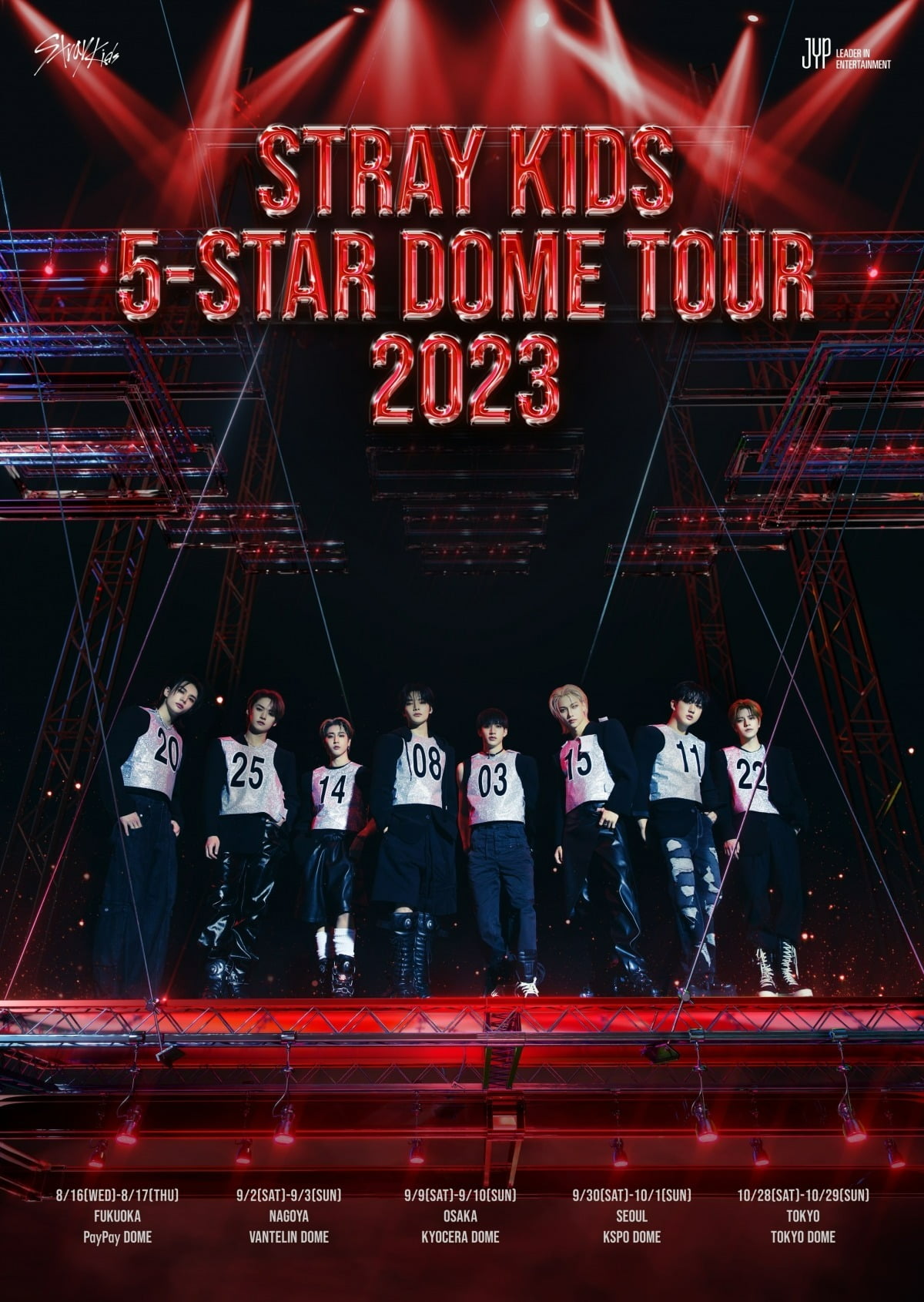 Stray Kids has sold out tickets for their first dome tour in Japan.
JYP Entertainment recently announced on its official SNS channel the news of Stray Kids' debut first dome tour, 'Stray Kids 5-STAR Dome Tour 2023' (Five Star Dome Tour 2023). Stray Kids will perform at Paypay Dome in Fukuoka, Japan on August 16-17, Vantelin Dome Nagoya on September 2-3, Kyocera Dome Osaka on 9-10, and Tokyo Dome on October 28-29. Open a large-scale dome tour. They will be the first K-pop 4th-generation boy group to enter Japan's four major dome concert halls.
A total of 8 solo performances in 4 cities in Japan were sold out in less than 5 minutes after the general reservation opened on the morning of July 29th, proving Stray Kids' ticket power once again. In addition, this tour proved its popularity in the local area by surpassing about 2.5 million pre-registrations alone.
Stray Kids held a total of six performances in Kobe and Tokyo, Japan, as part of their second world tour, 'Stray Kids 2nd World Tour "MANIAC"' ("Maniac") in June and July of last year. The first face-to-face solo concert since its official debut in Japan in March 2020 sold out all seats within 5 minutes of ticket reservations. Encore concerts were held at Saitama Super Arena in Tokyo on February 11th and 12th and at Kyocera Dome Osaka on February 25th and 26th of this year, and a total of 130,000 spectators listened to the cheers of 4 performances, marking the meaningful moment of the first local dome performance.
On August 1st, 'Stray Kids "PARTY'S NOT OVER" | [Stray Kids: SKZ-RECORD]|2023 STAYweeK' ("Party's Not Over" | [SKZ Record] | 2023 Stay Week) was released to reveal a special fan love. 'PARTY'S NOT OVER' is a season song that matches the summer mood. Changbin was in charge of writing and composing the song, and Seungmin co-wrote the lyrics. This is part of the promise of 'STEP OUT 2023' (Step Out 2023), which was introduced with the New Year's plan at the beginning of the year, and adds precious meaning to the song like a gift prepared by the members to commemorate Stay's birthday.
Stray Kids will release their first EP 'Social Path (feat. LiSA) / Super Bowl -Japanese ver.-' in Japan on September 6th. In particular, among the title songs, 'Social Path (feat. LiSA)' is expected to be the first collaboration song with famous Japanese artist Lisa (LiSA), who has a number of hit songs, including popular TV animation theme songs such as 'Devil's Blade'. . Also, on September 30th and October 1st, a solo concert with a special name called Seoul Special will be held at KSPO DOME, Olympic Park, Songpa-gu, Seoul.
Reporter Kim Ji-won, Ten Asia bella@tenasia.co.kr