MOVIE
'30 Days' ranked 1st for 10 consecutive days, and 'Dwaran' ranked 2nd... A rarely visited theater district is 'bittersweet'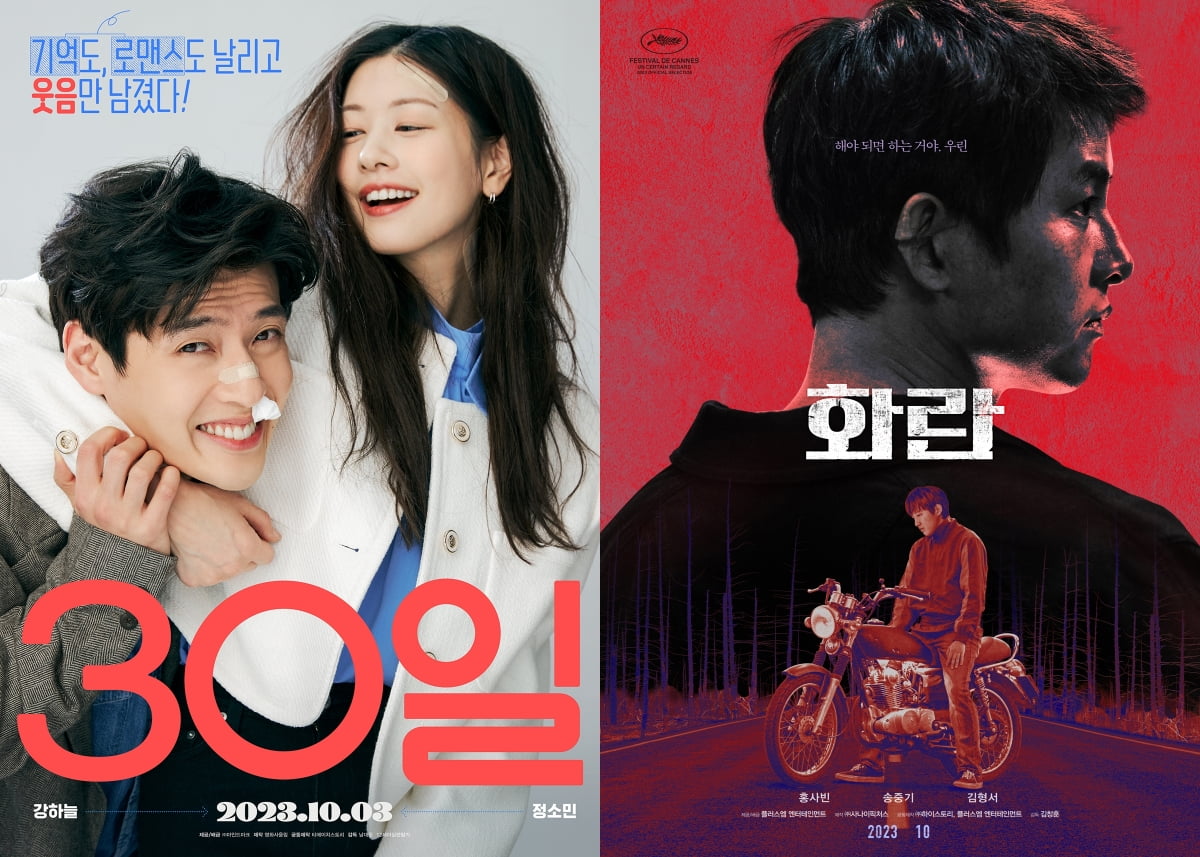 The movie '30 Days' has been ranked #1 in the daily box office for 10 consecutive days since its release, but it is a situation that can never be laughed at in theaters where there are few visitors.
According to the Korean Film Council's integrated computer network for movie tickets on the 12th, '30 Days' (directed by Nam Dae-jung) attracted 39,780 viewers that day, recording a cumulative audience of 895,690. '30 Days' is a comedy about Jeong-yeol (Kang Ha-neul) and Na-ra (Jung So-min), who are unable to tolerate each other's pettiness and stubbornness, and end up suffering from amnesia just before they become perfect strangers.
'Hwaran' (director Kim Chang-hoon), which ranks second on the second day of its release, attracted 18,248 viewers on the same day, with a cumulative audience of 79,116. 'Hwaran' is a story that unfolds when Yeon-gyu (Hong Sa-bin), a boy who wants to escape from the hellish reality, meets the middle boss of an organization, Chi-geon (Song Joong-ki), and joins him in a dangerous world. 'Dwarf' was officially invited to the Un Certain Regard section of the 76th Cannes Film Festival and received favorable reviews. In addition, it was invited to the 25th Busan International Film Festival and met the audience.
Third and fourth places were 'Dr. Chun's Exorcism Office: Secrets of the Snowy Scene' (directed by Kim Seong-sik), which was viewed by 12,869 people, and '1947 Boston' (directed by Kang Je-gyu), which attracted 9,444 people.
The 5th place went to 'Beautiful Girlfriend' (Director Seungjun Lee) starring Uhm Jeong-hwa, which was watched by 8,053 audiences. This film is a crime entertainment film in which Ji-hye (Uhm Jung-hwa), a professional strategist with brilliant skills, gets caught up in an unintended incident while planning her final big plan. Uhm Jung-hwa played the role of Ji-hye, a master of disguise and a bright trickster.
The reality is that the overall number of moviegoers is hitting rock bottom as fewer and fewer people visit theaters. Because of this, the joy of taking first place in the daily box office was overshadowed. After the Chuseok holiday, the number of viewers for the number one movie cannot exceed 50,000 per day (excluding holidays), which continues to be a disappointment due to the recent report card of theaters.
Choi Ji-ye, Ten Asia Reporter wisdomart@tenasia.co.kr