MOVIE
'Oppenheimer', a social phenomenon beyond the movie?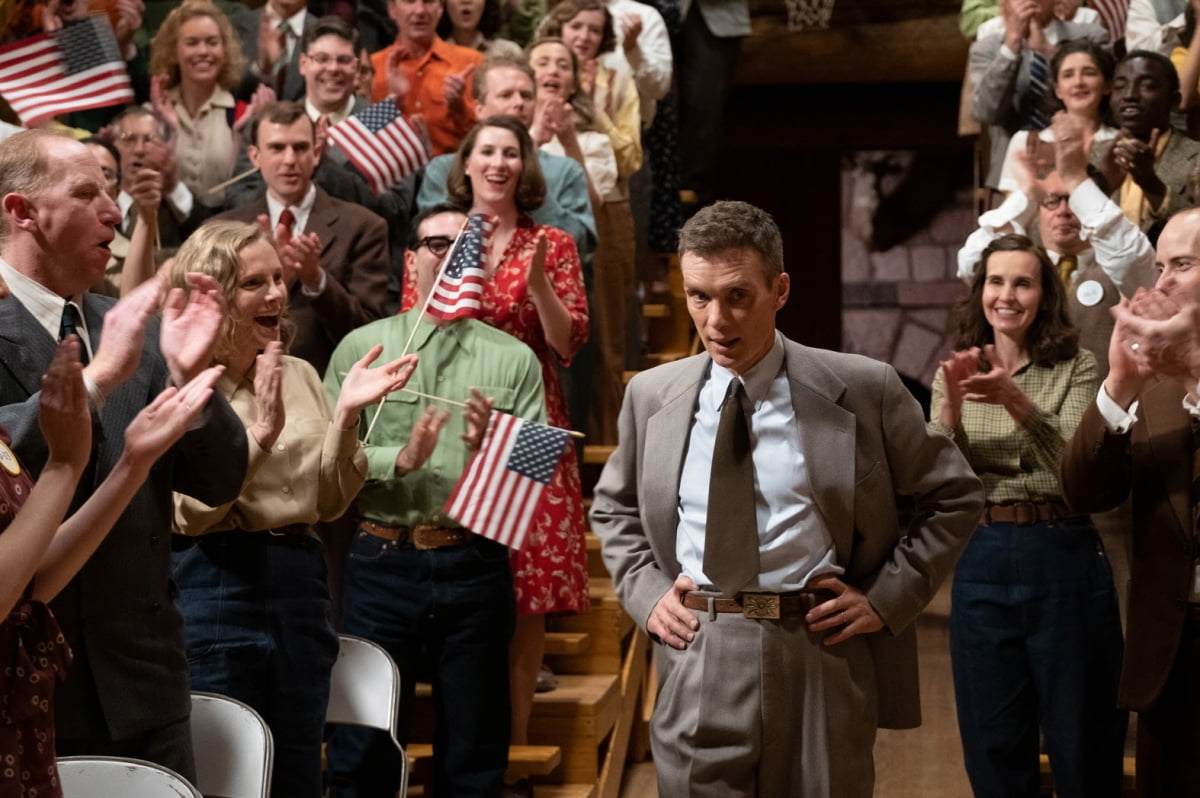 After the movie 'Oppenheimer' (director Christopher Nolan) mobilized 550,000 viewers on the first day of its release and recorded an overwhelming number one at the box office, it is emerging as a social phenomenon beyond a movie.
First of all, the enthusiastic baptism of praise from actual viewers who feel satisfaction in various points after watching 'Oppenheimer' draws attention. The actual audience said, 'It's a masterpiece. You can't take your eyes off the screen for 3 hours' (cgv so****), 'A movie that makes you immerse yourself without a break for 3 hours' (cgv Chun****), etc. .
Then, 'An autobiography that captures the chaos and aftermath of World War II in a grand and twisted way through the eyes of one individual's anxiety' (Watcha DK ****), 'Not only the Trinity experiment, but also the characters and events with different inner sides called Oppenheimer' It was impressive to see it as if a nuclear explosion occurred' (cgv hy****), 'It's very interesting thanks to Christopher Nolan, who showed Oppenheimer's internal and external conflicts over an ethical dilemma with excellent directing ability' (Watcha Yi**) I also sympathized with the deep message of the movie that makes you fall into deep thoughts after the movie is over.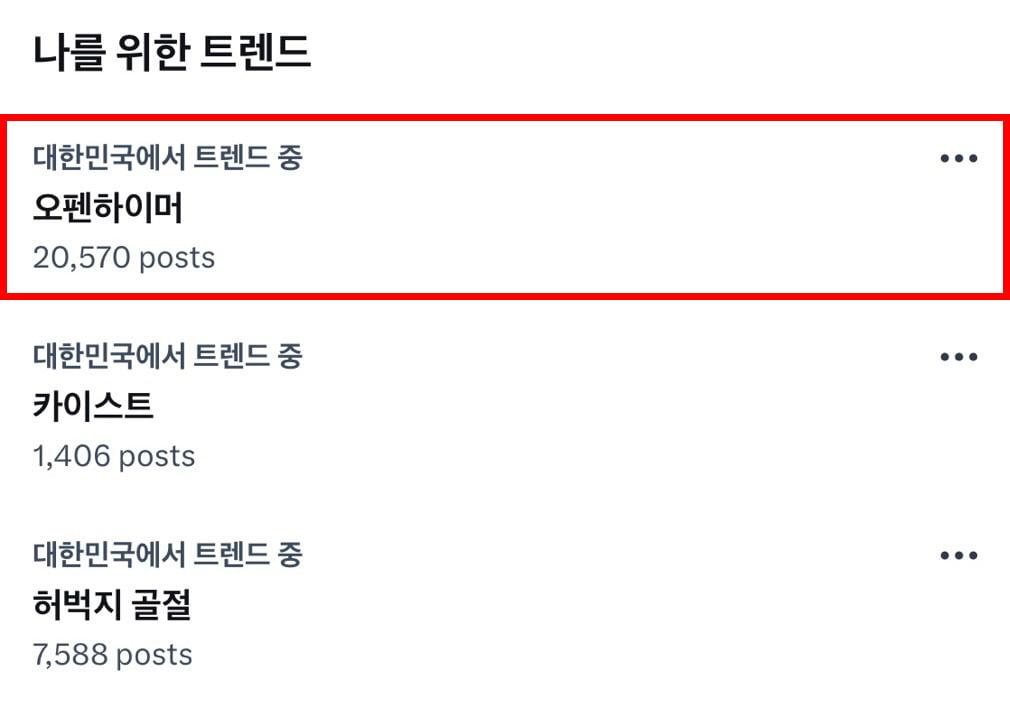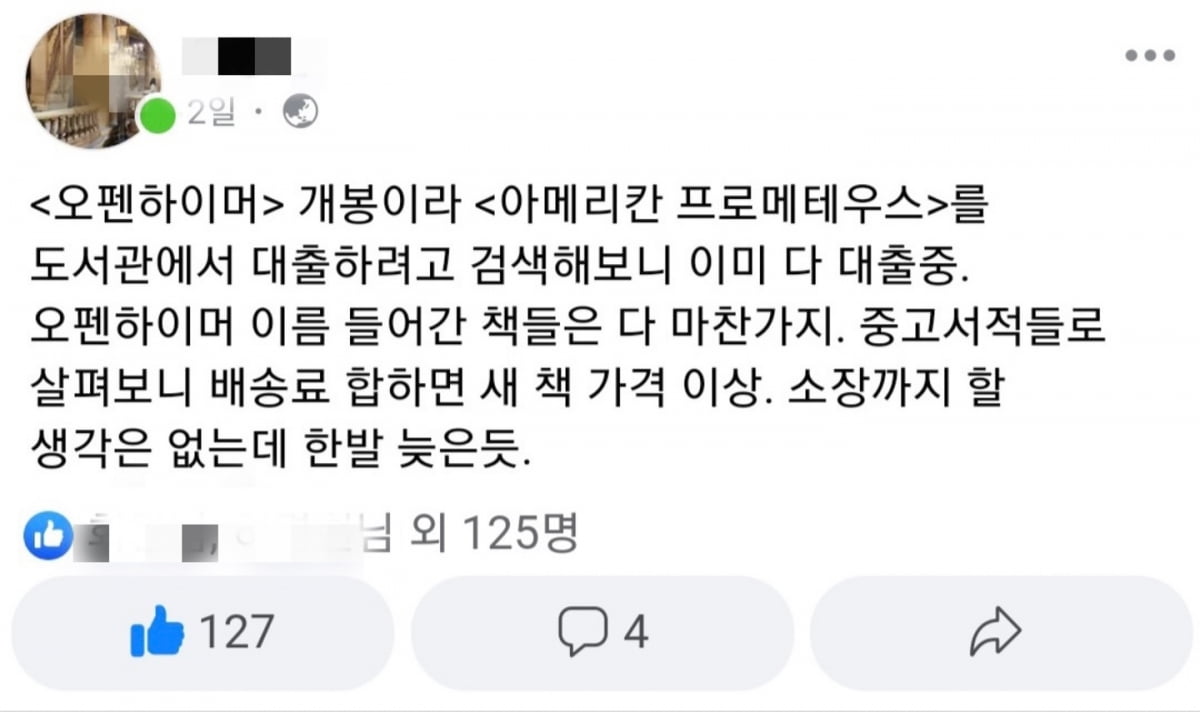 In addition, 'Oppenheimer' dominated real-time trends on Twitter before and after its release, realizing the hot popularity of the work, and 'American Prometheus', which was the original work of this work, became a bestseller with the release of the movie and is gathering topics.
According to Yes24, 'American Prometheus' ranked second in the bestseller list for the third week of August (August 10-16) and kept the top spot for two weeks in a row. is rising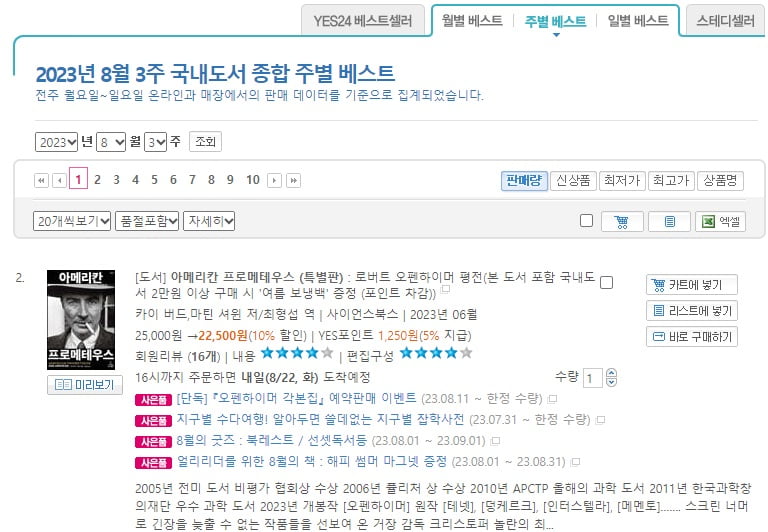 'Oppenheimer', which is gathering topics every day by throwing a big topic in Korean society beyond movie viewing, maintains the first place in the overall reservation rate, so attention is paid to the trend of box office success in the future.
'Oppenheimer' deals with the nuclear development project of a genius scientist who has to take the risk of destroying the world in order to save it.
Jiye Choi, staff reporter at TenAsia wisdomart@tenasia.co.kr