MOVIE
'Concrete Utopia' with great momentum, 'The Moon' with box office failure
August 10 box office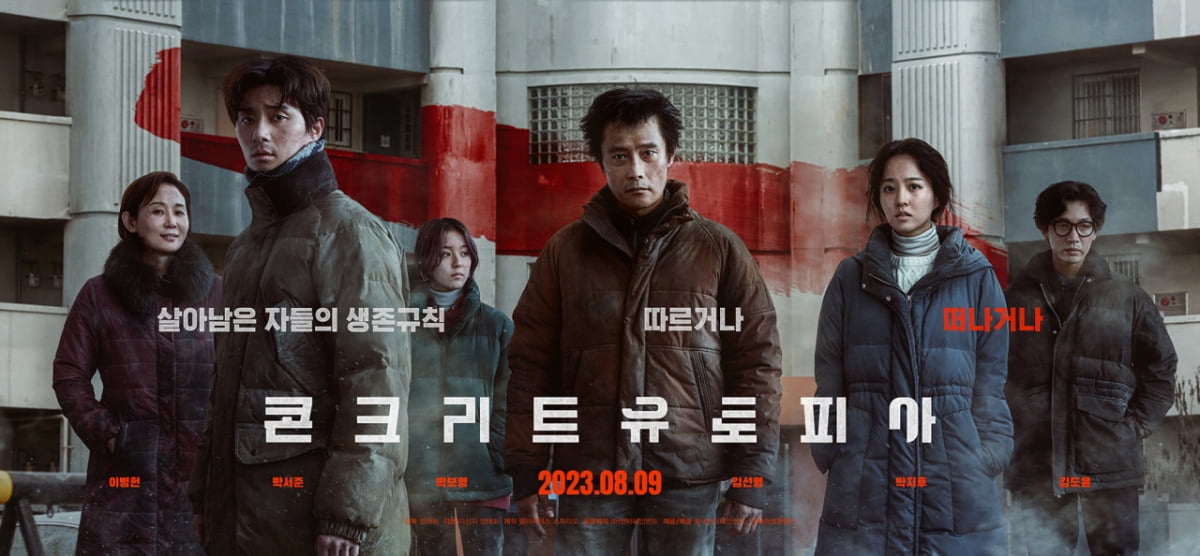 The movie 'Concrete Utopia' continues to top the box office with great momentum.
According to the integrated computer network for movie theater tickets of the Film Promotion Committee, on the 10th, 'Concrete Utopia' (director Uhm Tae-hwa) mobilized 167,920 viewers and recorded a cumulative audience of 416,575, ranking first as soon as it was released.
'Concrete Utopia' is a disaster drama depicting the story of survivors gathering in the only remaining imperial palace apartment in Seoul, which was devastated by a major earthquake. Even before its release, this film, which received favorable reviews for being both popular and artistic, is cruising as if the expectations of the critics were reflected.
'Smuggling' (director Ryu Seung-wan), which was delayed by one step, took second place with 65,398 viewers, surpassing the cumulative number of viewers of 3,930,024. 'Smuggling' is a maritime crime action drama in which people get caught up in a lifelong battle in front of people who made a living by rescuing daily necessities thrown into the sea.
'Elemental' (director Peter Sohn) with a strong backbone maintained the third place. 'Elemental' is a long-term box office hit and is writing a new record. During the same period, 24,951 spectators entered, accumulating a cumulative audience of 6,452,769 so far. 'Elemental' is gaining momentum with the best score among animations since 'Frozen'. On the 30th of last month, it broke the record of "Suzume's Door Crackdown" (director Makoto Shinkai, 5.54 million), which had the best performance among foreign films this year, and has been steadily attracting audiences after taking the throne of the highest-grossing foreign film in 2023.
Following the joining of 'Concrete Utopia', 'Unofficial Operation' (director Kim Seong-hoon) fell two places to 4th place. 19,545 spectators watched, and the cumulative number of spectators was 856,043. Expecting to break through 1 million viewers this week. 'Unofficial Operation' is a buddy action film about diplomat Min-joon (Ha Jung-woo) and local taxi driver Pan-su (Joo Ji-hoon) who go to Lebanon to rescue a missing colleague.
'The Moon' (director Kim Yong-hwa) is in fifth place. During the same period, 8838 spectators were mobilized, and the cumulative number of spectators was 433,259. 'The Moon' is a sci-fi genre with a space background, depicting the desperate struggle between Hwang Seon-woo (Do Kyung-soo), a space crew member who is isolated on the moon due to a sudden accident, and the former head of the space center (Sol Kyung-gu) desperately trying to save him.
While all the big 4 works of the summer market were released, 'Concrete Utopia', which was the last runner, showed results that reflected expectations, joining the race and maintaining first place for the second day. 'Smuggling' is on the verge of breaking 4 million, 'Unofficial Operation' 10,000 on weekdays, and 'The Moon' mobilized 8,000 people.
Jiye Choi, staff reporter at TenAsia wisdomart@tenasia.co.kr