MOVIE
'Concrete Utopia' Overwhelming atmosphere in Lee Byung-hun and Park Seo-joon's special poster
'Concrete Utopia' opens on August 9th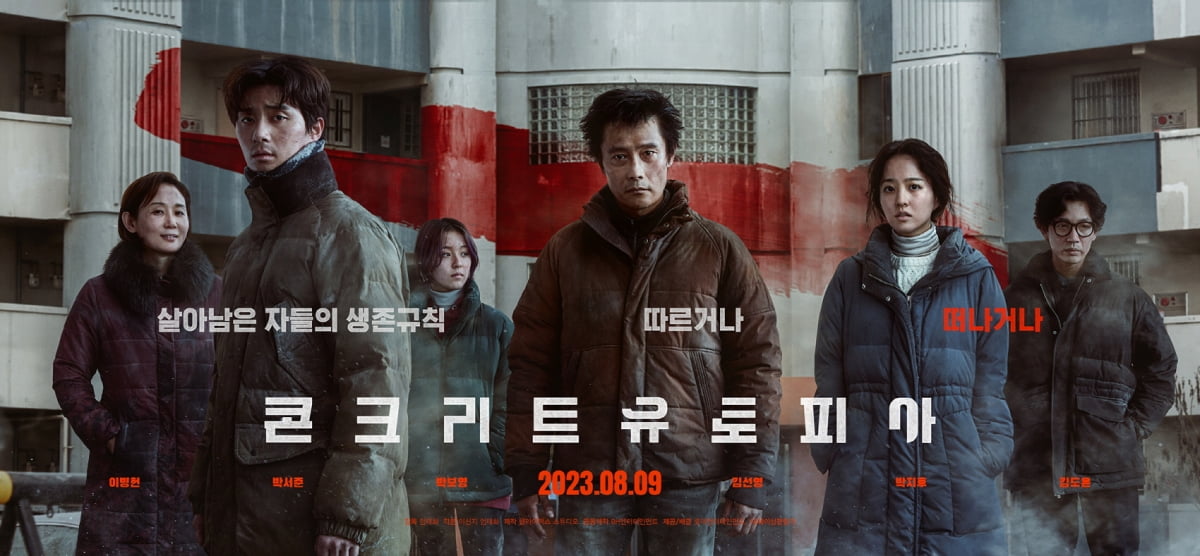 A special poster for the movie 'Concrete Utopia' (directed by Uhm Tae-hwa) has been released.
The special poster, released on the 27th, catches the eye at once with the unrivaled presence emitted by the characters, including the new resident representative Yeong-tak (Lee Byung-hun), while the tension is high against the background of the imperial palace apartment. The appearance of Lee Byung-hun, who became one with Yeong-tak, makes us look forward to a limitless acting transformation that will cause waves on the screen once again.
Then, Min-seong (Park Seo-joon) and Myeong-hwa (Park Bo-young)'s precarious gaze foreshadows a story that makes them sweat in the hands of an unpredictable disaster, raising interest. Next, Geum-ae (Kim Seon-young) with a relaxed smile, and Hye-won (Park Ji-hoo) and Do-gyun (Kim Do-yoon) staring somewhere raise expectations for the acting synergy of the actors who have perfectly melted into their characters.
Here, the copy of 'follow the survival rules of the survivors or leave' blends together, raising expectations for a high-density drama to be drawn by the real survival that begins in the only surviving apartment in the disaster.
'Concrete Utopia' is officially invited to the Gala Presentation section of the 48th Toronto International Film Festival, the largest film festival in North America, which is considered one of the world's four major international film festivals along with Cannes, Berlin and Venice International Film Festivals, raising expectations.
'Concrete Utopia' is a disaster drama depicting the story of survivors gathering in the only remaining imperial palace apartment in Seoul, which was devastated by a major earthquake. It will be released on the 9th of August.
Jiye Choi, staff reporter at TenAsia wisdomart@tenasia.co.kr