ENTERTAINMENT
Lee Kwang-soo expresses his intention to return home during the party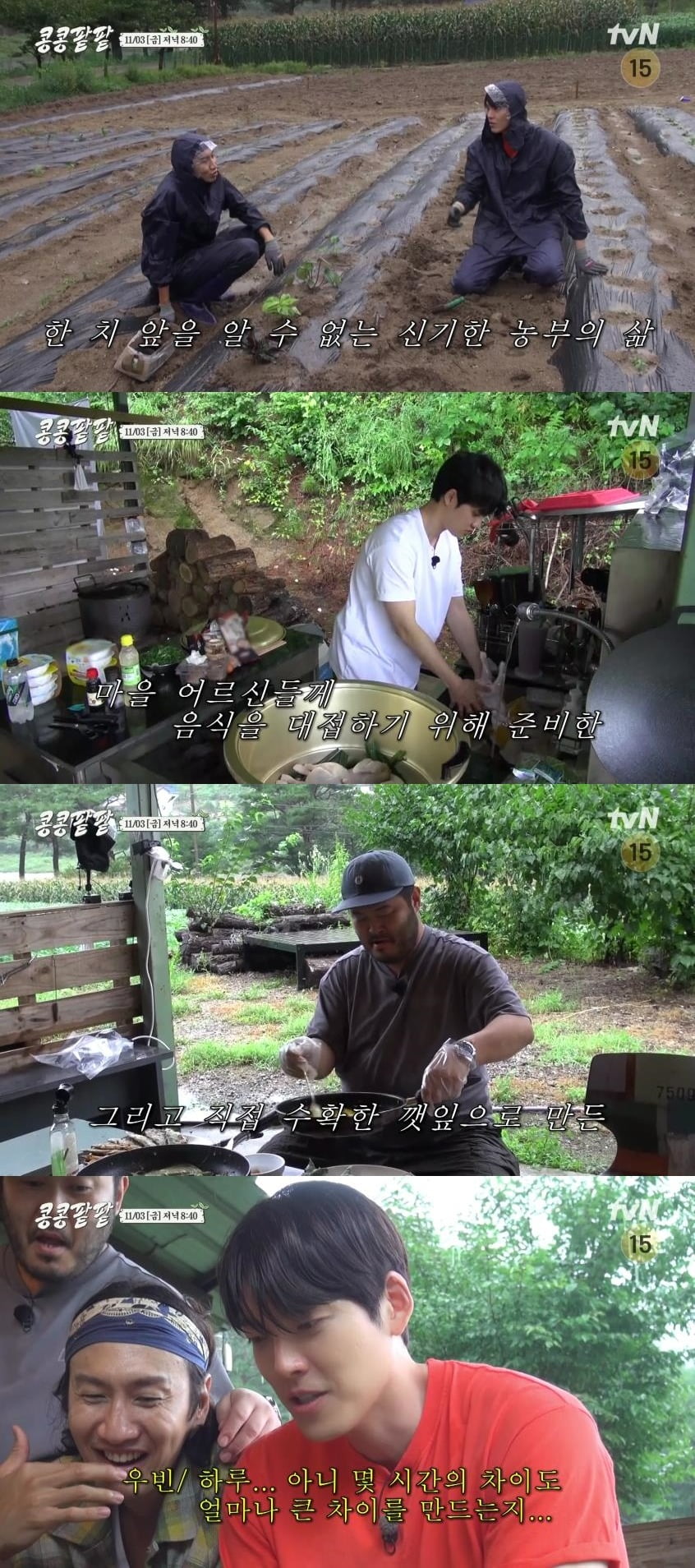 Lee Kwang-soo, Kim Woo-bin, Do Kyung-soo, and Kim Ki-bang hold a malbok party for the elderly in the neighborhood.
In tvN's 'Soybeans, Red Beans, Red Beans' (hereinafter referred to as 'Kong, Kong, Red Beans'), which will be aired on the 3rd, novice farmers serve a delicious meal to the elderly who are a great help in rural life in the midst of the bad luck.
After much deliberation, the menu for the banquet was decided on samgyetang and perilla leaf pancakes, and Do Kyung-soo took over as the main chef and led the kitchen. Do Kyung-soo, who is a former cook and has prepared food for up to 180 people, plans to demonstrate his cooking skills by making sesame leaf pancakes with perilla leaves picked from the field, 10 servings of samgyetang, and Hwaryongjeong chicken porridge with Kim Ki-bang.
An unexpected situation occurs at the Malbok Festival, which should be fun, and everyone is shocked. Not to be missed, Kim Woo-bin picked up the camera and filmed it himself, and Lee Kwang-soo expressed his intention to return home, saying, "I ruined the horsebok party," filling the scene with laughter and raising curiosity.
Additionally, novice farmers express their ambition to sell their harvested crops. Kim Woo-bin, who emphasized the importance of posting while planning to sell his first crop of perilla leaves through the app, soon became in charge of comments and began writing seriously, foreshadowing the birth of a 'comment craftsman'.
In addition, this day becomes 'Kim Woo-bin Day', recognized by Do Kyung-soo. It raises curiosity as to what the identity of 'Kim Woo-bin Day', which is causing various speculations, is and what is actually happening.
tvN's 'I Plant Soybeans and They Grow Red Beans' will be aired on the 3rd at 8:40 PM.
Ten Asia Reporter Kim Seo-yoon seogugu@tenasia.co.kr