ENTERTAINMENT
Broadcaster Han Hye-jin, "In my early 30s, I rejected my boyfriend who brought up marriage, and he immediately decided to break up"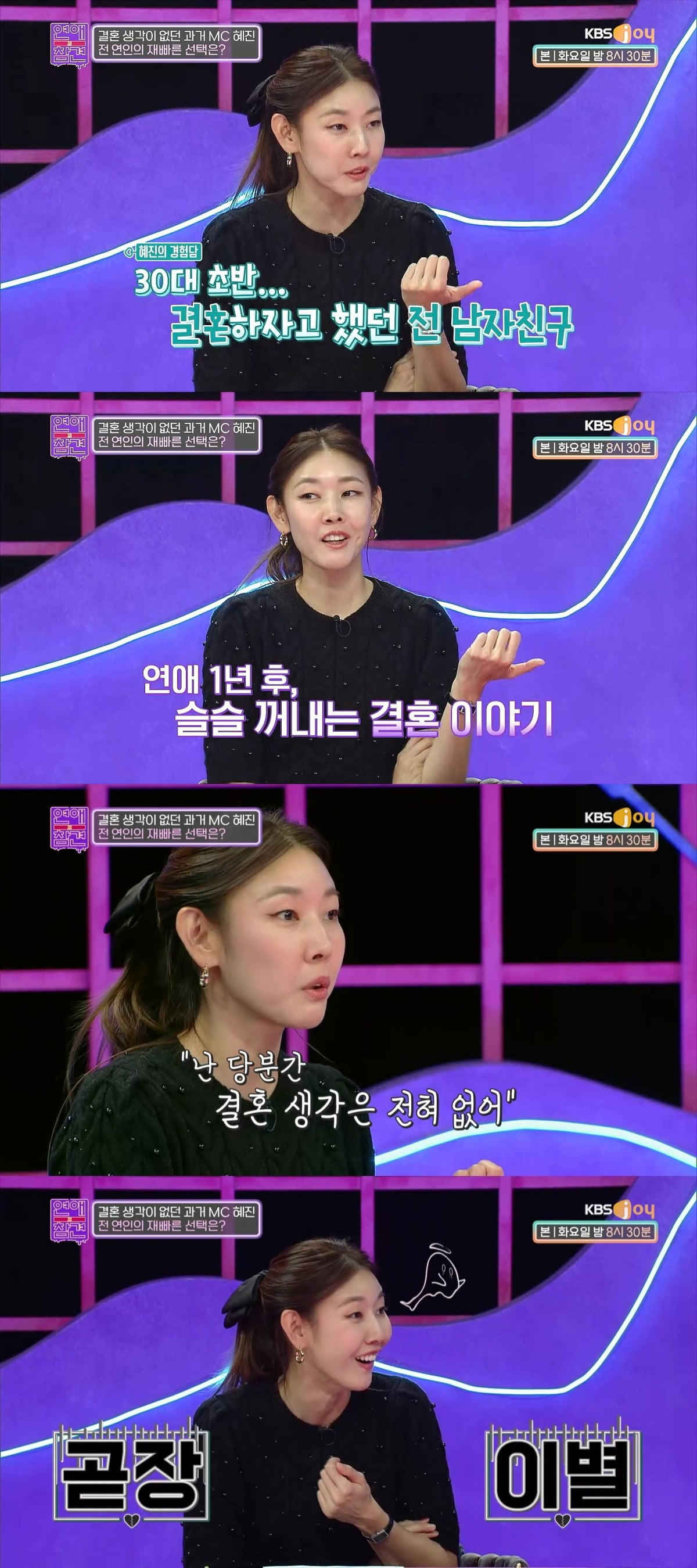 Broadcaster Han Hye-jin confessed that she rejected her boyfriend's marriage proposal in the past.
In the 201st episode of KBS Joy's 'Love Meddling', which aired on the 14th, the story of a troubled woman full of marriage dreams was also aired as she was wondering whether to continue her relationship due to her boyfriend of two years' sudden declaration of non-marriage.
As she enters her 30s and her friends begin to get married one by one, the troubled woman becomes impatient and is very taken aback by her boyfriend's declaration of non-marriage, saying, "If it's just you and I, a formal marriage isn't necessary."
Also, when asked to attend the upcoming wedding of the troubled girl's younger sister, the boyfriend declines, saying, "I don't want to cause misunderstandings among adults by attending the wedding at this age."
Kim Sook reacted to her boyfriend's sudden declaration of non-marriage by saying, "I think it's because of me." Kwak Jeong-eun also sympathized, saying, "As an office worker, it feels like receiving a cancellation of an acceptance letter." Next, Han Hye-jin said, "I would be very sad if the person I'm dating announced that he is not married," and understood the distressed woman's feelings, but summarized the situation by saying, "We can break up at any time." On the other hand, Kwak Jeong-eun said, "My desire to get married is not pure. ", he refuted, saying, "It is a contractual relationship."
Afterwards, the boyfriend did not break his conviction by revealing the reason for his decision to remain unmarried, saying, "My parents divorced not long ago," but instead appealed that he wanted to maintain the relationship as it is, saying, "I don't think it would be okay if we didn't have to get married, as long as it's good for us."
A woman in distress, who ended up attending her younger brother's wedding alone, came home and confessed that she had been bullied by her family at the wedding. However, upon hearing her boyfriend say, "I know it's selfish, but I want to meet like this all the time," she said, "I don't want to hate you." "No, let's stop," she announced the breakup, and Han Hye-jin, who saw this, mentioned the fact that she had once been in the opposite situation of a woman in distress, saying, "After a year of dating with my ex-boyfriend, there was talk of marriage, and I refused, and he immediately asked me to break up." .
After the breakup, the troubled woman went on a blind date, but she kept thinking about her boyfriend. They eventually reunite, but after hearing that the troubled woman wants to go on a trip to Kota Kinabalu, where she had said she wanted to go for a honeymoon, she wonders whether they should continue dating.
The MCs of 'Love Interference' who heard the romance of a troubled woman, 'Kota Kinabalu', all exclaimed in unison. Seo Jang-hoon was angry, saying, "Why do you make people crazy" and "This is the saddest trip in the world," and Joo Woo-jae said, "In many ways, that man is a legend. ", "This is the best comment I've heard in months."
Han Hye-jin, who was astonished and said, "People can't have everything they want," advised, "People can't have everything they want," and Kwak Jeong-eun said, "If your desire for marriage was given to you by someone else, break up," and Seo Jang-hoon also said, "It's like a time limit. He ended his intervention by recommending a breakup, saying, "This is a relationship that needs to end."
Ten Asia Reporter Kim Seo-yoon seogugu@tenasia.co.kr