ENTERTAINMENT
Jeon So-min, 'Running Man' 6-year journey comes to an end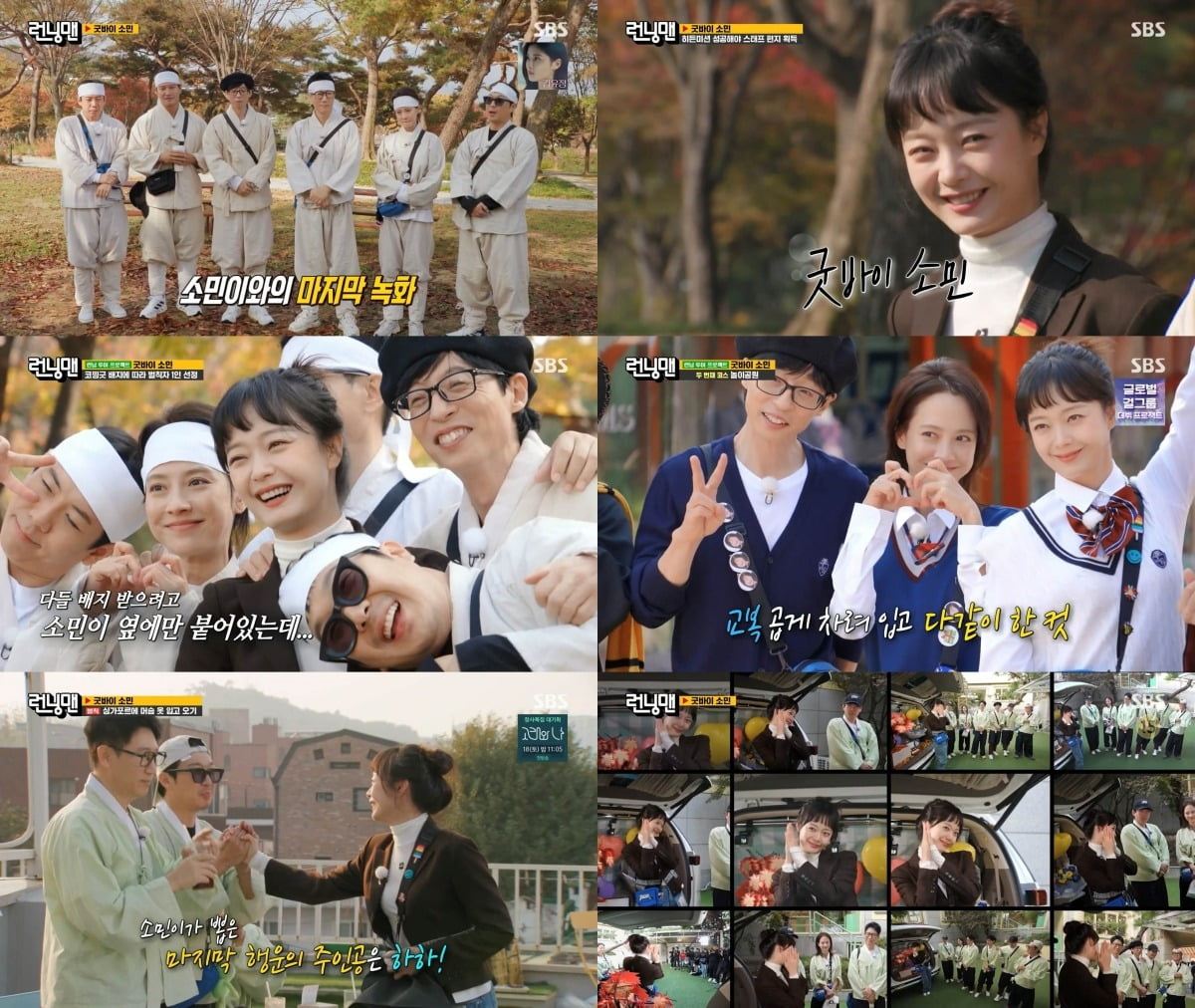 Actress Jeon So-min beautifully decorated the last page of 'Running Man'.
On SBS' 'Running Man', which aired on the afternoon of the 12th, the third running tour project 'Goodbye Somin' was held to commemorate Jeon So-min's last recording. This tour, which was decorated with a concept reminiscent of Madame and Dolsoe to enhance her appearance, added meaning as it was filled with courses filled with Jeon So-min's tastes.
The broadcast on this day, which added a touching feeling as about 6 years of memories with Jeon So-min passed by like a film, recorded 2.8% (hereinafter Nielsen Korea metropolitan area, household standard) in the 2049 viewership rating, a major indicator of advertising and channel competitiveness, for 9 consecutive weeks. It maintained the No. 1 spot in entertainment shows in its time slot. In particular, the scene where Jeon So-min shed tears recorded the highest viewership rating per minute of 5.3%, and the household viewership rating also recorded 4.6%, showing off the power of SBS' flagship entertainment show.
On this day, members except Jeon So-min were notified of a hidden mission to prepare a gift filled with special memories. Before the end of the race, each participant must take a Polaroid photo next to Jeon So-min with a designated heart pose. A heated competition is expected as the Maple Leaf Letters, which are obtained upon successful missions, must be distributed to the staff without duplication.
In particular, Jeon So-min was given a special power called the 'nose-brow badge'. When the production team said, "We can pay as much as we want to the members who made us laugh," the members had fun by not only giving massages and praise to earn badges, but also using any means possible, such as secretly stealing from others. doubled it.
Befitting her nickname 'Crazy Poet', this tour is comprised of a course that can elevate Jeon So-min's poetry skills to the highest level. While spending time in various places such as amusement parks, luxury restaurants, and dakku shops, Jeon So-min wrote her own poems for the members, and the members also wrote poems for Jeon So-min. In the last course, the members conveyed their sincerity by reciting poetry that showed off their individual senses, giving a warm impression.
As a result, except for Yang Se-chan, Kim Jong-kook, and Yoo Jae-seok, who were the top three in the 'Nose Frowning Badge', Haha was selected as a penalty through Jeon So-min. Haha was given the penalty of having to wear a laborer's costume to work when arriving on the Singapore tour, which was the next filming location, adding to curiosity about future episodes.
Finally, Jeon So-min shed tears after receiving the gift that the members and staff had completed together. Jeon So-min said, "Ever since I was young, it was my dream to appear on variety shows, and it was such an honor to be able to be with the older brother and older sister I saw in my dreams. I think I felt a lot of happiness, joy, and fun while making the viewers laugh. Please show your love and interest to the 'Running Man' production staff and members. "I will show you a good image in the future as well," he said, hitting the slate.
Ten Asia Reporter Kim Seo-yoon seogugu@tenasia.co.kr