ENTERTAINMENT
"I can't forget my boyfriend" Woman with short-term memory loss plans to get married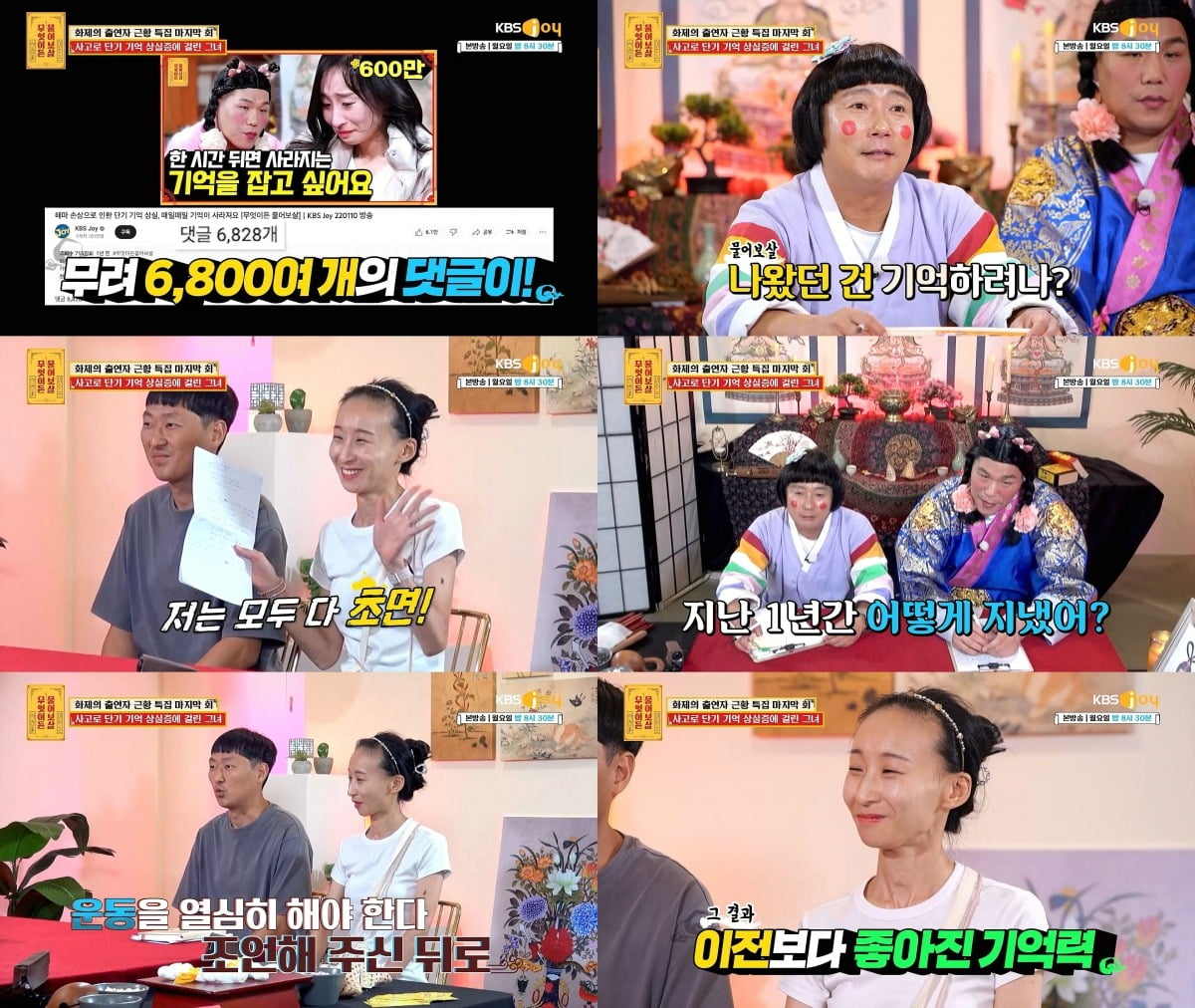 In episode 5 of the 240th episode of KBS Joy's 'Ask Anything' recent special feature series on the 6th, a storyteller who suffered from short-term memory loss after suffering a serious accident at a young age visited the Bodhisattvas once again with her boyfriend.
When the storyteller first appeared in episode 147 of 'Ask Me Anything' on January 10, 2022, he had a serious accident five years ago and suffered severe damage to his hippocampus as a result, so bad memories lasted less than an hour and happy memories lasted about two days. It was revealed that he was unable to sleep at all or slept for less than 8 minutes due to stress. Afterwards, KBS Joy's official YouTube video became a hot topic with over 6,800 supportive comments.
When Lee Soo-geun asked her if she didn't remember anything that appeared on the air, the storyteller smiled and said, "I've never seen them all before." She visited with her boyfriend, whom she mentioned during her first appearance, and when asked, "You don't forget your boyfriend, do you?" He reassured the two Bodhisattvas by saying, "You will remember it when it goes into long-term memory."
The storyteller's boyfriend showed a bright appearance, saying, "Honestly, I was a little surprised at the time of the accident, but if we fight, we can quickly forget it and go back to the place we went on a trip." In response to Lee Soo-geun's question, "How did you two first meet?", he responded, "In the open chat room. "We met for the first time at a cafe while talking, and when I was paying for my coffee, I saw a halo," he said, smiling as if he were embarrassed.
The boyfriend said that the storyteller worked hard to improve her memory by exercising hard under the advice of the fairy Seo Jang-hoon, and said, "My memory has improved a lot compared to before and I sleep about 6 hours a day," and kept an eye on the storyteller's amazing health. told to
In response to Soo-geun Lee's question, "Are you worried about anything else?", the storyteller complained that she wanted to have a deep conversation, but her boyfriend did not listen to her very well. The man explained, "There are limits to listening to a conversation while driving." Seo Jang-hoon, who even heard his friend's story, gave advice to the storyteller, saying, "No matter how close you are, you can't say everything you want to say."
Seo Jang-hoon then said, "You may still be more considerate than anyone else, but you need to understand more and explain it well," and he did not hold back on giving good advice to his boyfriend. Lee Soo-geun said, "The person who told the story may not say anything, but he will always be worried and frustrated, so the person he loves should protect that part. "Do it," he said, leaving a sincere piece of advice.
Ten Asia Reporter Kim Seo-yoon seogugu@tenasia.co.kr