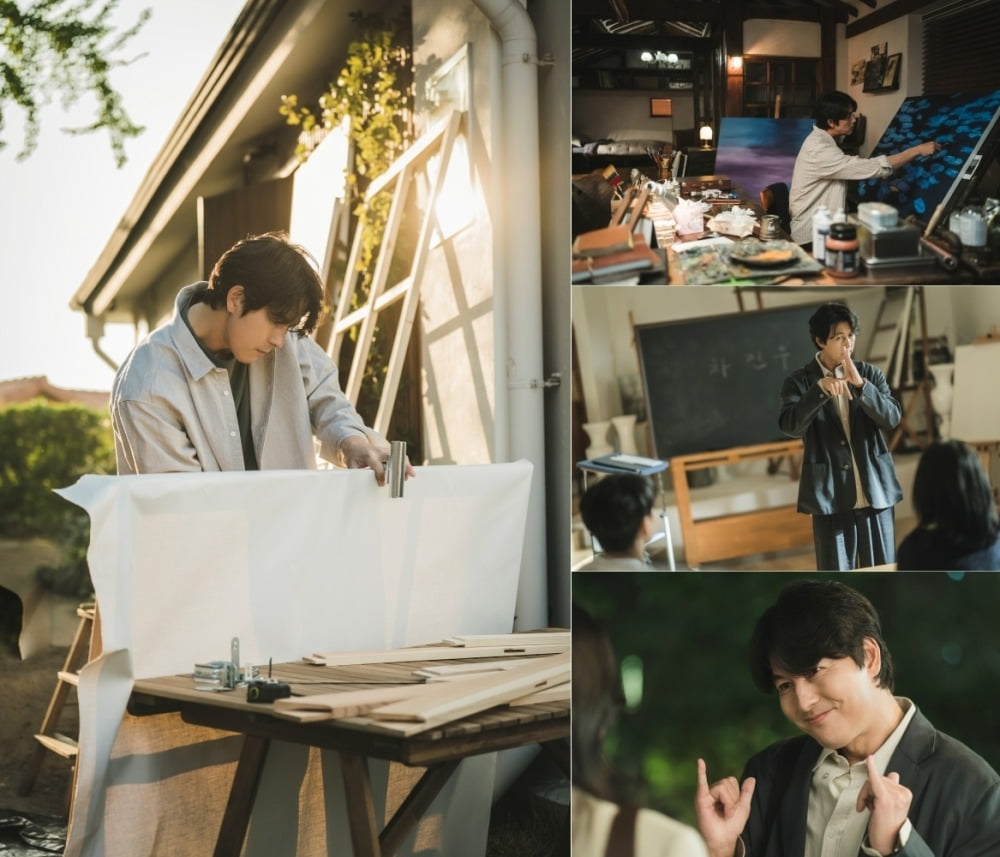 'Tell me you love me' There is great anticipation for the melodrama that Jung Woo-sung chose for the first time in 11 years.
On the 7th, Genie TV's original 'Tell Me I Love You' released a still cut of Jung Woo-sung's character as the hearing-impaired painter 'Cha Jin-woo', raising excitement. Expectations are high on what kind of romance Jung Woo-sung, who returned with deeper melodramatic eyes, will portray.
'Tell Me You Love Me' is a classic melodrama about the silent love between painter Cha Jin-woo (played by Jung Woo-sung), who speaks with his hands, and actress Jeong Mo-eun (played by Shin Hyun-bin), who listens with her heart. The story of a man and a woman who complete their love using their eyes as language and facial expressions as confessions gives viewers a warm feeling of excitement. Director Kim Yun-jin, who set a milestone in youth romance, and writer Kim Min-jung, who showed off her sensuous writing skills through films such as 'Moonlight Drawn by Clouds' and 'Moonlight Drawn by Clouds', are working together to create a deeply emotional 'true' melodrama for the first time in a long time, raising expectations. Above all, attention is focused on the chemistry between Jung Woo-sung and Shin Hyun-bin, who have different emotional depths.
Meanwhile, the revealed appearance of 'Cha Jin-woo' heightens expectations. For Cha Jin-woo, who lost his hearing due to fever at a young age, paintings are everything in the world, and silence is the source of his works. You can get a glimpse into Cha Jin-woo's life through his peaceful appearance while immersed in painting. The friendly image of teaching art to deaf students at the art center also attracts attention. I am also curious about the daily life of Cha Jin-woo, a kind and wonderful teacher who helps people find themselves through drawing.
Cha Jin-woo's quiet daily life, which is accustomed to being alone, is said to undergo a heated change with 'Jung Mo-eun'. Cha Jin-woo expresses his feelings to Jeong Mo-eun in sign language. The warm smile and lively eyes add to the excitement more than ever. I am already looking forward to seeing how the warm excitement of being 'Jung Mo-eun' will change Cha Jin-woo's daily life.
Regarding his feelings about returning after 11 years with a melodrama, Jung Woo-sung said, "As I continued to work on movies, the drama schedule did not fit well. "Actually, I wanted to do a lot of melodrama." He continued, "Jinwoo is hearing impaired. "Through Jinwoo, we will be able to feel how well we, who communicate through sound, understand what the other person is saying and how accurately we convey it under the pretext of using the same language, and whether we are communicating incorrectly," he said. It is a work that shared many stories over a long period of time until it was produced. As an actor who put great wishes into the production, I am truly happy and it has a special meaning. "We are doing our best to convey Jinwoo's quiet yet loud vibrations to the hearts of viewers," he added.
In completing 'Cha Jin-woo', 'sign language' is more important than anything else. He said, "I paid a lot of attention to facial expressions so that even people who don't know sign language can recognize what they are feeling when they see the situation. Since sign language is also a language that expresses emotions, I wanted the emotions to be reflected in the hand gestures. "I prepared by talking a lot with the sign language teacher on site," he said. Also, "Brush touch is not something that can be achieved through short-term practice. He stimulated anticipation by explaining, "I tried my best to capture the brush strokes of Cha Jin-woo's life."
Meanwhile, Genie TV's original 'Tell Me You Love Me' will be broadcast on Genie TV, Genie TV Mobile, and ENA at 9 p.m. on the 27th, and will be exclusively available as SVOD (subscription video on demand) through Disney+.
Ten Asia Reporter Kim Seo-yoon seogugu@tenasia.co.kr