ENTERTAINMENT
ZEROBASEONE learned entertainment secrets from PD Na Young-seok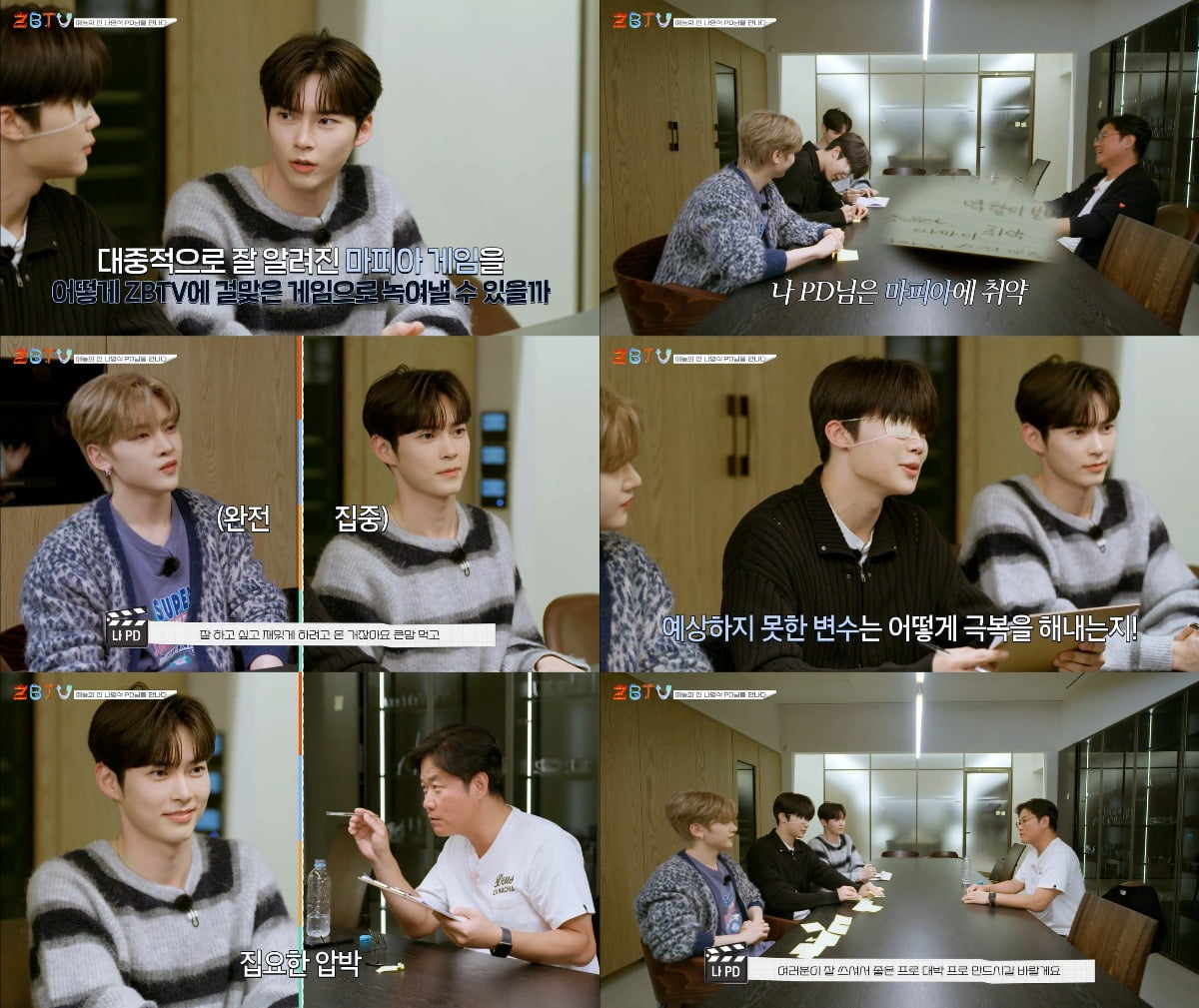 Group ZEROBASEONE received teachings from producer Na Young-seok, the 'god of entertainment'.
ZEROBASEONE (Seong Han-bin, Kim Ji-woong, Jang Hao, Seok Matthew, Kim Tae-rae, Ricky, Kim Kyu-bin, Park Gun-wook, Han Yu-jin) met with producer Na Young-seok on 'ZBTV', which was uploaded through the official YouTube channel on the 10th. 'ZBTV' is its own content that contains the ups and downs of ZEROBASEONE's life at the broadcasting station as a new employee.
On this day, 'ZBTV''s current affairs entertainment trio, Seok Matthew (producer), Park Gun-wook (writer), and Seong Han-bin (the youngest), visited PD Na Young-seok to seek advice ahead of the production of entertainment content. The members who were immersed in the broadcasting station's concept continued to draw the big picture with ambitious statements such as "We will seek advice and later, if possible, recruit people," and "We are competitors, but we may soon become partners."
The goal of the three members is to bring the well-known mafia game into a style befitting 'ZBTV'. Producer Na Young-seok shared his experiences, including the field of entertainment where split-second judgment is important and how to overcome unexpected variables. During this process, Park Geon-wook made everyone laugh by taking note of everything PD Na Young-seok said.
A 'continuing speech' simulation was also conducted. The members, who received 'entertainment tips' from producer Na Young-seok, added excitement through their unique 'push and pull' process. While he melted PD Na Young-seok's heart with his sponge-like ability to learn quickly, PD Na Young-seok gave a warm congratulatory message, saying, "It bothers me that I've taught you a lot of bad things, but I hope you make good use of it and create a great program." Expectations are focused on the ZEROBASEONE-type mafia project that will be created with the advice of producer Na Young-seok.
ZEROBASEONE made a comeback with their 2nd mini album 'MELTING POINT' on the 6th and are actively promoting with the title song 'CRUSH'.
Kim Ji-won, Ten Asia reporter bella@tenasia.co.kr