ENTERTAINMENT
'Strong Woman Gang Nam-soon' receives rave reviews for good reason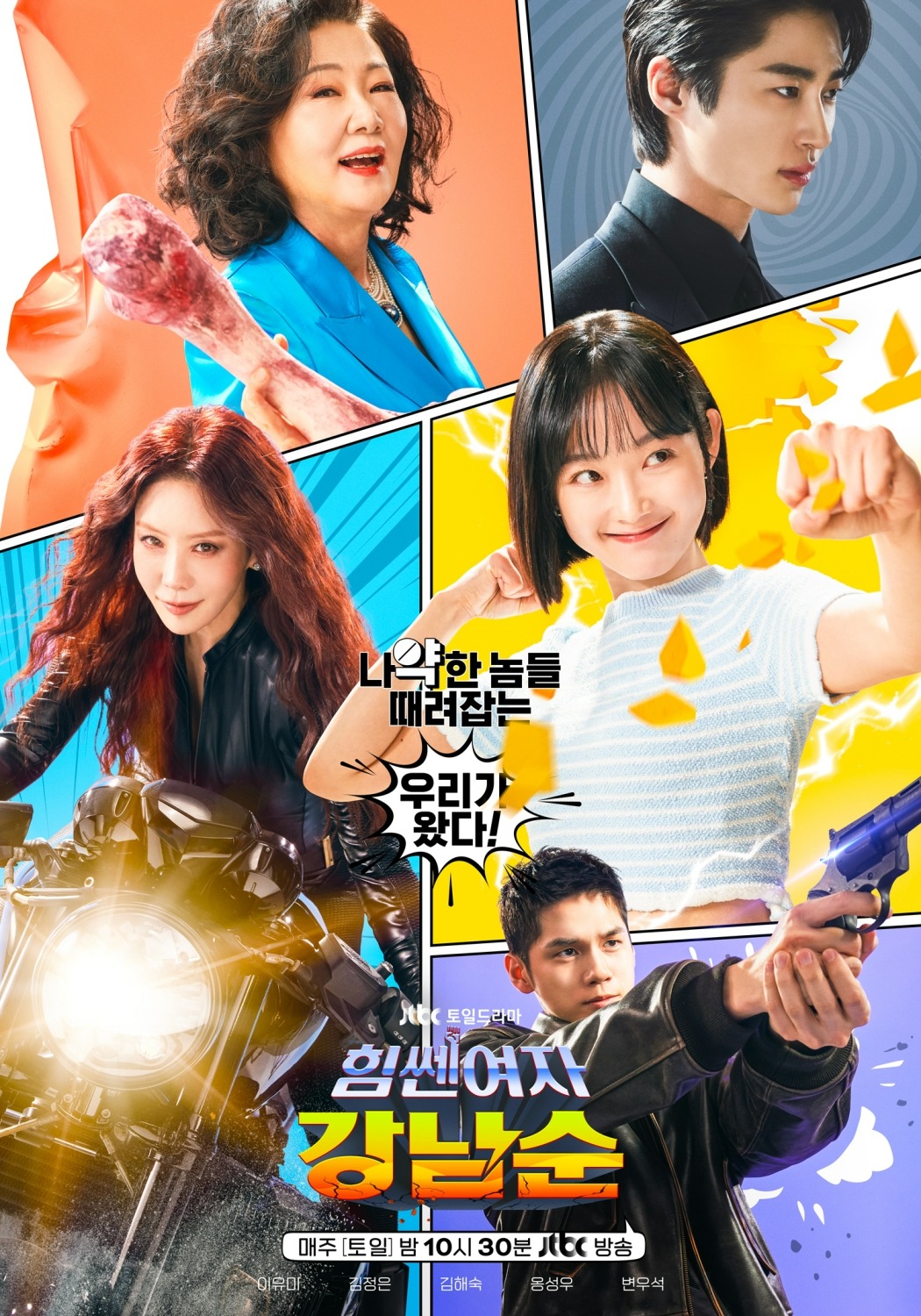 'Strong Woman Gang Nam-soon' is demonstrating its true value as a 'K-family hero drama'.
JTBC's Saturday-Sunday drama 'Strong Woman Gangnam-soon' is showing off its power with each episode. Amid the enthusiastic response from viewers, the viewership rating for the last 10 episodes was 9.3% in the metropolitan area and a peak of 11.2% per minute (Nielsen Korea, based on paid households), continuing to rank first among non-terrestrial channels.
The true education on realizing justice presented by the three mother and daughter heroes, Kang Nam-soon (played by Lee Yu-mi), Hwang Hwang-ju (played by Kim Jong-un), and Gil Jung-gan (played by Kim Hae-sook), who cannot tolerate injustice, is creating a 'powerful' sensation, providing pleasant fun and thrilling catharsis. Above all, the sincerity and conviction of the three mother and daughter, who stood up for the socially underprivileged and 'chastised' the villains, were deeply moving. Amid the cheerful laughter, writer Baek Mi-kyung's insight shined as she tactfully pointed out social issues. The story, which clearly points out the social problems that are emerging at the moment, such as drugs, fraud, abuse of power, and the epidemic of pants, is being talked about as a 'big hit' drama and is generating a lot of attention.
The materials, which clearly reflected reality as if they had been predicted, pointed out social issues in a timely manner. After the broadcast, online communities said, "I started watching it because it was funny, but the situation in the drama is so similar to reality that it's creepy," and "It's a widespread problem in Korean society. "The author's insight and satire are amazing", "It's no different from the current reality. There were enthusiastic reactions such as "It seems like the writer got hit hard."
If 'Strong Woman Do Bong-soon' opened a new horizon for 'K-female hero dramas', 'Strong Woman Gang Nam-soon' goes further to showcase the essence of Korean-style family hero dramas. The 'powerful strength' of the three mother and daughter heroes, who became even more powerful based on the 'strong' worldview that the power inherited from the mother's line should only be used for good things, shined even brighter in helping the weak against social evil. Mother and daughter heroes Kang Nam-soon and Hwang Geum-ju began their war against new synthetic drugs under the pledge to 'save the world.' The dangers of new synthetic drugs were beyond imagination, and they soon began to encroach on the daily lives of ordinary people. The sight of Kang Nam-soon's twin brother, Kang Nam-in (played by Han Sang-jo), becoming addicted to drugs disguised as diet pills added bitterness to the reality. This is also why we are looking forward to Hwang Geum-joo's performance as he declared war on 'drug villains' by saying, "We are no longer a drug-free country."
The true education in the middle of the road, centered on mother and daughter heroes, is more refreshing because it is realistic. He used his 'Attack on Grandmother Hero' superpower to scold Jinsang who ignores the elderly and speaks harshly, while also playing a big role as a real-life hero who completely destroys a voice phishing organization that exploits the hearts of parents. When the detective told him that it could take six months to find the voice phisher who impersonated Seo Jun-hee's (Jung Bo-seok) daughter, Jung-mong did not tolerate it. Activate your hero instinct and find them yourself and punish them, saying, "If you don't investigate properly, I won't leave you alone." "Don't let me show you that the law is far away and your fist is close," he said, even giving a warning about the late investigation. Cider's performance without mercy in response to injustice gave him the exhilarating feeling of vicarious satisfaction. In the midst of a reality where crimes against the 'elderly' are rampant, there is a 'grandmother hero' in the middle of the street who directly solves the problem. The subversive setting of 'super strength' given to the elderly, a socially underprivileged person, and his exciting performance satirized reality and added excitement.
Above all, the three mother and daughter's actions in punishing the villains they encounter in real life are a point that causes excessive immersion. Kang Nam-soon said to the fraudster, "Why do you let such a fraudster be shot like that? "Scammers are the worst," he said to a customer who abuses power, "Are you the kind of person who says that only the customer who makes you money is king and that you can do whatever you want with the rest? "Don't abuse your power!" he said. Kang Nam-soon's poignant remarks aroused sympathy. What makes 'Strong Woman Gang Nam-soon' even more refreshing is the way the mother and daughter heroes use their strength. Just as Ryu Shio (played by Byeon Woo-seok) said that when you are strong, you become fearless, the mother and daughter heroes with 'post-human' level of strength 'challenge' the villains without fear. In addition, Hwang Geum-joo responded to Ryu Shio's ambition to become the top predator in the food chain by saying, "The true strong protect the weak," and "My goal is to create a world where everyone can live better with the money power I have," arousing sympathy from viewers. .
Meanwhile, in the last broadcast, Kang Nam-soon and Kang Hee-sik (played by Ong Seong-wu) succeeded in obtaining a new synthetic drug 'CTA 4885' and also discovered the existence of an antidote. But an unexpected crisis came. It was revealed that the diet pill taken by Kang Nam-in, the twin brother of Kang Nam-soon, was a new synthetic drug. The anger of Kang Nam-soon, who said, "I will crush him with all my heart" in response to Ryu Shio's evil deeds, Kang Hee-sik, who accelerated the drug investigation, and Geum Geum-joo, heightened curiosity about the upcoming confrontation with 'villain' Ryu Shio.
Episode 11 of 'Strong Woman Gangnam Soon' will be broadcast at 10:30 pm on the 11th.
Ten Asia Reporter Kim Seo-yoon seogugu@tenasia.co.kr